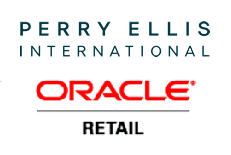 Apparel retailer and wholesaler Perry Ellis International has updated its retail systems to Oracle Retail Release 14 to ensure inventory is available and can be fulfilled across all channels.
With the update, Perry Ellis can unite U.S. and European retail locations with a single Oracle Retail Merchandising System that serves both markets. The retailer also can take advantage of expanded international transaction, tax and fiscal functionalities built into the latest update.
Perry Ellis started implementing Oracle Retail Release 14 applications in April 2014 as part of a companywide initiative to create more customer-centric merchandising, marketing and fulfillment strategies.
"We are committed to providing a consistent shopping experience and to meeting customer expectations across channels by aligning pricing, promotions and inventory availability online and in-store," said Luis Paez, CIO at Perry Ellis International. "With Oracle Retail Release 14, we have a consistent view of all inventory, so we can offer customers any product we have in stock regardless of where it resides."
The retailer implemented numerous Oracle applications to help enhance performance and scalability and provide a platform for growth, including:
Oracle Retail Merchandising System;

Oracle Retail Price Management;

Oracle Retail Sales Audit;

Oracle Retail Allocation;

Oracle Retail Store Inventory Management; and

Oracle Retail Central Office.
The Oracle Retail Merchandising and Oracle Retail Sales Audit upgrade will enable Perry Ellis to link customer order numbers to individual items within an order, giving them the functionality to ship different items from different locations within a single transaction.
Additionally, the brand and retailer can use Oracle Retail Sales Audit to meet local government regulatory requirements for computing taxes at the individual item level, eliminating the need for a third-party software program.
Perry Ellis also will use Oracle Retail Allocation to determine inventory requirements at the item and location level, even as the company accelerates international expansion. Oracle Retail Store Inventory Management provides real-time, multichannel inventory access to empower associates, improve customer service and reduce costs. In addition, Perry Ellis is using Oracle Retail Price Management to increase the efficiency of its sales and promotion processes.
BTM Global, a Gold-level member of the Oracle PartnerNetwork, assisted Perry Ellis throughout the implementation process. The software consultant provided a full range of system integration services, including functional and technical design work, custom integration points, interface designs, development and testing, and scripting through training and user-focused testing.