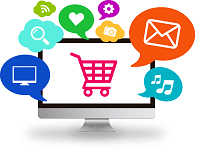 Aiming to cover the many technologies and trends reshaping how consumers discover, shop and buy, the founders of Money20/20 are launching Shoptalk, a conference and exhibition scheduled to debut May 16-18, 2016 at the Aria in Las Vegas. With $2.5 million in funding from strategic investors, the event is projected to attract more than 2,000 attendees, including hundreds of CEOs.
"Retail is being disrupted by a wide range of new commerce models and innovative technologies," said Shoptalk Chairman Anil Aggarwal in an interview with Retail TouchPoints. "Some of them – for example, those whose ultimate proposition is selling products within the context of providing services – barely even resemble traditional retailers. Yet they have profound impacts on consumers' discovering, shopping and buying and, as a result, on the retail industry.
"Shoptalk is different from other conferences because it's the only event where retailers can get a complete understanding of these disruptive innovations," Aggarwal explained. "Retail executives will be able to interact with senior leaders from emerging direct-to-consumer and marketplace retailers and brands; Internet and commerce tech companies; and large retailers. And in addition to what's typically thought of as retail today, we'll highlight disruption across other key segments of commerce, including dining, entertainment and hospitality."
This cross-pollination at the core of Shoptalk will result in everything from product development to strategic partnerships that enable new consumer experiences, innovative distribution models and more, according to Aggarwal. He is joined by his Money20/20 partner Jonathan Weiner and Silicon Valley entrepreneur Don Kingsborough in launching this new event.
Shoptalk has already confirmed more than 70 CEOs to speak and this number is "quickly climbing to hundreds of CEOs, founders and executives," said Aggarwal. "Our speakers include everyone from large retailers to startups, and the venture-backed companies we've confirmed so far represent more than $2.5 billion in funding. That's a tremendous amount of innovation for retailers to learn about and engage with."
The Shoptalk agenda will cover a diverse group of topics, including:
• Search, discovery and curation;
• Pioneering brands and retail models;
• On-demand services, delivery and logistics;
• Collaborative consumption and the sharing economy;
• Integrated omnichannel shopping;
• Measurement and analytics everywhere; and
• Globalization and borderless shopping.