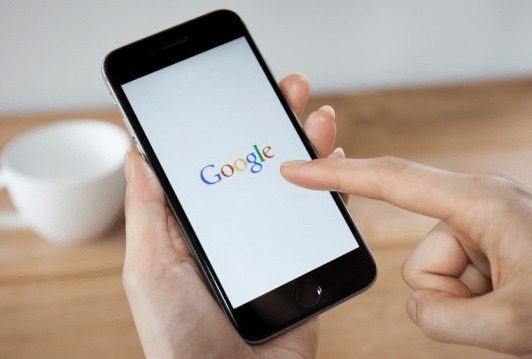 Google will launch a 'buy' button next to products listed on its search result pages, according to a report from The Wall Street Journal. The buttons will accompany sponsored search results, which Google displays under a "Shop on Google" heading at the top of a search results page.Buttons will not appear with the nonsponsored results driven by Google's basic search algorithm.
Google spokespersons have not commented on the matter.
The buttons will first roll out on mobile devices in "coming weeks," according to the report. Clicking on the buttons directs shoppers to another Google product page to complete the purchase. On that page, they can pick sizes, colors and shipping options, as well as complete the purchase.
Google's retail partners sell the products directly. Although no partners have been confirmed, Macy's has been in talks to take part in the program, according to the WSJ report.
The continued surge in mobile device usage spurred this venture into mobile commerce, and later e-Commerce. Jerry Dischler, VP of Product Management at Google, noted that Google searches on mobile devices now outnumber those on personal computers in 10 countries, including the U.S. and Japan.
Given the competitive atmosphere demonstrated between Google and e-Commerce giants Amazon and eBay, retailers have shown concern about Google's entrance into the commerce space.
"Some retailers said they worry the move will turn Google from a valuable source of traffic into a marketplace where purchases happen on Google's own websites," the report stated. "The retailers, who wouldn't voice their concerns publicly, fear such a move will turn them into back-end order takers, weakening their relationships with shoppers."
Google plans to alleviate these concerns by enabling consumers to opt into the same marketing programs that retailers would have shown had they made the purchase on the their own websites, allowing retailers to obtain customer contact information. In addition, Google is reportedly promising to brand the product pages where the consumers will go to make the purchase, with recommendations for further purchases only coming from that retailer.
The search engine's plans to further leverage mobile do not appear to stop with the buy button. Earlier in May, Google revealed that mobile users could order food listed on search results via six food delivery provider partners — Seamless, Grubhub, Eat24, Delivery.com, BeyondMenu and MyPizza.com.
If a user searches for a restaurant offering delivery through one of those providers, an option for "place an order" will show up in its Google information. Users then receive links to delivery services and can finish the order directly on their sites. In the post, Google said it plans to add more providers in the future.