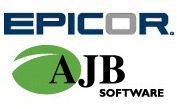 Epicor Software Corporation is partnering with payment solution provider AJB Software Design to provide retailers with a single payment solution that can handle high transaction volumes and accommodate EMV payments.
"Simply meeting PCI compliance standards is no longer sufficient to protect customer data," said Perry Kramer, VP and Practice Lead at Boston Retail Partners. "The best way to reduce overall payment card exposure is with a multi-tiered security approach with a combination of EMV, encryption and tokenization."
The AJB Flexible Integrated Payments solution, also called AJB FIPay, is now integrated into the Epicor Retail Store 6.4 solution, which will allow retailers to handle aspects of electronic payment acceptance at the POS, including authorization and settlement, as well as dynamic currency conversion with end-to-end encryption and tokenization. The solution also is designed to enable retailers to quickly accept new and emerging payment types such as mobile wallets, and is poised to be certified and meet most current EMV requirements.
"It's likely that 2014 will go down in the record books as the definitive year for major data breaches and payment insecurity," said Noel Goggin, EVP and General Manager of Epicor Retail. "To address concerns about customer data protection and privacy and new security mandates, retailers are shoring up their processes around the transmission of sensitive data."