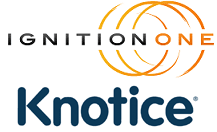 IgnitionOne, a cloud-based digital marketing technology provider, has acquired data management and multichannel messaging company Knotice in an effort to expand its Digital Marketing Suite SM (DMS). Terms of the deal were not disclosed.
Knotice's cloud-based Data Management Platform (DMP) offers actionable analytics and digital messaging, including features such as data collection, consolidation and enrichment, an email CRM system, advanced text-message marketing and cross-device clarity. The addition of these components into the IgnitionOne platform will help marketers improve their digital marketing performance via media optimization, marketing automation, cross-channel attribution and engagement scoring.
"The acquisition of Knotice is consistent with our vision of bringing speed and simplicity to marketers through centralized data that automates the process of delivering the right message to the right user at the right moment at the most efficient cost — on the site, off the site, and through mobile and email," said Will Margiloff, CEO of IgnitionOne. "Based on the complementary capabilities of Knotice and IgnitionOne's existing technologies and shared vision of our teams, this integration will move forward quickly and smoothly, to the benefit of our clients."
Knotice President and CEO Brian Deagan will join the IgnitionOne management team to help promote innovation and assist in executing the long-term strategy of the company to simplify digital marketing for top brands and agencies. The combined company will have more than 420 employees in 17 offices worldwide.
Garros Group LLC, an investment banking boutique specializing in technology enabled marketing services, acted as exclusive advisor to Knotice during the transaction.