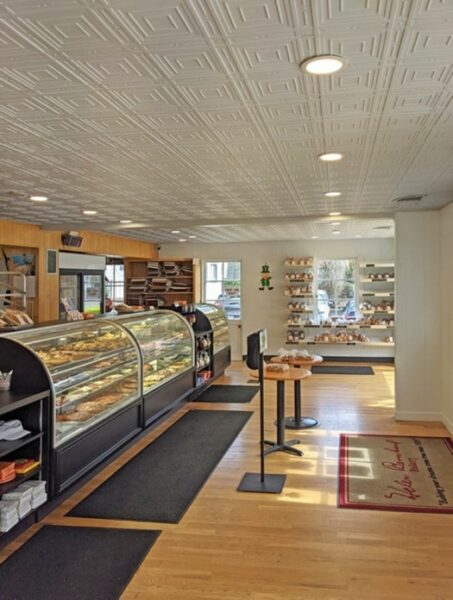 Sustainable design means making a building healthier for both the planet and the individuals who occupy it. Unfortunately, in retail design the ceiling is often neglected, copied and pasted from the last acoustic ceiling that was specified without attention to its aesthetics or sustainability. Since the ceiling is often the largest exposed surface in a store, designing a sustainable overhead space is worth the effort.
The materials from which a sustainable ceiling is made may include recycled and recyclable materials, or other components that have minimal environmental impact in extraction, manufacture and transportation. A durable ceiling is also more sustainable because it does not need to be replaced as frequently.
Ceilings can also perform functions that make occupancy more sustainable by contributing to indoor air quality (IAQ), illumination and acoustic control. The resiliency of the ceiling — its ability to recover from a catastrophic event — is a sustainability factor that is getting increasing attention as climate change causes more extreme weather events.
Going Green Into the Grid
The most common type of ceiling in commercial buildings is the suspended grid, also known as a dropped ceiling. The suspension system — the T-bar grid and the wires that support it — is often steel, although aluminum and fiberglass grids are also sometimes found. Steel and aluminum are both materials that usually have high recycled content and are fully recyclable at the end of their service lives. Recyclable fiberglass composite is in development but is not yet in wide commercial use.
Grids tend to be long lasting unless they are abused, but their paint finish can yellow and wear over time, which prompts some owners to replace them, even if the grid is still functionally sound. The grid's service life can be extended by refacing it, either by cleaning and painting, which is a labor-intensive, costly process, or by covering it with purpose-designed snap-on grid covers. These vinyl strips snap over the grid and present a clean, new surface. They are fast and easy to install, and they can save an unsightly grid from getting sent to the landfill.
Planning for Planet-Friendly Panels
Panels that populate the grid have major sustainability aspects to consider. For standard 24" x 24" and 24" x 48" grids, the most widely used panel types are mineral fiber, metal and rigid thermoformed vinyl. Wood and gypsum panels are also available. Mineral fiber panels are the most widely used.
Some of these products are made from recycled materials and some are also recyclable. Steel or aluminum panels tend to have high recycled content, because recycling has been an integral part of the production of both metals for decades. They are also recyclable without any loss of their metallurgical properties. Thermoformed panels are available with as high as 98% or 100% recycled material.
Thermoformed manufacturer Ceilume has a program to accept their used products back for recycling. Mineral fiber manufacturer Armstrong Ceilings also has a recycling program, as long as the panels are not wet, weathered or moldy (which, ironically, are often the reasons mineral fiber panels are replaced).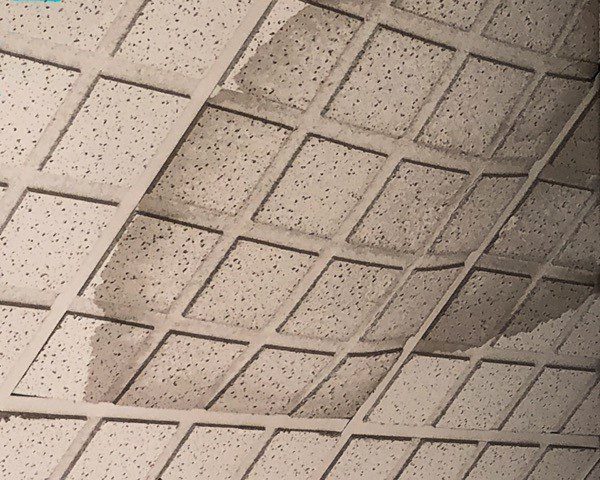 The service life of ceiling panels often depends more on their appearance than on their performance. More durable and stain-resistant ceilings are replaced less often. Many acoustic ceilings are sent to landfills because they have just become too ugly, usually due to damage at the corners and edges or unsightly staining. (So-called "water stains" may also be hazardous, as they can be signs of mold colonies, mold or bacteria, which can grow in an absorbent panel that has been exposed to moisture.) Despite showing stains, the panel may still be functional, but its nasty look makes the store look rundown and neglected. Durable panels, made of stain-resistant, non-absorbent materials have a sustainability edge: longer lifecycles.
There is an industry standard test for the strength properties of ceiling materials — the ASTM C367 Standard Test Methods for Strength Properties of Prefabricated Architectural Acoustical Tile or Lay-In Ceiling Panels. It evaluates four different strength properties that relate to durability: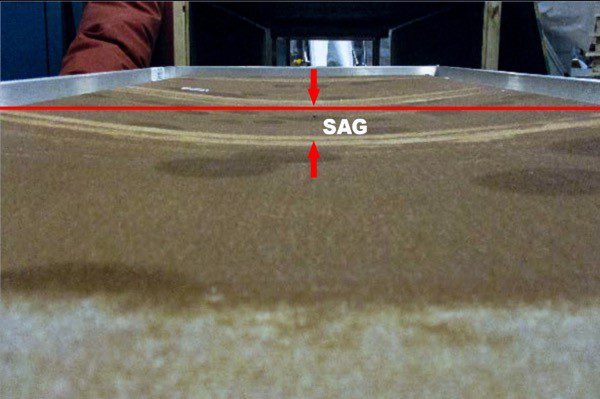 Hardness: Pressing a steel sphere into a panel correlates to impact and abuse resistance. A higher score indicates a harder material.
Friability: Small ceiling specimens are placed in a rotating tumbler to see how much they wear down. Test specimens that lose more mass are more friable and therefore prone to damage, especially at the corners and edges.
Sag: Panels are exposed to elevated temperature and humidity and measured for sag. A lower score means less sag. Panels that are absorbent, when installed in high humidity locations, may be more prone to sag.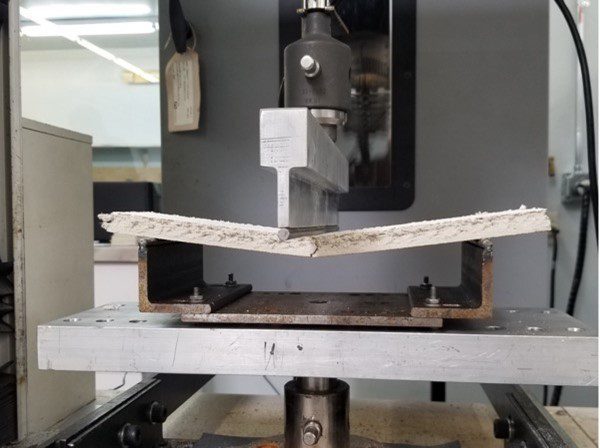 Transverse Strength: Panels are pressed by a hydraulic tester that flexes them until they break. The greater the modulus of rupture (flexural strength), the less likely the panel is to be damaged in the field.
Test results can give insight into how well panels will resist damage during installation, maintenance and ordinary use. Numerous manufacturers refer to one or another of these tests in their sales literature. One manufacturer has published complete results of third-party lab testing performed on both common mineral fiber panels and thermoformed panels.
Ceiling Design Can Promote Indoor Air Quality and Resiliency
Friability sometimes impacts another sustainability concern, which is indoor air quality (IAQ). Panels made with fibrous components, if chipped at the corners and edges, may shed respirable fibers, including silica fiber, a hazardous material. Another IAQ concern is off gassing, but it is not a problem with any of the major ceiling panel types, except possibly formaldehyde from wood panels.
A suspended ceiling has a role in protecting indoor air quality. It separates the occupied space from the various services — plumbing, HVAC ductwork, electrical and IT wiring — that are often found above the ceiling. Those structures accumulate dust and grease, but the ceiling contains any falling contaminants and keeps them out of the air breathed by customers and staff.  
The fewer penetrations through the ceiling, for features such as fire sprinklers or air diffusers, the better that separation. One way to eliminate some penetrations is by installing a drop-out ceiling. A ceiling with drop-out panels is allowed to have sprinkler heads installed above the ceiling plane, out of sight (per NFPA 13, Standard for the Installation of Sprinkler Systems, section 3.3.6), increasing the integrity of the ceiling separation.
In case of a fire, drop-out panels such as Ceilume thermoformed panels soften from the high heat and fall out of the grid, allowing the above-ceiling sprinklers to function. Keeping sprinklers up above minimizes visual clutter in the ceiling, significantly reduces the cost of sprinkler installation and improves the isolation of the above-ceiling space.
Ceilings that can survive natural disasters make a location more resilient. A material with low friability and high transverse strength is more likely to be reusable after an earthquake or tornado. A ceiling that does not support mold growth, does not rust, is impermeable to water and is washable can better survive a flood.
Steven H. Miller is a freelance journalist and marketing communications writer. He has specialized in issues of the A/E/C industry for the past 15 years.