Recap Of The 2014 NRF Big Show: Editorial Perspectives, News & Sessions Featured
Written by the Retail TouchPoints Editorial Team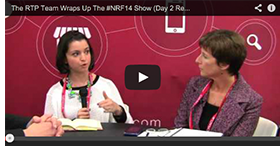 This year Retail TouchPoints sent its largest team ever to the NRF Big Show. Yet, no matter how many people we have roaming the exhibit hall, attending sessions, and conducting interviews with retailers and solution providers, it seems like we could always use a few more hands on deck. But, with two new members of the editorial staff joining the fray this year, we were able to put together an impressive amount of comprehensive coverage.
This NRF follow-up report includes three sections:
Editorial perspectives from four Retail TouchPoints editors;
Session recaps; and
News briefs from before, during and after the event.
---
RTP Editors Share Insights From NRF Big Show 2014


Innovation & Customer Focus Will Drive Retail Success
Editorial Perspective: Debbie Hauss, Editor-in-Chief
My ninth year at the NRF Big Show was both exhausting and exhilarating! Retailers are ready to move forward with new implementations designed to meet consumers' needs with advanced, cohesive omnichannel strategies. The Container Store, for one, is implementing in-store solutions from Theatro, designed to help store associates answer shoppers' questions in real time, and keep them engaged in a "heads-up," face-to-face manner.

The bar is set high: In order to remain competitive retailers need to be able to deliver customized, personalized offers and promotions. To that end, beacon technology is providing one new way for retailers to track shopper movement and deliver targeted communications. While Apple's iBeacon has garnered a lot of the attention to date, other companies, such as Qualcomm, are introducing the technology. During the event, Qualcomm was displaying its Gimbal Proximity Beacons, which are being installed in Whole Foods stores, in partnership with Suju Juice.
But today's retail environment also a balancing act…While working to track shopper behavior from the couch to the checkout, merchants must walk the line and avoid becoming overly invasive. Mobile apps and shopper tracking must be opt-in, otherwise consumers will shy away from interacting with the brand.
Additionally, with the latest data security scares shaking up the industry, retailers and solution providers have been very vocal about their dedication to taking all necessary steps to secure customer information.
The retail industry also is gearing up for new payment scenarios. EMV is on the horizon, although many of the retail executives I spoke with are taking a wait-and-see stance on EMV modifications. Also, some retailers, such as Abercrombie & Fitch, are planning an all-mobile future for in-store payment; but most will likely end up with a combination traditional and mobile POS setup.
There's a lot for all of us to keep our eyes on as 2014 develops. Stay tuned in to Retail TouchPoints throughout the year for exclusive reports and expert insiders' perspectives on these trends and more.

Location And Mobility: The New Era Of Loyalty Programs
Editorial Perspective: Alicia Fiorletta, Senior Editor
Energy was high at this year's NRF BIG Show, due in part to the plethora of new and innovative solutions being presented on the show floor. Overall sentiment on the floor also seemed more positive. The retail executives and solution providers I spoke with reaffirmed how pleased they were with the positivity flowing through the Javits Center.
In my opinion, the most exciting developments were in the areas of mobility and location analytics. More retailers are striving to understand the in-store path-to-purchase. They want to determine which products capture the most attention, and whether specific marketing messages and product displays generate sales.
Many solution providers were touting their location analytics solutions, showing the variety of data points retailers can collect to help them make better decisions and optimize the in-store customer experience. These solutions are without a doubt very valuable to retailers. But what I found to be even more compelling were the solutions that helped integrate in-store analytics with digital touch points — especially mobility.
For example, many solution providers were discussing how beacons will help converge the brick-and-mortar and mobile channels. Using Bluetooth wireless technology, retailers can identify where customers are in a store, which helps them pinpoint the aisles — and products — they're most interested in. If consumers are opted in, they can receive timely, location-specific offers. Moreover, if a shopper belongs to a loyalty program, retailers can use a variety of data points to make mobile offers and messages more relevant.
Although education still needs to be done — especially regarding beacons and location analytics — this year's BIG Show was a great starting point! I'm excited to see how the loyalty space evolves in 2014 and most importantly, how retailers will take advantage of the variety of new opportunities to better connect with consumers!

New Perspectives On Omnichannel And Big Data
Editorial Perspective: Glenn Taylor, Associate Editor
My Retail TouchPoints colleagues had hyped up the 2014 NRF BIG Show since early December, making every effort to properly prepare me for the event. This would be my first time attending the show, so obviously my expectations were purely based off anecdotal hearsay. Needless to say, on arrival, it became very clear to me that the hype wasn't going to disappoint.
I could definitely say the event was overwhelming at the start, purely because there were even more booths than I anticipated. Walking around the Javits Center and seeing how much room was made for the booths and idea sessions illustrated the enormity of the event quite succinctly.
Research is a vital part of any written article, whether that means interviewing a source, finding a press release or reading up on a particular subject. However, as the NRF Show concluded, I couldn't help but feel that more context was provided to me over the previous few days than at any point I'd been writing for RTP. Coming across dozens of retail executives and capturing the physical nature of the solutions gave me a better visual perspective of the types of people and stories I have been working with.
Seemingly everywhere I went, regardless of the solution or product being showcased, the hot topic always revolved around omnichannel retailing. The concept itself isn't new, but with so many mobile devices at our fingertips, it is no secret that retailers are trying to use this technology to connect with the average user. With responsive design and in-store analytics projected to take a step forward in 2014, retailers are looking to pair up one medium with another to understand, encourage and engage the consumer.
Additionally, the event was focused around other trends including the emergence of Big Data in the marketplace, the rapid increase in customer expectations and the deployment of Bluetooth low energy and its effect on iBeacon positioning systems in retail stores. The last trend is one which still hasn't been explored in most retail circles, thus has the biggest chance to make a leap forward.
With the retail industry ready and geared up for 2014, I'm going to stay on the lookout to see what trends and solutions live up to the hype, as well as any new ones that follow suit!

Beyond Big Data: Digital, Mobile, Cloud
Editorial Perspective: Brian Anderson, Associate Editor
Being one of the newest members of the Retail TouchPoints editorial team, I had mixed feelings as I walked to the Javits Center on the first day of the NRF BIG Show 2014. At first it was the typical mix of excitement and nervousness, but seeing the amount of industry leaders that attended the event brought those feelings to a whole other level. But seeing what all of these retailers and solution providers had to offer has made me enthusiastic for what the future has in store for the retail industry moving into 2014.
Of all the topics being discussed at the NRF BIG Show, nothing received more attention than the role of Big Data in the retail landscape.
A variety of solution providers shared demos of products aimed to obtain as much information as possible about the customer. IBM and Macy's even labeled big data as a differentiator for retailers in 2014, stating that it will give companies more of a competitive edge than any other aspect of their business strategies.
Another interesting focus was the growing need to implement digital technology into the brick-and-mortar stores, which can enhance customer engagement, employee productivity and overall company efficiency.
Other topics that were trending throughout the event included:
Mobilizing the workforce to boost employee performance;

Geo-location technology to send location-based promotional content; and

Cloud-based inventory management to track inventory through all channels.
In the end, Big Data is going to be a major player in 2014, and seeing the people behind the successful brands of the retail industry made me excited for what is in store for customers this year!

NRF Session Recaps
Digitizing The Store — What's the Future Of POS?: According to a survey of more than 200 executives conducted by the NRF, Demandware and University of Arizona, nearly 40% of retailers are considering implementing a single platform to manage consumer interactions and transactions. In addition, 70% are currently deploying or planning to refresh their POS software within the next three years. During this session, Rob Garf, VP of Product and Solutions Marketing at Demandware, moderated a panel that discussed the eventual replacement of traditional POS systems in stores. Participants in the discussion included: Stephen B. Katsirubas, SVP and CIO of Crocs; Jim Giantomenico, VP and CIO of Avenue Stores LLC; and Abu Bakar, SVP of IT at Barneys New York.
Rite Aid's Revolutionary Approach To Analyzing And Sharing Big Data: In this session, Francis Spirk, Sr. Director of Retail Systems at Rite Aid explained how the retailer leverages 1010data to respond quickly to customer demands, generate more relevant marketing promotions and compile data across all channels into a single interface. More than 3,000 employees across departments have access to this variety of data, from marketing, to finance and loss prevention. Spirk noted that Rite Aid also harnesses this data to power RITEInsight, a portal that provides supply chain partners with relevant POS data.
Retail CIOs Reflect On Their Priorities And Emerging Tech Trends: As consumers continue to browse and buy across all channels, the industry continues to hone in on the need for a cohesive, omnichannel brand experience. An NRF panel discussion, moderated by Dave Finnegan, CIO of Build-A-Bear Workshop, spotlighted how the CIO position is evolving with these industry changes, as well as how executives are taking steps to approach new challenges. The CIOs who took part in the discussion included: Janet Sherlock of Carter's; Etienne de Verdelhan of L'Occitane; Allan Smith of lululemon athletica; and Michael Kingston of Neiman Marcus. Topics discussed spanned across the IT spectrum, including mobile payments, IT staffing, cloud computing and Big Data.
Connecting With Shoppers In-Store And Online: Fresh Insights From Eye-Tracking Research: Shoppers spend approximately 12 seconds making a purchasing decision in a grocery store, according to data compiled by Raymond Burke, Professor of Business Administration at Indiana University. In turn, it is imperative that brands position their products to catch the consumer's eye. Burke and Scott Young, President of Perception Research Services, shared results received from a variety of eye-tracking studies performed in stores. The presenters illustrated the eye-tracking results with heat maps, photos and case studies from major brands such as AB-InBev, HP and Nestlé.
Customer-Centric Convergence: During an NRF panel discussion — moderated by Matthew Townsend from Bloomberg News — representatives from Bass Pro Shops, American Eagle Outfitters, STORES Media and Experian Marketing Services — discussed the reasons why customer needs should be central to all retail business decisions, especially with the convergence of the digital and physical worlds. The ongoing growth of mobile and the evolution of the "always-on" customer were two key talking points.
Beyond Bricks: A Conversation About Merging Physical And Digital Retail: Even with the rapid growth of e-Commerce, brick-and-mortar stores still make up a largest percentage of overall retail sales. Warby Parker Co-CEO David Gilboa participated in a session with Noah Robischon, Executive Editor of Fast Company, to discuss online trends and techniques that can be implemented into the physical store in order to create a seamless customer experience across channels. Gilboa also shared news about the eyewear company's addition of five brick-and-mortar stores to its already successful online business.
A New Era Of Value: Technological innovations have unearthed a hidden resource that, when used correctly, can be extremely valuable for retailers. That resource is Big Data, according to presenters during an NRF keynote session. Macy's Chairman, President and CEO Terry Lundgren moderated a Q&A keynote session with Ginni Rometty, Chairman, President and CEO of IBM, to unveil the industry-wide impact of Big Data in 2014. "So far, [Big Data] is about your back-office supply chain, and it's about taking customer engagement to the edge," Rometty said. "But, I also want to convince you that it is going to apply to just about everything you do in your company."
How Cross-Functional Partnerships Help Drive Customer Engagement At Tory Burch: Today's retailers must engage customers in highly relevant and compelling ways using mobile technology This imperative is motivating retailers to think about app development in new and unique ways. In a session moderated by Brian Kilcourse, Managing Partner of Retail Systems Research, executives from Tory Burch explained how the company broke down organizational silos to create a customized customer-facing application that helped elevate the brand experience.

Is Responsive Design Part of Your Mobile Strategy? During this session, four retail executives discussed the advantages of using responsive design, and the types of experiences that are possible. Aaron Cuker, CEO of digital marketing agency Cuker Interactive, moderated the discussion. Cuker was joined by: Jay Dunn, CMO of Bare Necessities; Dennis Rohm, CTO of Indochino; and Jill Renslow, VP of Business Development and Marketing at the Mall of America.
Renslow explained the theory behind Mall of America's mobile strategy, noting that responsive design has helped reach the company's technologically diverse clientele. Responsive design also helps create a consistent experience across multiple device types. Consumers receive the same streamlined experience, whether consumers are using an Android or iOS device, or tapping smartphones or tablets.
Responsive design also is effective for Indochino. Because it's a growing company, Rohm noted that Indochino wants to reach as many consumers as possible, but without straining internal resources. "We decided to go with responsive design because we had a relatively small engineering team, a small user experience team and we really wanted to cover as many devices as possible."

NRF News Briefs & Announcements
AirTight Networks Partners With EarthLink For Social Wi-Fi and Analytics
Secure cloud Wi-Fi from AirTight Networks will power EarthLink's new solution designed for the multi-unit retail industry. With EarthLink Wi-Fi, retailers can implement applications to better connect with customers, while gathering valuable data to ramp up marketing and store operations. Retailers now can integrate social media channels with AirTight's customizable guest Wi-Fi portals to encourage in-store customers to opt into marketing programs so they can receive more targeted offers and coupons.

AT&T And Vantiv Unveil New Mobile Payments Solutions
AT&T and payment processing company Vantiv, Inc. released a series of products designed to enable businesses of all sizes to offer secure mobile payment options.
The companies are partnering to offer solutions for retailers and restaurants. Using the Vantiv Mobile Accept app, consumers can use a card reader to swipe their credit, debit or prepaid cards through a smartphone or tablet. Businesses have access to real-time sales history, 24/7 customer support and also have the ability to manage multi-store inventory, employees and timekeeping.
Displaydata Launches New Graphic Display Labels
Displaydata, formerly ZBD, has released a new product set, called the Dynamic Solution Suite. This new selection of products will provide retailers with fully graphic electronic shelf-edge labels (ESL) via three display families that offer a range of colors: Aura, Chroma and Luna. The ESL Bluetooth beacon is an integral part of the Displaydata solution set, allowing retailers to deliver rich content, such as offers, messages and deals, to consumers based on their location in a store. All in-store labels can be displayed centrally via the Dynamic Communicator.

Direct Source And GPShopper Help Retailers Tap Beacon Technology
Direct Source, a retail technology consultant and solution provider, is working with GPShopper, a mobile solutions company, to help retailers implement Bluetooth Low Energy (BLE) beacon technology. Using beacons, which are small wireless sensors placed within a store, retailers can push marketing messages to mobile devices, and track consumers' individual shopping journeys. Beacon technology currently is available on iPhone 4 and 5 devices equipped with the iOS 7 operating system, and smartphones running Android 4.3 and above.

Epicor CRM 7.0 Helps Create 360-Degree Customer Profiles
Epicor Software has announced Epicor Retail CRM 7.0, which is designed to help retailers build deep, progressively beneficial relationships with customers. The solution offers a 360-degree view of customers, their attributes and shopping behaviors. Offering robust segmentation modeling, CRM 7.0 empowers retailers to build more personalized campaigns and promotions across all channels. In addition, retailers using CRM 7.0 have access to loyalty automation and robust query tools to help increase customer retention and wallet share, use their marketing dollars more effectively, and garner long-term customer loyalty.
Epson Spotlights OmniLink Offering
Epson America, a provider of value-added POS solutions, has unveiled the new OmniLink TM-H6000IV-DT, which was designed to act as a multifunction POS solution with a small, efficient footprint. The device, which can be integrated with legacy systems or completely replace them, features a built-in receipt printer. Epson also has formed a strategic alliance with Marlin Business Services Corp., a provider of equipment financing solutions, to help retailers decrease up-front hardware costs.
Heartland And AJB Help Reduce Transaction Costs For Merchants
Heartland Payment Systems and payment solution provider AJB Software Design have established a strategic partnership to help merchants comply with security mandates, EMV and other emerging payment scenarios. Together, the companies also will provide merchants with flexible payment, low-cost options for their customers. In a new combined solution, Heartland's Portico Gateway will support merchants through AJB's Flexible Integrated Payments and Retail Transaction Switch solutions.
Honeywell Debuts New Scanning And Payment Accessory For iPad Mini
Honeywell has released a new encasement to help retailers transform iPad Minis into customer engagement tools. Called the Captuvo SL62, the offering helps employees look up inventory, scan barcodes and process payments in a secure manner. Store associates also can access transaction data via the web or a mobile app, allowing them to effectively cross-sell and up-sell products. A mag stripe reader can be added to the Captuvo SL62 so associates can complete transactions from anywhere on the store floor. The SL62 is the latest addition to Honeywell's Captuvo line, which offers encasements for iPod touch and iPhone devices.
HP Expands Digital Signage, POS Product Offerings
HP has expanded its retail solution portfolio with a line of touch and non-touch digital signage displays, and a new line of value-priced displays. The company also has made upgrades to its mobile and fixed point of sale (POS) solutions. Six new touch-enabled and value-priced displays have been added to HP's line of product offerings. Using the technology, retailers have access to features such as automated content updating and the ability to display content in multiple languages. HP has incorporated new additions into the RP7 Retail System and has unveiled the MX10 Retail Solution, in order to help retailers create a more seamless and enjoyable customer experience that allows them easily to transition between a mobile and fixed POS solution.
iInside Expands Location Analytics To New Markets
iInside, a WirelessWERX company that provides positioning technology, achieved substantial growth in 2013. In addition to increasing retail installations and pilots eight-fold over 2012, the company also expanded its presence across retail segments, including: grocery, convenience stores, big box, apparel, quick-service restaurants, and hospitality. New technology standards established by iInside also enable retailers to accurately measure performance by individual departments, display end-caps and even specific brands at the individual store and across entire chains. Shopper activity can be pinpointed within a one-meter radius using Bluetooth and/or Wi-Fi technologies. Through alliances with analytics companies such as Alteryx, Micello and RetailNext, iInside is further expanding its presence in the retail space.

I Love Velvet Extends MPOS To Android, Windows Surface Devices
I Love Velvet, a mPOS hardware and software innovator for large retailers, has expanded its set of supported devices, adding Windows Surface and all Android products to its mPOS solution portfolio.
I Love Velvet is also compatible with Apple's latest devices that feature the Lightning connector, including the fourth-generation iPad, iPad Mini, iPhone 5 and iPod Touch. I Love Velvet provides an extensive range of mPOS transaction capabilities that include: credit card and bank debit card swipes; European chip and pin cards; RFID; NFC and 2D bar code scanning. The company also has launched a series of customer-facing mPOS models and new proprietary CRM technology, further enhancing security and the overall customer shopping experience.

LightSpeed Retail Unveils Web Store For Cloud
LightSpeed Retail, a POS and inventory management systems provider, unveiled its latest product: the LightSpeed Web Store for Cloud. The system is designed to help retailers manage their customer, inventory and sales data for in-store and online channels from a single web-based system. Brick-and-mortar retailers can now manage their businesses across all channels — from any device — while maintaining inventory accuracy.

Manthan Systems Adds Personalized Promotions To ARC TargetOne
Manthan Systems, a company that specializes in retail analytics and business intelligence, announced a new feature that offers recommendations based on a customer's purchase history. The upgrade to the ARC TargetOne personalized promotions solution uses data collected from all of a retailer's sales channels to provide targeted offers to consumers.
To increase support for vendor on-boarding and improve procurement process handling, Love's Travel Stops selected Manthan System and its ARC Vendor Link for its 310 U.S. stores. The ARC Vendor Link solution automates vendor transaction management and increases vendor relationships and productivity, while also improving internal inventory visibility.

Motorola Develops New Omnichannel Customer Service Tools
Motorola Solutions announced a list of new solutions that will help users enhance their omnichannel experience and increase customer satisfaction. TCC5000 Customer Concierge will offer self-service platforms with built-in touchscreen technology. The RhoMobile Suite 4.0 is a new set of cross-platform development tools that will allow retailers to build and manage applications in order to provide employees with mobile capabilities.

NetSuite Signs New Retail Customers
NetSuite, a cloud-based financials/ERP and omnichannel software provider, announced several new customers for the NetSuite SuiteCommerce, including: Ibex Outdoor Clothing, Wisteria and George's Music. The SuiteCommerce platform will allow the retailers to completely integrate all components of their businesses: from e-Commerce, to POS, order and inventory management, CRM, analytics and financials.
Opterus Releases New Store Ops-Center Solutions
Opterus, a provider of cloud-based communication and task management solutions, has unveiled Store Ops-Center (SOC) Version 14.1. The latest version of the solution features new auto-archiving capabilities and the ability to search historical content. The Opterus SOC solution provides retailers with a way to manage and execute store communications and tasks, while increasing operational compliance.

Oracle Updates Retail Suite To Enable Omnichannel Commerce
Oracle announced the release of its latest software update for the Oracle Retail suite, making it the company's largest software update thus far. Oracle Retail Release 14 provides users with new features designed to allow retailers to connect their store, online and mobile touch points, while also reducing total cost of ownership and boosting inventory efficiency.
In a briefing held at NRF 2014, Mike Webster, SVP and General Manager of Oracle Retail, explained that Release 14 is designed "to connect all of these [customer] interactions" in order to create a seamless customer experience.
"The industry has made great strides in building great digital experiences," Webster said. "It has set the marker in terms of how we use mobile and online commerce to build a brand. We'll see the industry work more aggressively towards hyper-personalization."
Oracle also announced a list of new customers that will be implementing Oracle Retail solutions. Molton Brown and Leroy Merlin began using Oracle Retail Web Commerce solutions to create an engaging, personalized experience with their customers. Erke and Marisa have implemented Oracle Retail Merchandise Planning and Optimization solutions to create a consistent financial planning for their businesses. Aizia Panda United and Siam Makro are now using Oracle Retail Supply Chain Planning and Execution solutions in order to support growth.

Petrosoft Unveils POS Solution, Ordering App
Petrosoft, a provider of cloud-based business solutions, introduced the Qwickserve online restaurant item order application alongside the POSPro point-of-sale system. The Qwickserve application is designed to streamline the POS experience for fast-food chains, quick-serve restaurants and their customers. With the new solution, customers can order and pay for their food and beverages online or on their mobile devices, and are able to use the app to notify the restaurant when they plan to pick up their items. Menus can be customized for users, and different meal menus can be created and delivered based on the time of day. Petrosoft also unveiled the POSPro, which includes a touchscreen interface to help accelerate the transaction process, handle a wide variety of payment types and offer real-time access to loyalty programs and promotions.
Punchcard Partners With Digby
Punchcard, a mobile shopping loyalty application, is implementing the Digby Localpoint platform to enhance its location-based marketing abilities and boost store traffic for its retail partners. The platform will enable Punchcard to target and engage shoppers with personalized content when they enter retail partner locations.
Retail Pro Adds MPOS To Prism
Retail Pro International, a retail management software provider, has introduced the Mobile 2.0 solution for Retail Pro Prism. The solution is designed to deliver full functionality of retail software across mobile and desktop platforms without compromising performance or restricting features. The solution can be deployed across iOS, Android and Windows environments, eliminating the need for additional training usually associated with hardware changes or new platform introductions. Retailers can use the solution to share data across the enterprise in real time.

Revionics Shares Success Stories From Raley's, Family Dollar
During NRF 2014, Revionics participated in a series of sessions highlighting the need for retailers to be customer-centric. In a case study-focused session, titled: How to Boost Loyalty and Outmaneuver Your Competition with Social Powered Rewards, the company highlighted its Social Commerce solution and revealed results from its partnership with supermarket chain Raley's Family of Fine Stores. After implementing the Social Commerce solution, Raley's attracted 5,500 users to its "Extra Friendzy" social rewards program page in one day, an increase from the previous high of 4,000. In addition, the site attracted almost 3,000 social offers, more than tripling the previous record of 866. In another session, Apollo Whited, VP of Pricing at Family Dollar, discussed how the company uses the Life Cycle Price Optimization solution from Revionics to track shopper demands across channels and stores, and refine pricing and markdown strategies based on these trends.

SAP Launches New Apps For Shoppers, Store Associates
SAP has released two new mobile apps: the SAP Shopper Experience and the SAP Retail Store Ops Associate. SAP Shopper Experience enables consumers to create collaborative shopping lists, redeem unique offers specific to retail stores and manage their loyalty accounts. When using the app, shoppers also can scan and pay for merchandise, share offers on Facebook and transfer their cart to the POS using their mobile devices. SAP Retail Ops Associate gives retailers the ability to order products, perform in-store markdowns, make inventory corrections and transfers, post receiving from vendors and distribution centers, and access product history and information. Store associates also can use the app to manage customer requests.
SAP also announced plans to develop a new fashion solution for the retail marketplace that will give retailers a "unified view of inventory." As part of the new business venture, SAP is partnering with Adidas, Luxottica and Tommy Hilfiger. The new solution is expected to help retailers manage omnichannel business processes across a single Big Data system landscape for greater efficiency, quicker time to market and better inventory control.

SAS Announces Implementations Of Retail Analytics Solutions
While demonstrating its business analytics solutions at NRF 2014, SAS focused on the importance of evaluating all forms of data to make better business decisions, and increase competitive advantage.
During NRF 2014, SAS focused on three retail customers currently using its business analytics solutions:
ShopperTrak Releases Real-Time Report, Enhances Interior Analytics Solution
ShopperTrak, a retail and customer behavior tracking company, has unveiled Real-Time Reporting, a new solution designed to measure real-time traffic and sales information across a network of stores. With these insights, retailers can assess performance and quickly respond to in-store trends in order to maximize customer service and overall sales. ShopperTrak also updated its Insights platform, introduced a new solution called Interior Analytics and added four new capabilities. Interior Analytics is designed to integrate in-store shopper behavior and perimeter analytics within the Insights platform. Users of the solution can receive daily updates into metrics such as zone counting, dwell time and abandonment to gauge the success of an individual store. The four capabilities added to Insights include single sign-on, multi-language, multi-currency and marketing analysis.
Starmount Creates Version 3.0 Of Connect And Engage
Starmount, a mobile retail solutions provider, has announced the release of version 3.0 of its Connect and Engage solutions, which are designed to help retailers to meet rising customer expectations by delivering a personalized selling experience in the store. Starmount Connect is an omnichannel commerce and customer engagement platform that offers real-time access to transactional, inventory and fulfillment systems, as well as purchase history, loyalty program data and associate activity. Starmount Engage is a mobile selling assistant designed to help store associates manage the entire sales cycle using mobile devices. New features within Engage include synchronization with remote cash drawers throughout the store, and the ability to accept cash, checks, debit cards, credit cards and gift cards.

Tensator Updates Virtual Assistant
Tensator, a provider queue management solutions, showcased its latest Virtual Assistant, which projects a video image of a real person who interacts with the consumer and provides multilingual responses to frequently asked questions. Other solutions demonstrated at the company's NRF 2014 booth included a mobile queue management greeter application for tablets and a call-forward technology platform that reports which customers are being assisted during the queuing process.

True Fit Partners With Hudson's Bay, Lord & Taylor
True Fit, a personalization software provider, is partnering with Hudson's Bay and Lord & Taylor to deploy its solution on the retailers' web sites: TheBay.com and LordandTaylor.com. Consumers can create a complimentary True Fit profile when visiting either web site and establish a personal fit rating and size recommendation for every style. Using machine learning algorithms to analyze product and customer data, True Fit is designed to provide high-confidence sizing recommendations to shoppers.

Tyco Partners With Macy's To Improve Shoe Display Compliance
Tyco Retail Solutions has unveiled new RFID-based applications available on the TrueVUE platform, including Display Execution and Storefront Visibility. The new applications are designed to provide retailers with greater flexibility and scalability so they can ultimately lower operating and ownership costs. Macy's implemented the Display Execution application at its Herald Square, New York City, location. Overall, the retailer increased shoe display compliance from approximately 70% to nearly 100%, and dramatically reduced the number of missing shoe display styles.
Tyco also has shared results from a survey co-sponsored by ChainLink Research, titled: Use Cases Driving the Current Surge in RFID Adoption. The report lists retailers' top three reasons for implementing RFID immediately, which include: Improving inventory accuracy; reducing out-of-stocks; and increasing on-floor availability.

VeriFone Partners With GNC, The Jones Group
VeriFone, an electronic payment solutions provider, has announced new partnerships with GNC and The Jones Group. As part of the business deals, VeriFone will upgrade the brands' payment environments with the MX 915, an NFC-enabled multimedia payment terminal. VeriFone also will provide The Jones Group with the PAYware Mobile e210 mPOS solution, which features universal, PCI compliant adapters that transform smartphones and tablets into completely mPOS devices that can accept payments from mag-stripe cards. VeriFone's partnership with GNC is designed to position the retailer for future endeavors such as EMV payments and POS customer marketing.
Additionally, through a new partnership, Toshiba Global Commerce Solutions has certified VeriFone's MX 915 and MX 925 multimedia payment terminals for use and support with Toshiba's SurePOS Application Client/Server Environment (ACE) software. Toshiba will support VeriFone's MX 915 and MX 925 payment terminals for customers with current software maintenance on Toshiba ACE/EPS Version 7 Release 3 and later.

Volusion Creates Mozu For Mid-Market, Enterprise Retailers
Volusion debuted its new SaaS enterprise commerce platform, Mozu. Developed for mid-market to enterprise retailers, the solution is designed to combine enterprise commerce management, digital experience, and full development and extensibility into one solution. Pricing for the solution is use-based, which will help minimize costs and provide financial scalability for growing retailers, omnichannel merchandisers and branded manufacturers. The first Mozu sites are expected to launch in Q1 2014.
back to top