What makes for better SEO is constantly changing. In fact, Google changes its search algorithm 500 to 600 times each year. With this in mind, how can brands make sure their customers can easily find their products online and beat out their competitors?
The answer lies in how brands position their online product content. For example, if a pair of shoes being sold online has only one photo, a short description and no reviews, it's far from likely that they'll ever have a high enough search ranking for customers to find them. On the other hand, a pair of shoes from a competitor's page that has a detailed description, unique content and lots of customer reviews will organically earn higher SEO value, no matter which iteration of Google's algorithm is live.
Keep in mind that some 85% of consumers do research on Google before making a purchase decision. And the top three positions in search results can garner 50% or more of total clicks, as shown in the graph below. So, getting SEO right—even if you're not directly selling the product—matters a lot.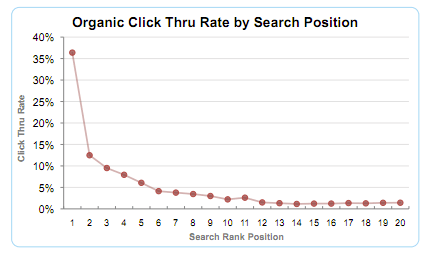 Now, I recently met with the head of SEO for a large retailer. Here's the advice he gave me to share with brands when it comes to using content to improve SEO.
Start early. It takes time for search engines to pick up the latest and greatest content and for items to rise in the search engine rankings. Unlike advertising, where brands can spend money up to and even during the selling season, SEO has to be planned and executed well in advance to have a meaningful impact. It can take weeks, if not months, for content-related changes to take effect.
Build unique content. Although the traditional wisdom at brands has been to put the same content everywhere, this strategy doesn't work well for SEO. Search engines look for unique content. By providing unique product content to retailers, brands are more likely to have multiple versions of their own listings (from multiple retailer web sites) show up in search results rather than product listings from competitors.
Write detailed product descriptions. It's key to have thorough product descriptions that are optimized for SEO. That means the descriptions should have more than a sentence or two, and no supply chain-style abbreviations like "6 pk" for "6 pack." If you don't have an in-house content or media team, partner with a Content Service Provider (CSP) that knows the space and can work with you to deliver high-quality descriptions at a reasonable cost.
Consider specialized content. Retailers have the ability to create custom landing pages and content modules. Although product detail pages (PDPs) are the core focus for most retailers, category pages and brand awareness/educational modules are extremely powerful ways to drive SEO.
Build internal links. Many e-Commerce sites now support links and images directly in product content. Internal links drive relevancy within a web site, which in turn boosts a page's credibility in the eyes of search engines. Leading brands are embedding links directly in their product content to help with SEO relevance.
Remove broken pages. Broken pages cause a site to look out-of-date and not well-maintained. When it comes to rankings, search engines like Google penalize sites that have broken or out-of-date pages. Many retailers don't automatically remove product pages that are no longer relevant, have broken links, lack product content or list discontinued items. These legacy pages bring down the overall SEO value of a site. Brands should make it a point to contact their retail partners about removing outdated, irrelevant or broken product pages. Often, this is a manual process on the retailer's end, but it's important to do and ultimately will help both the brand and the retailer.
Iterate constantly. Product content is no longer a one-and-done opportunity. Among the many factors that search engines use to score web sites for relevance, freshness has grown in importance in recent years. Don't just push content and call it a day. Ideally, brands should be freshening their product pages at least a few times a year.
All this investment in content comes at a cost. But when you consider the millions — if not billions — of dollars that brands spend on advertising to promote their products, the investment in online content pales in comparison. For smart brands that understand that better product content equals better SEO, the resulting sales revenue can provide an immense return.
---
David Feinleib is the author of Bricks to Clicks and CEO of Content Analytics Inc., the only end-to-end e-Commerce analytics and content management platform. To learn more about how Content Analytics is helping leading brands like P&G, PepsiCo and Mattel succeed in eCommerce, contact Dave at dave@contentanalyticsinc.com.