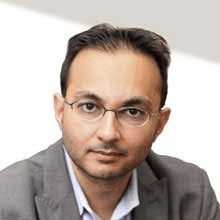 Retail TouchPoints sat down with the founder and CEO of Radius8 for a Q&A focused on helping retailers capitalize on growing digital traffic and converting that to foot traffic and sales in their brick-and-mortar stores.
Retail TouchPoints (RTP): One of the top problems we're hearing from retailers is declining store traffic, especially in malls. Conversely, digital traffic is exploding. How can retailers address this issue?
Bhanote: From a philosophical perspective, our intention is to reverse the purchase funnel. Right now omnichannel predominantly is a digital order first and everything else last. So, the way that we're thinking about solving this problem is, "How do we give physical retail stores a digital voice in that?" It's one thing to give the consumer an option to shop at a product level, but it's another to give consumers the ability to shop at a location level. Based on my location, my proximity to a store, there's a bunch of context around that store, such as what that store sells a lot of or what people around me are searching for, as it relates to that particular brand.
We're aiming to solve the problem by giving consumers an option to "shop local," which means giving stores the ability to have a digital presence, to dynamically and digitally merchandise what's available in that store location based on the consumer's proximity to that store. Instead of saying, "Hey, consumer, here is a store's web page powered by a database with 8 million products. See what you like," we're reversing that and saying, "Hey, we're going to tell you what this store is selling, what is trending and what assortment you should buy, based on people like you that are buying similar products."
RTP: The concept of local marketing is a hot issue for retailers and it's also obviously relevant for consumers because they want context around what's available and trending in their specific area. Is that emerging as a perfect storm for transformation?
Bhanote: It's all about context. Simply saying that this red shirt is available or simply saying, "Here is your nearest store," and set that location to your favorite store — that's not good enough anymore. We're taking data that they already have, and that they could access, and making it actionable. For example, the same flash sales report data that that store manager or district manager gets for that store location that tells them, "Here are my top 20 selling items. Here are my worst performers." All of a sudden, we're transforming that data so that now that store can act on that data intelligently.
Think of all the traffic a particular web site gets for a retailer, if you overlay the store and browser's location on top of that, all of a sudden you have the ability to uncover new consumer insights. For example, if people around a mall like particular styles, promote more of those styles to get those people into the store. The goal is to proactively merchandise products in store on channels that retailers already have. In my opinion, contextual shopping experiences happen at the intersection of location, trends, and store assortment. Now you can combine those three things to create that magic that is desperately needed to entice foot traffic into these store locations — particularly malls, because 80% of all store purchases start online. The problem is that everything online is product first, everything else last, so the shopping experience does not cater to those people who want to come into stores. However, if you reverse that and put the store first for those consumers who want to shop locally, you'll get a different outcome.
RTP: One of the big picture goals for all retailers is driving sales lift. Being able to achieve that through existing channels by enabling stores is interesting. Do you think that that's critical for driving revenue growth, as well as customer satisfaction, going forward?
Bhanote: In order to leverage that digital traffic to drive traffic into your stores, let's optimize the conversion rate on your web site by bringing a physical retail store into that conversation. The retail industry is spending a ton of money on e-Commerce, but it's only representing maybe 5% to 10% of the overall business for a retailer with a conversion rate of maybe 3% to 5%. But the bigger area of opportunity is going to those digital places where the retailer isn't today. From a retailer's perspective, there are far more people that live on Facebook, Instagram, Pinterest, and on natural search compared to an e-Commerce site, right? By leveraging these other online channels where consumers already spend the majority of their time and by adding the context of local shopping capabilities, retailers will drive sales lift.
RTP: Give us an example of what that looks like for an omnichannel retailer.
Bhanote: So, imagine you're a major, mall-based apparel store. I've got this red sweater sitting on the shelf. The only people that know about that red sweater on that shelf are the people that walk into that store, right? Now, if you think about the law of averages, the greater the number of folks that know about that sweater, the greater the chance that someone will be willing to do something about it.
Now, imagine if all of a sudden, based on context — and context is location — meets relevance. Relevance is, I'm a male in a certain age group that will drive an interest in that particular product. Imagine that same red sweater that's sitting on that shelf magically appears in response to a post in somebody's Facebook page within a 30-mile radius of that store that fits the right demographic, the right gender. All of a sudden, you're increasing the reach. You are now marrying the strength of digital, which is reach and convenience, with the magic of store, which is, "I want to touch and feel and try on, and I've got immediate availability." In combining those two things, that is where the magic exists. That is where you're going to achieve scale in conversion for these retailers.
RTP: We are seeing more retailers focusing on trying to understand and better optimize customer journeys. So, related to the points you brought up, how do you see this better influencing the customer journey across their digital and physical footprint?
Bhanote: Right now, the e-Commerce journey totally makes sense. Everybody does it decently. But what isn't being done so well is how the physical store is represented in the digital world.
There are a handful of retailers this year that have experienced some level of financial struggle or are in the process of shutting down stores. Is that a macroeconomic issue of consumers not wanting to spend money, or is it a different issue of purchase paths not being optimized for the physical retail store? People are spending money and buying products. But are they buying from you? Are you giving them a purchase path that is convenient and relevant and makes contextual sense for someone to want to go into a store to buy those products?
If your online representation of your store gives your customers a horrible experience, it's going to be representative in the sales of your entire chain, and that's what we're seeing right now. Radius8 is here to change that.
RTP: When we talk about the connection between the digital experience and the physical one, the only link that exists in a lot of common experiences now is a store locator page. Is that part of the chasm and the opportunity?
Bhanote: More than 90% of revenue for retailers occurs offline, in the store, yet the only digital love those stores get is literally a store locator tab on their e-Commerce site or the fulfillment end of a buy online/pick up in-store process.
If you think about the store locator experience, that is ripe for disruption. People, particularly on mobile commerce, are transitioning away from the desktop experience, which is, "Spend at your leisure. Spend copious amounts of time on my web site and browse styles and go through my Lookbook and see what you like." But that sort of buying behavior is vastly different on mobile.
On mobile, you've got micro-moments of time to influence a decision, and we think if you'd re-purpose that store locator experience to match or align with purchase habits on mobile, that store locator should be transformed into what we call "shop local," where all of a sudden, based on my location and proximity to that store, I let that store tell me what's relevant. Let that store tell me what's contextual based on my location, based on who I am, based on what people around me are buying at that store. That's a phenomenal representation of what commerce could be like for a physical retail store in a digital world.
---
Sandeep Bhanote has over 15 years of experience as a start-up entrepreneur, building strong product, marketing and innovative teams in the retail technology sector and successfully delivering emerging technologies to market in a profitable and scalable way. Prior to founding Radius8, Bhanote was the founder and CEO of Global Bay Mobile Technologies, a pioneer in delivering transactional mobile solutions to emerging omnichannel and brick-and-mortar retailers and driving the wide adoption of Apple mobile devices in stores. Global Bay was acquired by VeriFone in 2011 and subsequently became part of enterprise omnichannel leader Manhattan Associates in 2014 and serves as the basis for their in-store omnichannel strategy.