Though the first wave of P2P Analytics was born in the CPG/Retail space, retailers and consumer products groups now find themselves falling behind in its adoption and application. P2P arose as market-leading brands found that legacy brand strength was losing its ability to deliver growth. New, digital native competitors were entering the market and younger shoppers no longer had the same brand allegiances. P2P Analytics held out the promise of providing a better understanding of where and why legacy brands were losing shoppers.
From Binary To Multi-Channel
How this happened is a result of the way e-Commerce evolved. Early on it looked as though we were entering a binary world with two channels — online and brick-and-mortar — battling it out. Eventually, it was assumed, all commerce would move online or go away.
That, it turned out, was too narrow a view. Shoppers proved to be more opportunistic, and quickly evolved away from an either/or approach to online or offline and towards something more dynamic and intertwined: what is now known as omnichannel. The omnichannel world created omnipresent shopping.
Today, people are always shopping — on social media, in-store, on their mobiles. They are also constantly exposed to stimuli that influence their purchasing decisions and brand experiences. Shopper journeys are unique, nonlinear, and include multiple touch points. (See chart.)
P2P analytics was developed to help CPGs and retailers better understand the shopper's journey through this omnichannel world. The new technology held out the promise of arming retailers and brands with a holistic view of the process grounded in the context of all media — earned, bought, and owned. This, in turn, would allow users to optimize media spend, content strategies and shopper-specific activations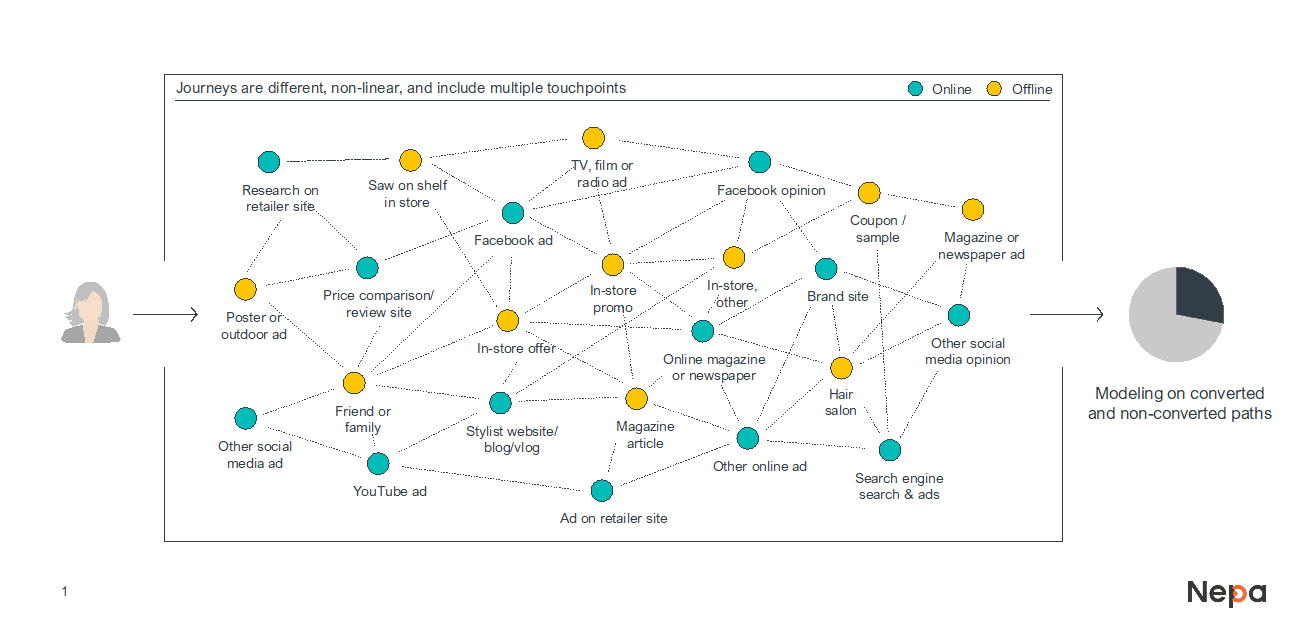 But many CPG companies and retailers did not keep pace with the move to omnichannel. While they may have been early adopters, they often did not make the kinds of organizational changes needed to maximize impact. Data was siloed, with one group tracking digital and another responsible for more traditional metrics, for example, making it hard to fully understand a consumer's path to purchase, which often meanders from social media and IRL interactions with friends, to company web sites and brick-and-mortar stores.
At the same time, P2P found itself competing with other approaches, including Marketing Mix Modeling, Attribution Modeling, and Unified Measurement. While many of these have a place, none were able to keep pace with the increasing complexity of the omnichannel.
To address this, P2P adopts a whole new perspective — the shopper's — and tracks the path to purchase from his or her point of view. This allows you to see all the touch points along the way — digital, social, real world — and to quantify their impact on purchasing decisions. It understands that someone who goes to a web site, looks at a product, and doesn't buy doesn't necessarily represent an abandoned sale. The shopper may have just moved to another channel to complete the purchase.
Marketers know that effective go-to-market strategies depend on knowing when and how to engage shoppers in their buying decision. What's been missing is a strategy that aligns the organization while creating actionable insights in two key areas: 1. What actually drives progression and conversion across the entire path to purchase? and 2. Why? Answering "why?" — in the form of identifying shopper motivation — is a benefit that is unique to a well-developed Path to Purchase (P2P) Analytics approach.
Capturing this requires a different approach to measuring, too, one that's more holistic and continuous, consistent with Omnichannel. Many CPG companies and retailers are stuck at this stage of the process, looking for a way to get strategy and measurement around the increasing complexity of the customer journey. They still have one foot in the either/or world. Making the leap to either/and may seem daunting, but the value is there as better and more frequent measurement leads to a better understanding of the customer, more finely honed tactics and increased sales.
For long-standing brands seeking to regain lost ground, P2P Analytics offers a better understanding of where and why their products are losing today's shoppers. In some cases, companies may find that they need a whole new approach to targeting the next generation that is grounded in understanding how they discover, relate to and shop for iconic brands. But to achieve this, first they need to ask the right questions. These include:
Does our marketing analytics connect our media, marketing, digital and customer teams around a shared view on what activity wins shoppers?
Do we know why certain touch points — individually and in combinations — are or are not effective?
Are we using omnichannel shopper insights about the shopper path to purchase to plan our touch points and media strategy to optimize conversion?
Are we driving category growth through path to purchase insights?
By answering these questions, retailers and CPGs can begin the process of more
effectively Implementing P2P and understanding omnichannel. Charting and understanding the path to purchase creates the opportunity to influence buying decisions at every step along the way, leading to increased conversion, stronger brands and the potential for category growth.
Sean Dunn is CMO of Nepa.