The retail landscape is changing rapidly. In order to compete with online options, brick-and-mortar retailers must create amazing in-store experiences. Many are turning to a concept called Retailtainment, or retail marketing as entertainment. Author George Ritzer (in his book, Enchanting a Disenchanted World: Revolutionizing the Means of Consumption), describes Retailtainment as the "use of ambience, emotion, sound and activity to get customers interested in the merchandise and in a mood to buy."
One retailtainment tactic is the in-store demo. Large retailers love them, because they draw customers and not only boost same-day sales of the demonstrated items, but also typically boost category sales. Plus, retailers collect a fee from the manufacturer.
But suppliers aren't as enamored. In evaluating their investment in in-store demos, they are naturally not impressed with category sales, looking only at same-day sales of the item they are promoting. While a 150% boost in same-day sales is not unusual, sometimes that's not enough to make up for the work involved and the fee to the retailer. In addition, the impact is not always clear, as neither retailers nor suppliers have had good tools for measuring short-term and long-term impact of in-store demos. They are also not particularly good at planning in-store demos — selecting the best products, stores and timing to optimize ROI.
For a Fortune 50 retailer, we set out to prove that the impact of in-store demos extended well beyond the day of the event, building a model that predicted on average a 150% lift on the day of the demo, plus a 90% boost in item sales over the following three months. We also crafted models to help them select the vendors and products whose in-store demos would lead to the best improvements in incremental sales.
Taking The Long View: In-Store Demos As A Network Of Events
There are three factors for suppliers and retailers to consider when evaluating the impact of in-store demos:
Conversion (non-customer to customer, or non-loyal to loyal);
Loyalty (product, category or brand); and
Halo effect (customers who purchase additional items from a manufacturer's repertoire over time).
And they must look at both the short-term and long-term impact on each facet.
In order to measure all of that, suppliers and retailers must take a look at individual customer journeys.
It's in retailers' best interest to prove out the longer-term value of in-store demos, since they want to book more.
How Suppliers Should Evaluate The Worth Of In-Store Demos
Suppliers want to optimize which products to demo, where and how often. The predictive model looks something like this:
ROI = [(W1 × Lift from existing customers)+(W2 × Lift from new customers)]/(Demo fee + third-party fee)
Different weights can be provided to retention and acquisition. If retention is the primary goal, W1 would have the higher weight. If acquisition is the primary goal, W2 would have the higher weight.
There are also constraints to consider — for instance, demos per store, demos per product, number of overall demos, reach and of course budget.
How Retailers Need To Think About Evaluating In-Store Demos
While suppliers are thinking about the balance of demos among different retailers, retailers are thinking about the right balance of supplier demos in their stores.
For a Fortune 50 retailer, we built an interactive tool (based on a model similar to the supplier one above) that enables staff to choose the distribution of demos among suppliers and see the impact on lift and target attainment. While the model automatically determines the right mix of demos to ensure the retailer meets its targets, staff can dial certain suppliers up or down to see the impact on targets.
The model also helps determine, for each supplier, which products to demo, calculating the expected product, brand and category lifts for each product, plus the expected reach. Again, staff can tweak the mix to see the impact in each area. They can also run the model for a specific region, division or even store.
To craft this model, we analyzed data from millions of individual customer transactions, extracting figures for same-day sales of demonstrated items, follow-on sales of that item for three months, and category/brand sales over that time period. This allowed us to detect purchase patterns and longer-term effects of in-store demos. Then we segmented the customers, and built models for different segments.
Our analysis showed, on average, a 150% lift in same-day sales for a demonstrated CPG item – followed by a 90% lift for that item over the course of the next 90 days. In other words, an item that typically sold at a volume of $10,000 per day went to $25,000 a day on the day of the demo, and then another incremental $9,000 over the 90 days following. Thus, the incremental lift for the in-store demo was not just $15,000 in one day, but $24,000 over 90 days — substantially changing the ROI picture for everyone involved.
This Fortune 50 retailer can share the model's output with suppliers as they jointly plan in-store demos across regions — making the exercise much more quantitative than it once was. We believe this approach will become common in the coming year, bringing analytic rigor to a practice that has been off the radar for most data science teams.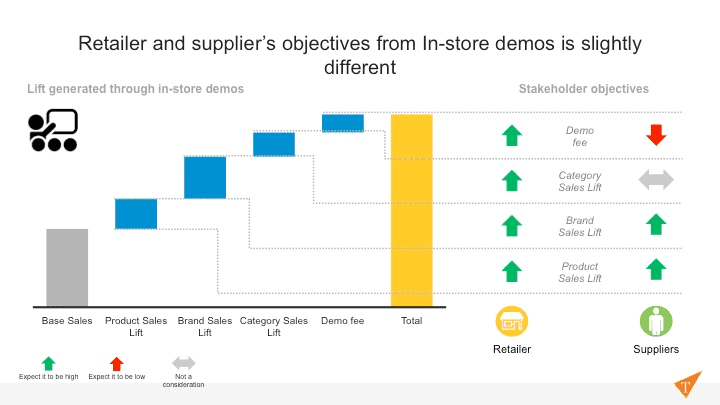 Caption: Retailers and suppliers have different objectives for in-store demos. It's important for each to understand the other's goals.
Advice for suppliers and retailers that are considering taking this path:
Don't think of in-store demos as discrete events, but rather as a network of events. A second demo might help jumpstart waning incremental impact from a previous demo.
Don't forget the halo effect. Too often, suppliers focus only on sales of the demonstrated product, but don't evaluate sales of other products from the brand.
Use the data for fee negotiation. Suppliers should make sure they aren't paying for category lift benefits, and both suppliers and retailers should consider fees based on the long-term impact of a demo event.


---
As Principal at Tredence, Harsh Paliwal is responsible for leading their retail practice. Paliwal is a technology enthusiast and always looks for ways to drive consumption of analytics through technology. His current passion is to build value-driven organizations, and he can be reached at harsh.paliwal@tredence.com