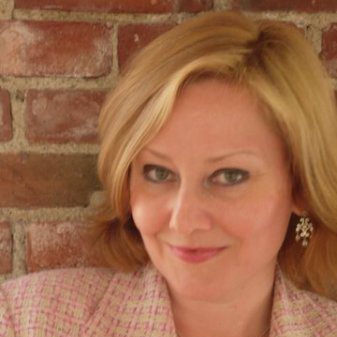 Instead of going with a gut feeling that a new website banner, page, campaign, or offer is going to hit it out of the ballpark, retailers are bringing data-driven strategies and methodologies to their web and mobile experiences, with measurable and impressive results.
Web site testing and optimization has been widely adopted in the highly competitive market of online retail, where companies are parlaying the conversion wins of the digital marketing team into expanded ownership of optimization to include UX, product management, and the development team. But, all three teams have different goals and motivations for testing and optimization, so how can they come together to create a new Culture of Optimization? The answer is: by uniting behind one overriding company goal of increased customer engagement, conversions, and subsequently, revenues.
First, what exactly is a Culture of Optimization? It is the shift that takes place when an organization has seen numerous and measurable wins from its testing program, and as a result, has expanded experimentation beyond marketing to become part of the corporate culture. As a result, teams from marketing, product management and web/mobile development (and other departments) use testing to prove or disprove their hypotheses. Gut feelings and opinions take a back seat to data-driven decisions that are driving multichannel optimization of the customer experience.
Let's take a deeper look at some of the teams driving this new Culture of Optimization:
Marketing – The marketing team is concerned with driving traffic to the site, creating highly engaging promotions, offers, and campaigns, and ensuring that visitors stay and purchase. This team uses testing to optimize marketing content by creating a targeted and engaging customer experience to drive conversions.
Product Management – The product management team is usually on a tight deadline to create new site features and functionality. They're generally focused on testing new feature releases in order to mitigate risk and the functionality of on-site search algorithms.
User Experience – The UX team cares about testing new site designs, process flow changes, (such as checkout and registration) and the overall look and feel of the site.
Development – The dev team is tasked with programming the content, features, and functionality of the site, working closely to the specifications of Product Management. So they're focused not only with the tests that PM is running, but also other experiments such as those concerning website performance (site speed).
Progression Of An Optimization Culture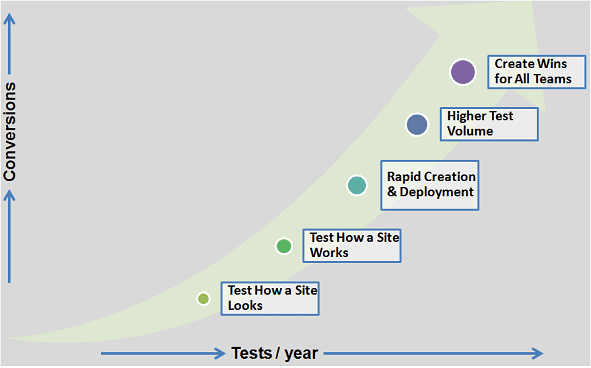 Source: SiteSpect
In an organization that has embraced an ongoing commitment to testing and optimization, these four teams break through the silos of the past and come together to create an organizational testing team in order to find new opportunities for conversion, run more tests in less time, and create measurable wins for the organization. Instead of running dozens of tests a year, they're running hundreds – if not thousands. Instead of running basic tests on content, such as buttons, fonts, headlines, and placement, the new team is running much more sophisticated tests, including:
Check-out flow;
Pricing & shipping offers;
Dynamic content;
New features;
Whole site releases; and
Search algorithms.
The Barriers Stopping The Culture Of Optimization From Taking Hold
Believe it or not, one of the biggest barriers to making this new organizational-wide Culture of Optimization a reality can be the testing tool itself. For example, tag-based tools can limit the number of tests that can be run because they can't easily test features and functionality. But that's where many of an organization's next conversion opportunities actually live! From site search, pricing and shipping, check-out flow, to new features and whole site releases, the opportunities for testing are almost limitless. And, the more tests run, the more site improvements are made, the more lift in conversions the team will see. The other issue to consider with tag-based testing tools is that they can introduce page-loading latency as well as flicker effect while images load, creating a poor user experience.
Success!
Creating a Culture of Optimization by extending testing beyond marketing can be done, and some of the world's largest and most successful retailers are proving it. Take, for example, one of SiteSpect's clients, an online retailer that tested four different free shipping threshold prices. The winning threshold resulted in a 23% lift in average order value. Another customer tested a five-step check-out process versus a one-step process. The winner produced a 4.3% conversion lift and 2.9% lift in average order value. When you're not bound by the types of test you can run, every part of your site and/or app can be optimized. There is room for constant improvement, and after your organization adopts this new Culture of Optimization, the more wins it will rack up.
Once marketing, product management, UX, and the dev teams unite and work towards a common goal, each team scores more wins and the company benefits as a result. The best part is, once your company reaches this tipping point, you'll never want to go back to the old, siloed way of running tests. Good luck!
---
Kim Ann King is an award-winning marketing executive and has been a B2B software marketer for more than two decades. She currently serves as the Chief Marketing Officer of web and mobile optimization firm SiteSpect.