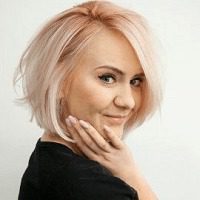 Every year, Retail TouchPoints kicks off its annual Retail Innovation Conference by hosting a Store Tours event that gives attendees a first-hand look behind the scenes at leading retail brands.
This year, attendees spent Monday, April 30 at The Shops at Columbus Circle in New York City, visiting five retail locations and hearing about them straight from the executives themselves. The stores included:
TUMI, the luggage and travel company that operates a small, partner-owned retail store that produces top sales-per-square-foot figures;
Sugarfina, an "adult candy store for grown-ups" that houses many delicious sweets in a kiosk store format;
Williams Sonoma, a kitchenware and home furnishings store that offers classes, book signings and private events in its flagship location;
Amazon Books, a physical version of the e-Commerce giant's online offerings; and
New York Running Company powered by JackRabbit, a one-stop-shop for everything a runner or athlete could possibly need, from top brands such as Brooks, ASICS, Nike and more.
Read on to get an inside look at some of the highlights from this year's Store Tours event!
TUMI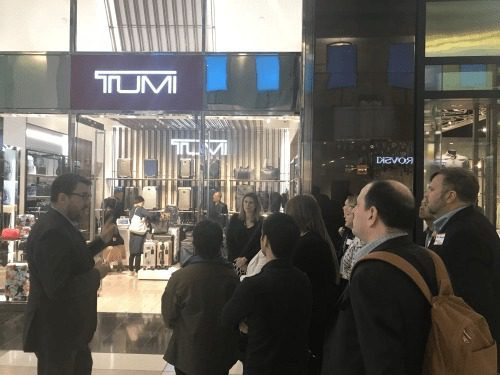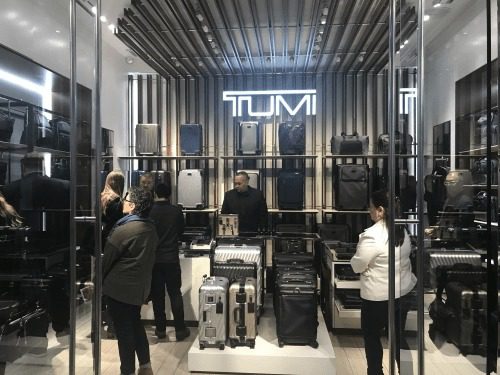 The 405-square-foot TUMI space at The Shops at Columbus Circle is a great example of how productive and successful a small space can be. Unlike most locations, this store is partner-owned rather than company-owned, yet it is one of the best performing of the company's 170+ stores.
The store is designed to have the same consistency and experience as a company-operated store, and features an engaging iPad kiosk that allows customers to experience the full TUMI collection. Items can then be shipped to the customer's home from the warehouse. The store also offers complimentary monogramming in-house.
Sugarfina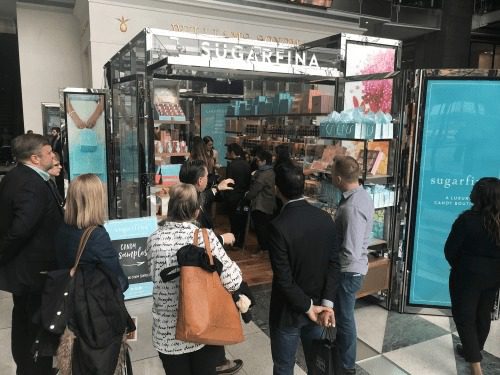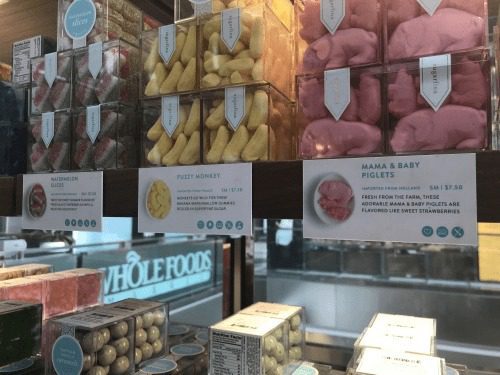 Dubbed a "candy store for grown-ups," Sugarfina is practically a modern-day Willy Wonka factory. In fact, Co-Founder and Co-CEO Rosie O'Neill said she and her husband came up with the idea after watching the Willy Wonka movie.
The retailer operates more than 50 retail locations, but the Sugarfina at the Shops at Columbus Circle is the smallest store of the bunch. One side of the kiosk format enables customers to build their own bento boxes of candy, while the opposite side features pre-packaged gift sets. No space is wasted: shelves are adorned with nutrition fact cards as well as description labels with dietary restriction labels for each type of candy.
Williams Sonoma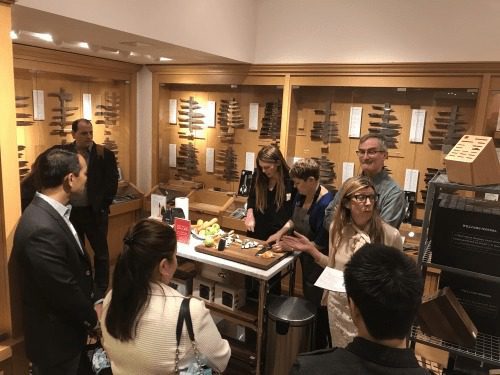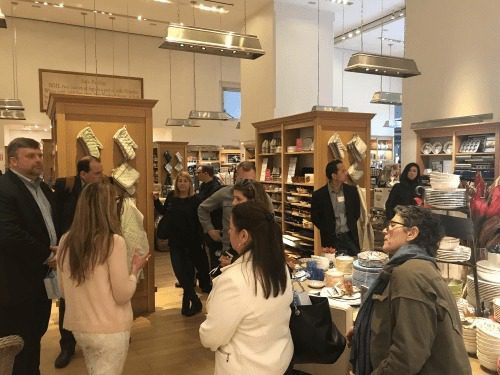 The flagship Williams Sonoma store is a two-level shop that sells everything from kitchenware and electronics to cutlery and home furnishings. As soon as customers walk in, they are given an immediate connection and experience with food and drink samples as well as the aromas wafting through the store.
The 22,000-square-foot store is designed to inspire and empower customers by offering tutorials on how to use the products for sale, hosting book signings and special events as well as offering cooking classes on a big cook top in the back of the store. There is also a coffee bar for tasting and an area where customers can test out knives and other kitchen equipment. Upstairs, there is a complete home furnishing section.
Amazon Books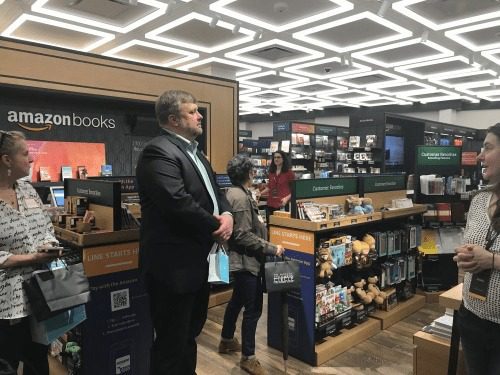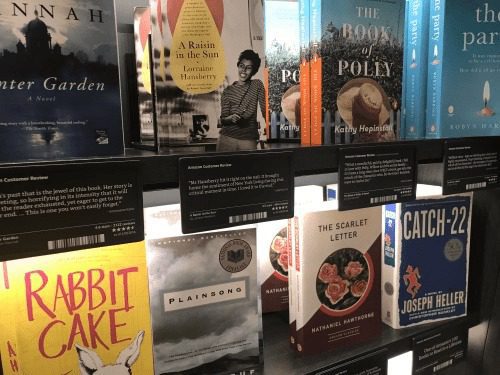 The Amazon Books store at the Shops at Columbus Circle is one of 15 physical locations operated by the e-Commerce giant. Each book in the store is either a best seller or is rated with 4+ stars by customers. Shelves are refreshed weekly and each display is created based on Amazon algorithms. For example, there is a section of best sellers based on the location of the store — in this case, New York City. This differentiates each store and provides a community feel.
The Amazon Books store also sells a variety of toys, trinkets and technology that are also popular on the e-Commerce site. Customers can check out using their Amazon shopping app. There are no price tags on shelves, because an individual's price is based on whether the customer is a Prime member or not. Each book faces out and has a complementing customer review placed on the shelf, in an effort to match the online experience.
New York Running Company powered by JackRabbit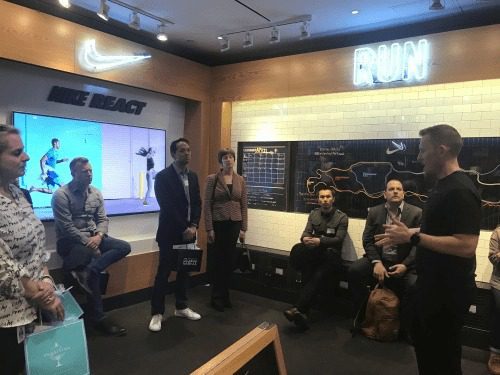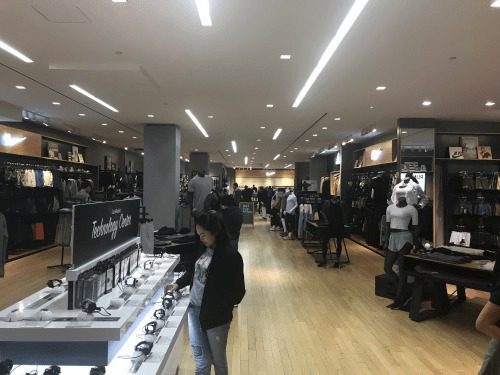 This large-format location is a mecca for runners and sells everything from apparel and shoes to dietary supplements and accessories. Customers can try on sneakers and test them on one of two treadmills in the store, while being recorded on video recorded to provide analysis about how they perform in the shoe.
The store also hosts running groups and houses lockers for city dwellers (and visitors) to leave their belongings in the store while they go out for jogs in nearby Central Park. Vendors occasionally visit the store for customers to test their sneaker samples and actually go outside and run in them.