Amazon has announced plans to roll out a far-reaching worker safety program called WorkingWell across its U.S. operations network.
The goal of the program — aspects of which have been piloted across the company since 2019 — is to cut recordable incident rates by 50% by 2025. The scope and scale of the initiative make it potentially "the largest experiment in workplace safety culture ever undertaken," according to CNBC.
The program includes physical and mental activities, wellness exercises and healthy eating support, all designed to help employees recharge and reduce the risk of injury. It is all part of Amazon's newly defined mission to be "Earth's Safest Place to Work," an ambition Founder Jeff Bezos highlighted in his final letter to shareholders before he steps down as CEO later this year. The company plans to invest more than $300 million in safety projects in 2021 alone.
"In my upcoming role as Executive Chair, I'm going to focus on new initiatives," said Bezos in the letter. "I'm an inventor. It's what I enjoy the most and what I do best. It's where I create the most value. I'm excited to work alongside the large team of passionate people we have in Ops and help invent in this arena of Earth's Best Employer and Earth's Safest Place to Work. On the details, we at Amazon are always flexible, but on matters of vision we are stubborn and relentless. We have never failed when we set our minds to something, and we're not going to fail at this either."
The WorkingWell program was developed over a number of years in collaboration with Amazon employees, and is already in place for 859,000 workers at 350 sites in North America and Europe. By the end of 2021, the program will have expanded to cover Amazon's entire U.S. operations network.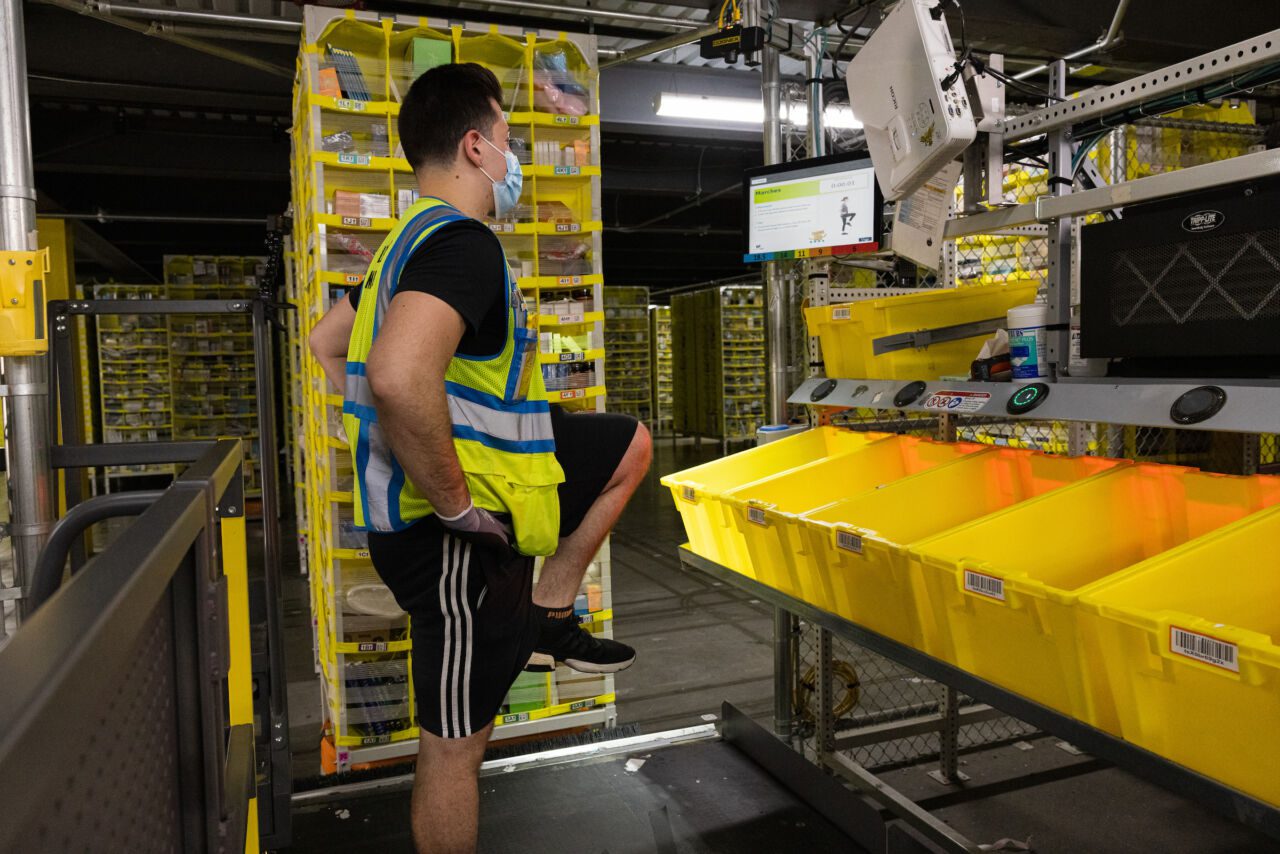 Amazon reports that approximately 40% of work-related injuries at the company are musculoskeletal disorders (MSD), which include sprains or strains caused by repetitive motions. WorkingWell pilots, along with other initiatives focused on MSD prevention, helped decrease MSD-related injuries by 32% from 2019 to 2020, according to the company.
Among the elements included in the WorkingWell program are:
Health and safety "huddles," where employees gather near workstations and watch short interactive videos on rotating topics created by health and safety professionals and injury prevention specialists;
Wellness zones, offering employees dedicated space for voluntary stretching and muscle recovery that are outfitted with interactive videos and written information on body mechanics and best practices in stretching and safety;
AmaZen individual interactive kiosks that guide employees through mindfulness practices including guided meditations, positive affirmations and calming scenes with sounds;
On-site wellness centers staffed by Amazon Injury Prevention Specialists, offering preventative self-care, health and safety education as well as first-aid treatment in case of injury;
The EatWell program, featuring signage on healthy food choices and an increased selection of healthier food options in break rooms;
Neighborhood health centers developed in partnership with Crossover Health to offer Amazon employees and their families access to affordable healthcare within 10 miles of where they work and live. Seventeen health centers are currently available across five U.S. cities offering comprehensive primary care services;
"Mind & Body Moments," hourly prompts that employees receive at their workstations guiding them through a series of scientifically proven physical and mental activities to help recharge and reenergize;
"Connect & Comment" kiosks that gather employee feedback to help drive continued improvements to the WorkingWell program; and
The "WorkingWell" mobile app, which will soon provide at-home access to all of the on-site safety, health and wellness offerings in Amazon buildings, including AmaZen, EatWell and Mind & Body Moments, as well as a digital library to facilitate proactive wellness behaviors.