Have you heard the news? Brick-and-mortar is back. Following several years of pandemic-driven declines, shoppers are eagerly returning to stores, and that enthusiasm is being echoed in a new upswing in store openings and lease signings.
Coresight Research's July U.S. Store Tracker predicts that retailers will open 75 million square feet of new retail space in 2022; and the country's largest mall owner, Simon Property, reported that new deal volume in the first half of 2022 was up 25% from last year. The company said it has signed 2,200+ leases for more than 7 million square feet in the first half of the year and that nearly 40% of that was new deals.
And yet, a recent study from LeaseQuery, which compares the number and value of retail leases from 2019 to 2022, tells a slightly different story. This study showed that despite the fact that more retail stores opened than closed in 2021 (just barely), retailers' overall lease quantities remained flat and are even declining.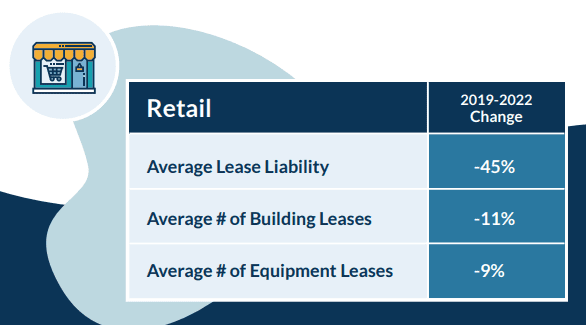 Perhaps more importantly, the study also analyzes the lease liabilities of the more than 2,000 companies included. Lease liabilities offer a useful glimpse into the future because this number quantifies the dollar value of future lease payments. According to the study, the average number of retail building leases is down 11% in 2022 from 2019, and the average retail lease liability has decreased 45% in that same timeframe.
This comparison to numbers from the pre-pandemic era indicates a broader trend in the realm of retail real estate toward reduced footprints, despite the uplift that appears to be happening now.
"The number of leases has decreased a bit, but the liability — the dollars associated with that — has decreased a lot more," said Jennifer Booth, VP of Accounting at LeaseQuery in an interview with Retail TouchPoints. "To us this reads as a reduction in footprint, either closing of stores or reducing the size. We know that the pandemic spurred more online shopping, and so a lot of retailers are reducing their footprint in response."
A Window into Retail's Future
Leasing trends can provide a helpful signal of the health of an industry. But a decline in lease quantities is not necessarily a sign of retail in decline.
The pandemic caused unprecedented (to put it lightly) shifts in consumer patterns, not just in how they shopped but where. For example, a separate study from RCS Real Estate Advisors indicates that while retailers followed consumers in fleeing "flight cities" like New York for what were typically seasonal locales such as Miami during the pandemic, much of that real estate reshuffling is returning to the previous norm as consumers return from their prolonged stays in sunbelt states and begin regularly traveling once again.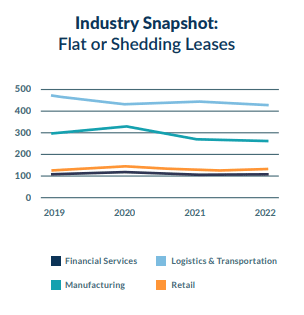 All of this indicates the ongoing push and pull as retailers continue to grapple with the unpredictable ups and downs of life during COVID. But beyond that is a larger trend that was already being felt before SARS-COV-2 came into our lives — that of a historically "over-stored" U.S. seeing even less ROI from those stores as consumers increased the amount of shopping they conducted online. After all, "retail apocalypse" was a buzzword long before COVID entered our lexicon.  
"[Our study] does offer interesting insight into that [larger trend] that may not appear in other numbers, because that lease liability is the present value of all future lease payments associated with a lease," said Booth. "So it's not just today or this year. If they have a two- or three-year lease, it's the value of that whole term. Seeing that decreasing can indicate a reduced footprint, maybe price changes and also just companies not renewing leases. They might finish out the term but not renew, and that would decrease the liability. The combination of all those factors indicates that retail, unlike the other industries that we highlight, is decreasing their lease footprint."
Forget About Longevity, Focus on Flexibility
Another thing that shifted during the pandemic, but likely won't continue, was lessors' willingness to work with beleaguered tenants. "Certainly we saw a lot of lease concessions where lessors were willing to forgive lease payments for a period of time or delay them, but a lessor is in business also — they can't do that forever," said Booth.
While retailers certainly know they can't expect that kind of flexibility from property owners and banks forever, Booth said one enduring change has been the importance retailers now place on the flexibility of leasing agreements.
"Historically, many organizations would try to get the cheapest lease they could for the longest amount of time because they just assumed they'd be there forever," she said. "But the pandemic showed us that may not always be the case. We saw so many modifications and terminations over the last couple of years, so the flexibility of being able to change or terminate a lease without it being cost prohibitive has risen in importance as a factor to consider when entering into lease agreements."
As to whether property owners are showing a willingness to offer that kind of flexibility, Booth added: "It's all facts and circumstances; you can do anything for a price."