Fearful of cautious consumers this holiday season, retailers may be setting themselves up for failure in the critical Q4 period by keeping inventories too lean. Recent surveys Retail System Research (RSR) indicates that retailers are not ordering enough merchandise to meet even last season's mediocre level of demand.
With retailers running lean on inventory levels throughout the year, other industry insiders suggest a critical variation between this season's winners and losers could be the merchants who have set up flexible stock options and can respond quickly to shifts in demand.
"RSR is concerned about this holiday season," says Nikki Baird, Managing Partner, RSR. "Several economists are predicting a rebound for the second half of 2009 (whether it sticks around or not).  When you match that with a level of retailer irrationality that always seems to come with the holiday season, you've got a recipe for high stock outs (and disappointed shoppers) along with big discounts on what retailers do have in stock (impacting retailer margins)."
Tapping Store Analytics
Since inventory management is so closely tied to the customer experience, industry insiders indicate retailers will use preemptive tactics to create and satisfy consumer demand and maximize every sales opportunity, while streamlining backend store operations.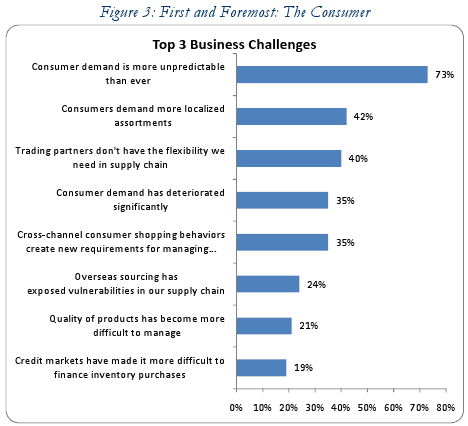 "Monitoring the floor is now more important than ever to optimize the flow of merchandise," says Doron Levy, President, Captus Business Consulting. "At the store level, many chains have begun revamping their backroom processes to make sure product makes it out on the floor in a timely manner."
"We're seeing retailers replenish frequently, retrieve and analyze POS data from stores multiple times during the day to get the earliest possible insight into demand patterns," says John L. Stelzer, Director Retail Industry Marketing, Sterling Commerce. "We're seeing retailers manage inventory before it arrives at the DC—or the store for supplier drop-ships."
Stelzer says retailers who insist on more timely accurate order/shipment status information are likely to better manage inventory before it shows up at the DC or store. "Retailers are beginning to manage inventory in the yard to reprioritize shipment unloading based on the items that are needed most downstream," he says.
Shelf Management Strategy
Stelzer says there's indication that endless aisle initiatives are expanding rapidly.  "The allure of being able to dramatically expand assortment without having to carry additional on-hand inventory is enticing more and more retailers to enter the direct-to-consumer model with more of their suppliers," he says.
RSR's Baird says there has been an uptick in interest in "save the sale" from either in-store through endless aisle-type capabilities, or online by providing visibility into store inventories, if not outright buy online/pickup in store.  "But the impact on safety stock has been slow to manifest, because that is a significant change to both distribution systems and processes, as well as the distribution network as a whole," she says.
"Most retailers operate with separately held inventories, with the systems to maintain those inventories separately," Baird adds. "To have one view and one virtual pool of that inventory requires at a minimum distributed order and inventory management, and potentially changes to the way merchandising operates today as well."
Rod Daugherty, Senior Director Product Strategy for Manhattan Associates, adds that safety stock strategies could be critical as retailers are running lean. "One of our differentiators is the ability our solution gives our customer to simulate different safety stock strategies enabling them to optimize to whatever constraints are most important to their enterprise," Daugherty says. "The safety stock layer has to be dynamic relying on different statistical models for different types of SKU behavior."
Driving Demand
"There is an acknowledged, conscious strategy to try to create a greater sense of urgency among customers, to try to put a floor under retail prices," says Ted Hurlbut, Principal, Hulrbut & Associates. "Almost regardless of what supply of goods are, customers are not responding—especially in discretionary goods—to anything that's not deeply discounted."
Hurlbut points to Forever 21, which has implied a sense of leanness to elicit a quick response from customers. The young apparel retailer keeps a broad assortment in stores, but a lower quantity, so customers act urgently to purchase. "Retailers are learning that a very rapid turnover in goods can create a sense of consumer urgency which tends to command a higher price point," says Hurlbut.
Insiders agree that the opportunities to cater to a cross-channel shopper can be plentiful for retailers. "To begin with, retailers are always trying to get shoppers into their stores," says Stelzer. "Offering in-store pickup of on-line purchases is an excellent way to drive increased store traffic. Once the customer is in the store, there's the opportunity to cross-sell or up-sell the customer."
Stelzer points to outdoor gear retailer REI, which reported that every third customer purchased an average of $90 of additional merchandise while in the store picking up their on-line purchase at the roll out of the company's in-store pickup program for Internet orders.