Supply chain snarls, delivery delays and inflation just might make the 2021 holiday shopping season one of the most expensive and logistically challenging ever. And yet it looks like consumers are still willing to spend — overall retail sales in October were up 1.7% (seasonally adjusted from September), and up 16.3% YoY, according to the U.S. Census Bureau.  
With inflation at its highest levels in three decades, consumers are beginning to feel the impact. Prices at online retailers rose again in October and are up 5.5% YoY, according to Profitero's latest Ecommerce Price Index. Consumers are going to have to work hard this holiday season not only to find retailers with products in stock but also to find the best prices, especially as all the factors at play give retailers little incentive to discount.
Amazon Still Wins When it Comes to Price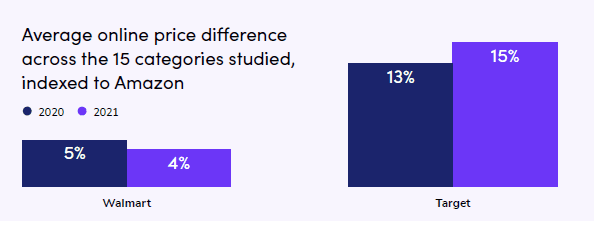 In its fifth annual Price Wars study, Profitero looked at the prices of more than 15,000 products across 15 categories from 12 leading online retailers to see how they measure up heading into a holiday season where price will almost certainly be even more of a consideration than normal.
Overall, Amazon is still the cheapest (by 14% on average), beating out 11 of the 12 retailers examined in every category. However, the online price gap between Walmart and Amazon is shrinking, with prices that are only 4% higher on average, the study found.  
Walmart made price improvements in 10 out of 15 categories from 2020 to 2021, and overall prices are down one percentage point since last year. The biggest price cuts have been in the fashion and pet categories, with both dropping five percentage points. The battle with Amazon is heating up in six categories where Walmart's online prices are, on average, within 1% to 2% of Amazon — appliances, beauty, food and beverage, health and personal care, home furniture, and sports and outdoors.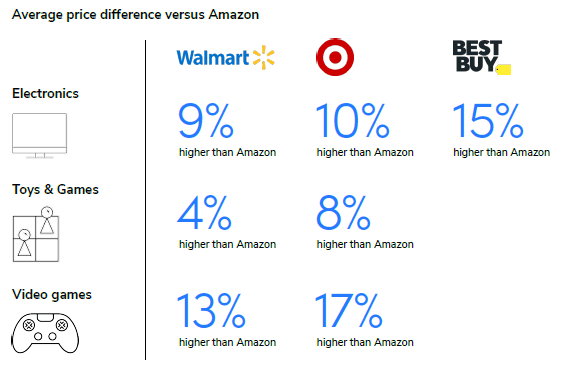 In contrast, Target is slipping further behind, with prices that are 15% higher than Amazon, an increase of two percentage points from last year. Prices for beauty products, home furniture, food and beverage, vitamins and supplements, and health and personal care items are on average a whopping 22% higher than Amazon's. Target's most competitive category is baby products, although prices there are still 6% higher than Amazon.
In the pet category, Chewy is giving Amazon a run for its money, matching Amazon's prices for pet food and supplies for the third consecutive year. And for tools and home improvement, The Home Depot is also keeping pace, with prices approximately 6% higher than Amazon's on average.
Holiday Success to Hinge on Pricing Decisions
As inflation and product shortages continue to make headlines, competitive pricing and thoughtful discounting will be crucial for all retailers this holiday season. "The big question is whether much of the planned holiday buying is being done early and December sales will suffer, or if this confidence and buying power will sustain strong growth throughout the entire season," said Dave Bruno, Director of Retail Market Insights at Aptos in comments shared with Retail TouchPoints following the October retail sales report.
"Retailers will need to be very strategic with their messaging, promotions and offers if they hope to reduce the risk of a late-season slowdown," Bruno added. "Carefully timed and targeted offers must be combined with incentives and discounts on alternatives to out-of-stock items and flexible omnichannel strategies that evolve as COVID case counts fluctuate."
A host of major retailers reporting earnings last week, including Walmart, Target, Best Buy, Macy's and Lowe's, had generally positive news about inventory levels heading into the final holiday crunch — yet many analysts predict price pressures on these and other retailers will increase. Despite positive outlooks at both Walmart and Target, shares in both companies were down following earnings, with some investors feeling they could be more aggressive in increasing prices to offset rising costs. 
The Big Debate: Temporary Blip or Permanent Bump?
For his part, President Biden remains positive, saying that the current challenges retailers and consumers are facing will pass: "Very soon we're going to see the supply chain start catching up with demand, so not only will we see more record-breaking job growth, we'll see lower prices and faster deliveries as well," he said during a speech in Baltimore on Nov. 10.
Despite these reassurances, 87% of Americans said they're concerned about rising prices in a recent Morning Consult/Politico poll, especially since essentials like food and energy are seeing the steepest increases. And not everyone is as optimistic as Biden about the temporary nature of this current dramatic upswing in prices.
The government announced earlier this month that the Consumer Price Index had increased 6.2% in October from a year ago, its biggest 12-month jump since 1990. Jason Furman, who served as the top economic adviser in the Obama administration, told the AP that this news was "a large blow against the transitory narrative. Inflation is not slowing. It's maintaining a red-hot pace.''
"We need a lot of humility talking about how long this lasts," Furman added. "I think it's with us for a while. The inflation rate is going to come down from this year's blistering pace, but it's still going to be very, very high compared to the historical norms we have been used to."