Consumer electronics is a rather crowded space with a swarm of brands trying to make their presence felt in every category — from wearables to televisions and headphones to laptops. Unless a shopper knows exactly what they're looking to buy, consumers in this space often fall victim to 'overchoice,' a term coined by Alvin Toffler in his 1970 book Future Shock.
As the name suggests, the overchoice effect occurs when a buyer is overwhelmed by a large number of options available, often resulting in the person abandoning the decision-making altogether, or worse, taking their business elsewhere. For today's consumers who seek instant gratification, experiencing this is a nightmare. And for a retailer, it's bad for business.
In a bid to improve product discovery across shoppers' digital commerce journeys, retailers have been investing heavily in personalization. According to a Forrester study, personalization ranked the highest among tech investments in 2021.
The same holds true for consumer electronics retailers. B.TECH is among Egypt's top retailers in this category, with more than 100 stores and a growing online presence. The retailer saw a sharp increase in its ecommerce revenue in 2020, as consumers stayed home and relied on electronic devices for professional as well as social and entertainment needs.
That said, B.TECH realized that product discovery was a problem — it was important to surface relevant products with respect to each shopper and their current context. Doing so consistently is a surefire way of earning (and keeping) a shopper's loyalty.
To individualize commerce experiences in real time and at scale, B.TECH deployed an AI-powered personalization engine. Let's take a quick look at their personalization in action.
Category Page
When a shopper visits a category page, it's likely that they are in exploration mode and open to suggestions. The image below shows a merchandised placement for 'Top 10 best sellers' at the top of the electronics category page. This helps a shopper discover popular items they probably hadn't considered exploring before. This approach also works well for new or unknown visitors for whom there is no data on behavior and preferences.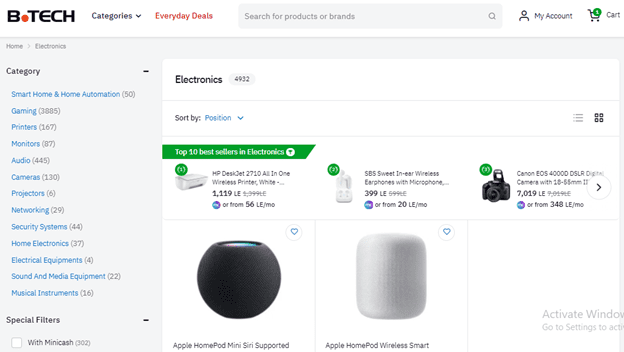 Product Detail Page
When a shopper visits an item page, they also see the option to 'Compare with similar products.' While this may be a common feature, what makes this more convenient is that the shopper can easily compare the specifications without having to visit each product page.

This placement uses advanced merchandising that enables relevant upsell and cross-sell recommendations based on the item being viewed, without the need for manual merchandising.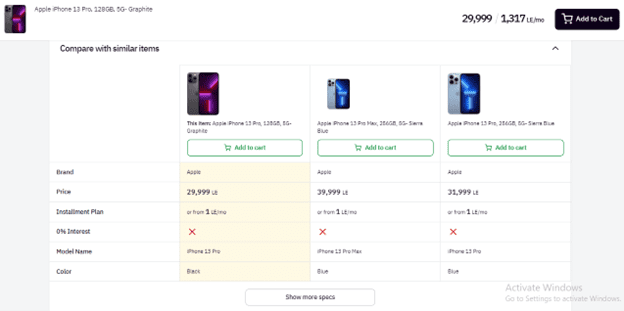 Add-to-Cart Page
Upon adding an item to the cart, the shopper gets relevant cross-sell recommendations for accessories or products compatible with the main product, sparing the shopper the effort of searching for these items separately. For example, Wireless AirPods are recommended when an iPhone is added to the cart.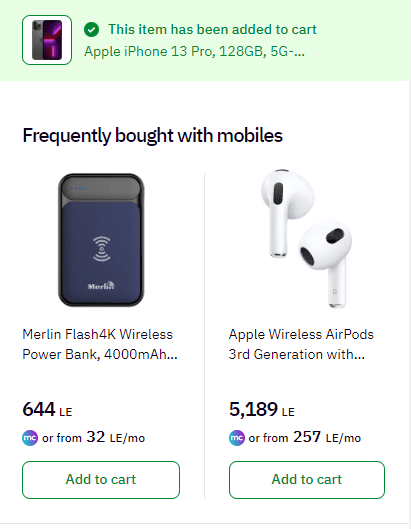 Cart Page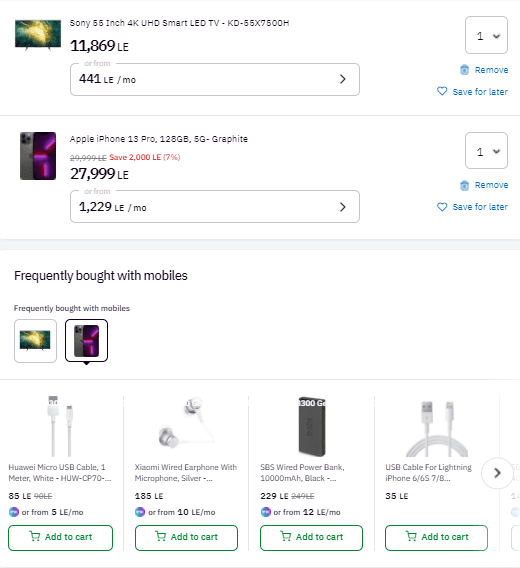 When the shopper proceeds to the cart page, the engine again reminds them of complementary items they might want to purchase along with the main product, without being pushy. But what's unique about this recommendation block is that the shopper can switch between the items in the cart and view recommendations for each item separately.

And when a shopper empties their cart, instead of just an 'Oops! Your cart is empty' message, the engine suggests strong alternatives to the items the shopper deleted. These recommendations make sense as the shopper had a clear buying intent.
In addition to the aforesaid efforts, B.TECH delivers relevant recommendations on the home page as well based on a shopper's search queries, previously viewed items, and items in their cart — making it easier for the shopper to pick up where they'd left off.
Product discovery is now a breeze for B.TECH's customers. Since personalizing its web store, B.TECH has seen strong business results:
18.6% of the sales from the website, mobile site and apps can be attributed to personalized recommendations driven by the engine (compared to 11% earlier)
5% attributable revenue from cross-sell
10X RPMV on the cart page
Another retailer that turned to personalization is Verkkokauppa.com. The company is among Finland's largest online stores, with 65,000 SKUs in multiple categories, including consumer electronics.
Verkkokauppa moved from traditional commerce site search to self-learning, personalized search in order to solve pressing issues such as irrelevant search results and instances wherein a shopper sees a no-results page after making a search query.
To elaborate, when a shopper searches for 'Apple', the search could show all the available Apple products. But would this be relevant to the shopper? Probably not. Personalized search helped Verkkokauppa address this problem by using a strategy known as Wisdom of the Crowd (WOC).
WOC typically uses a machine learning algorithm that learns from the collective behavior of shoppers, their search queries and what product they view or purchase thereafter. It then uses this information to display search results that in all likelihood match the shopper's intent. Shoppers who use search often have clear purchase intent, and personalized search helped the retailer convert these shoppers quicker.
In addition to search, Verkkokauppa also personalized other commerce touch points of product recommendations, browse or category pages and content. Here are the business outcomes they experienced as a result:
31% higher conversions
More than a 24% increase in basket sizes
Over 25% attributable sales from product recommendations (up from 6% earlier)
Sessions involving search convert 5X more than the ones without search
In conclusion, it is paramount that retailers personalize every key touch point in the online shopping journey, including search, product recommendations, browse and content. Doing so will allow for a more holistic experience that customers expect today. Creating contextually relevant experiences consistently will also help retailers become top-of-mind brands at a time when customers are spoiled for choice and loyalty is hard to come by.
---
Sarath Jarugula is the Chief Product and Technology Officer at Algonomy. In this role, Jarugula drives the vision, strategy, and delivery of enterprise-class MLAI products in Customer Engagement. A seasoned leader with a strong track record of innovation in digital experience, he champions the use of machine learning and data science to build user-friendly products that deliver business value. Prior to this, he served as CEO of RichRelevance, where he spearheaded the growth, M&A and helped form Algonomy. Jarugula held executive roles at several growth stage companies helping with strategic exits including Sysomos, LucidWorks, InQuira, eGain, Microsoft, and others.