The unveiling of Victoria's Secret mobile commerce Web site last week signaled that the small screen is quickly evolving from window dressing to a real revenue stream. Victoria's Secret recently called on New York-based Usablenet to design and launch a mobile-optimized site that allows users to find and purchase products when they are on the go. Usablenet is a managed service that leverages the features and functionality of a company's existing Web site and extends it to all mobile devices worldwide, without requiring client IT or Web-design resources.
Jason Taylor, Vice President of Mobile at Usablenet, suggests mobile commerce sites should aim to create a successful experience for the consumer and provide the ability to streamline purchasing. "Without a specialized mobile site, retailers have found it very hard for end users to navigate and process a purchase because of the complexity of online purchasing nowadays, which uses technologies which aren't very well supported by the mobile device," notes Taylor.Taylor says a mobile platform allows retailers to customize which products are displayed prominently on the site, and to customize search and find features that are there for contextual mobile users, featuring things like special items, top sellers or a catalog quick order option, which allows customers to use a catalog quick order number to complete a transaction on a mobile phone.
Taking on the role of a "shopping assistant," the Victoria's Secret mobile site enables users to browse the print catalog and order using their mobile phone.  The mobile site's click-to-call feature gives customers the option to connect with Victoria's Secret customer service agent, should they need verbal assistance. In addition to its remote capabilities, shoppers can seek customer reviews from the mobile site while they are in a brick and mortar store, as well as purchase products that are not available in store.
The Mobile Consumer
While some industry watchers have mistakenly assumed that only younger consumers will shop on a mobile device, Taylor says Usablenet's research has shown that the 30-45 traveling business person is actually the most impactful demographic for mobile commerce.
"[This is] the actual demographic we see growing strong and reflecting who we're working with in retail," says Taylor. "The mass market of smart phone users, people with time at the airport, research high ticket items and those are the retailers we have tended to find traction with. That's typically where we've seen a lot of interest in mobile purchase. That's an important aspect."
Taylor says that mobile commerce should be focused on simply giving customers an additional channel through which to purchase. While the most common demographic is a more mature, sophisticated customer, Taylor says retail clients whose brands are more youthful are doing a lot more around SMS, social networks and mobile sites.
"End users want to go to Web sites on their mobile phone," says Taylor. "Customers don't distinguish between the two [Web and mobile]. Obviously retailers have to because technically it's different. The iPhone has changed things; [as a result], a consumer believes they should go to Web sites on their phone."
Taylor says a higher volume of retailers have inquired about creating a mobile site. "Retailers want to focus on selling through the mobile device. There's less conversation about mobile marketing. It's a lot more about opening their current e-commerce to m-commerce, and they want to support all devices, because although the iPhone is a strong leader in the device market, they see a wide range of devices they need to support."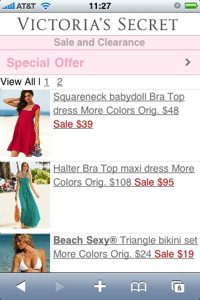 A New Revenue Stream
Given the challenging economic climate, Taylor points out that clients are looking to the mobile commerce channel to drive real revenue and are immediately looking at conversion rates and other metrics. Because Usablenet's solution works with a client's existing commerce platform, it allows retail clients to leverage the same analytics tools they are using for the Web,
He adds that mobile Web sites can and should provide the same benefits. "From day one nearly of all clients [utilize Usablenet] to extend their current Web analytics out to mobile," says Taylor. "Conversions are the first thing retailers look at, but nearly everything is built around funding to the mobile site." The ability to track mobile Web traffic and purchasing can provide critical data for retailers. Retailers, however, are looking at the mobile channel as a revenue stream, most importantly. "Our clients are starting to see that the mobile channel is a practical place where people spend money," says Taylor.
Victoria's Secret mobile customers can sign up for alerts or text the keyword START to the short code 26435 (ANGEL). All text message communication with consumers will include a link to the mobile site, in an effort to drive users there. Tapping into specialized offerings, the site's main menu gives site visitors a list of the "Most Wanted Bras."
Since everything available on the traditional Web site is mapped out to mobile, gift cards can be bought right from the mobile site and consumers are able to locate and map the closest Victoria's Secret store to them.