Consumers are more loyal to retailers who provide information on competitors' prices, according to the e-tailing group report "Comparison Shopping is a Way of Life," published in September of 2009. As many as 78% of consumers surveyed said they would be likely to return to a retailer that shows competitors' prices on their website; and 36% would be much more loyal.
In fact, offering competitive pricing may keep customers from leaving a site. More than half of survey respondents (53%) said they would no longer feel compelled to comparison shop elsewhere and 52% said they find on-site competitive pricing credible.
The smartest retailers are realizing that consumers are going to comparison shop whether they offer it or not, and providing the service increases loyalty and credibility. To support that point, 43% of consumers surveyed said that they believe retailers who offer competitive pricing are providing convenience, complete information and time savings to shoppers.
Segments that benefit most from comparative pricing are those "where people truly compare and it's easy to compare like technology, consumer electronics, sporting goods, video, music, books and even branded apparel," according to Lauren Freedman, president of the e-tailing group.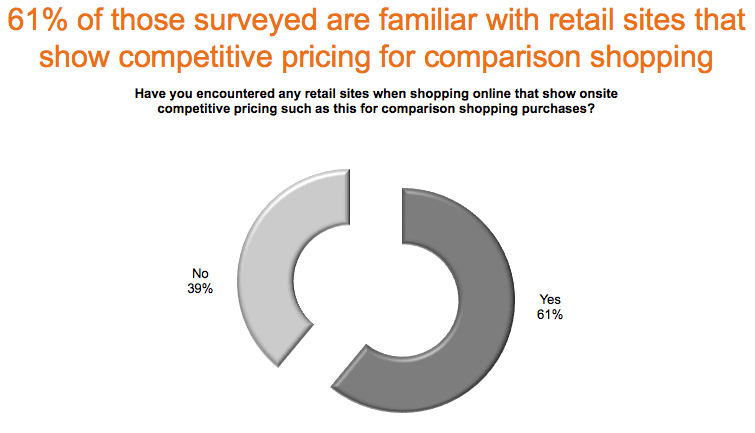 Revealing Total Cost is Key
Not only do consumers want to know the product price, but they also want full disclosure on shipping and handling costs. Total cost was ranked as the number-one most important purchase influencer, with 51% of survey respondents ranking it first, with 40% stating price as most important.
Retailers that go beyond offering competitive prices and total shipping and handling command even more loyalty from consumers. If a retailer is out-of-stock on an item and suggests a competitor, shoppers are likely to look at the competitor's site then return to the initial retailer in the future. Because the first retailer made it easier for consumers to find their product, 55% said they would return to the first retailer.
Comparison Shopping Sells Commodities
Today's price- and value-conscious consumers are using the Internet to research commodity products before they buy. Up to 94% of online consumers spend time researching prices of commodity products, and 95% will review at least two websites before making a purchase.
Typical commodity products are those that carry a "known price," says Freedman, such as the Nintendo Wii game system or a Trek 400 bike.
More than 33% of consumers spend more than 30 minutes comparison shopping online, often using tools such as Google, Amazon and competing sites. Retailers that make this process easier for consumers are likely to increase sales and maintain loyal customers during and beyond difficult economic times.
To construct its survey, the e-tailing group collected input from 1,025 adults who shopped online four or more times during the past year, spending more than $400.