Successful retailers have put a lot of effort over the years into understanding their customers' buying personas. They know that their customers are not monolithic. By catering to their unique characteristics during the buying process, retailers maximize revenue and customer loyalty. Unfortunately, when it comes to home delivery, most retailers treat customers monolithically and miss the opportunity to use delivery persona concepts that can lower delivery costs, increase revenue and improve customer loyalty.
What are delivery personas? Delivery personas involve a combination of delivery speed, precision, value-added services and information about delivery options to allow retailers to craft a number of delivery experiences that best fit their customers' preferences. Delivery personas are powerful in that they can reduce delivery costs, improve delivery-related revenue and customer loyalty. By providing delivery options during the buying process, customers will happily self-select the one that best fits their delivery persona.
To get a better understanding of delivery personas, let's look at those that involve a combination delivery speed and precision (see Figure 1).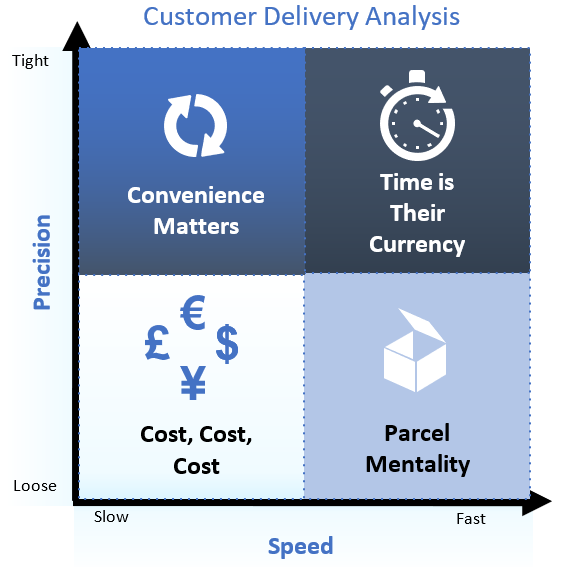 There are four distinct speed and precision personalities:
Cost, Cost, Cost: Some consumers are extremely cost-sensitive and will take the slowest delivery service if it saves them money. They are willing to wait days for the product and care less when the delivery arrives during the day. Some retailers have offered incentives (e.g., gift cards) to get customers to accept slower but lower-cost delivery options.
Parcel Mentality: Typical parcel deliveries are fast, but not necessarily time definite at the point of purchase (e.g., two- to three-day delivery times and all-day time windows). The majority of goods, such as apparel and other smaller items, are delivered this way. These customers are happy with the fast delivery cycle and don't care if the package is left on the doorstep sometime during the day.
Convenience Matters: Many large-format items such as furniture and appliances fit into this category. These consumers don't value fast; they value a tight time window. For instance, a kitchen renovation purchase (e.g., fridge) is made in advance, but the delivery is made closer to the installation date. Faster isn't a value here for consumers, since if the appliances are delivered too early, they could consume space in the customer's home for weeks or there may not be a place to safely store them until installation time.
Time Is Their Currency: There is a class of consumers who are cash-rich and time-poor. They want their delivery ASAP and expect a tight time window because they won't sit around waiting all day for their purchase. Goods may be high-value impulse purchases or replacement items, for example. Most importantly, these customers are also most likely to pay for the enhanced service privilege, and it doesn't take too many of them to offset a significant amount of the overall delivery cost.
Value-added services are also another aspect of delivery personas. Besides speed and precision for some items such as electronics and appliances, there are opportunities to upsell value-added services such as installation. Not every customer is an accomplished "do it yourselfer," and many are looking for someone to not only deliver their purchase but also to put it in place and make it work.
Depending upon the complexity or size of the installation, retailers can charge from tens to hundreds of dollars of incremental fees. One interesting note to consider is that product sales can increase by providing a simple way for customers to pick their value-added service level during the buying process, as this can be an important purchasing barrier if not known at that point. In many respects, value-added services are similar to extended warranty purchases, as it does not take many customers to generate a large amount of incremental revenue.
Value-added services can be combined with speed and precision personas to create competitive differentiation as well as incremental revenue. Customers want to know the delivery date and time as well as the service details when making their purchase. Offering this capability during the purchase separates high-service retailers from low-service ones, because it requires the ability to understand delivery and service capacities at the same time. Many retailers do not integrate delivery and service planning or cannot make delivery and service promises until after the purchase has been made.
Sustainability is a new delivery persona. Consumers now want to have eco-friendly delivery options or understand the environmental impact of the delivery options presented to them. In a recent consumer sentiment study, over 50% of the respondents indicated they were quite/very interested in environmentally friendly delivery methods, and almost half (48%) want the retailer to recommend the most environmentally friendly delivery option. This is a significant number of consumers, which makes it hard to ignore their delivery preferences and the need for sustainable delivery personas.
For retailers, sustainable delivery personas represent a new opportunity for competitive differentiation, as the study showed that only 38% of consumers thought retailers were doing a good job at using sustainable delivery practices. Equally important is that most sustainable delivery practices, such as order grouping or retailers scoring delivery options by their environmental impact, are lower-cost delivery alternatives. In addition, sustainable delivery personas can be applied in combination with any of the speed and precision options. What could be better than for a retailer to target delivery personas that have customers who are happy to take lower-cost delivery options and thank them for the privilege to do it.
Delivery personas must become an important part of retailers' customer experience strategies to achieve the best financial performance and customer loyalty. Don't be fooled by the market hype around "fast and free". Instead, dig a little deeper into customer delivery preferences, such as sustainability, to unlock opportunities to find new ways to delight the customer, create some space from the competition and put more money in the bank.
---
As EVP, Industry and Services, Chris Jones is primarily responsible for industry consulting and implementation services for Descartes ' solutions. With over 40 years of experience in the supply chain market, Jones has held a variety of leadership positions including: SVP at The Aberdeen Group's Value Chain Research division, EVP of Marketing and Corporate Development for SynQuest, VP and Research Director for Enterprise Resource Planning Solutions at Gartner and Associate Director at Kraft General Foods. Jones is a thought leader in logistics and has numerous articles and blog posts published in leading logistics and supply chain publications and online forums across the globe. He has a Bachelor of Science in Electrical Engineering from Lehigh University.