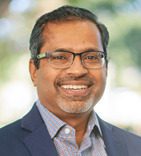 Until recently, if you glanced at a digital advertisement while browsing online, chances are that ad followed you incessantly for days regardless of whether you made a purchase or not. Retargeting consumers via ads has been at the front lines of retail marketing for a while now. However, privacy issues have forced tech giants Apple and Google to make major changes that prevent surreptitious tracking of users.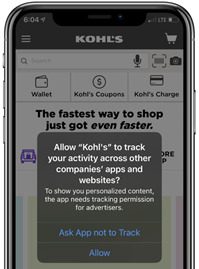 Apple's new App Tracking Transparency framework, which is being released in iOS 14.5 in spring 2021, gives online visitors the choice of which ads they will allow to target them. In figure 1, we see a popup asking the user of the Kohl's mobile app for permission to track them. In the old method, such consent was automatically assumed and visitors had to explicitly opt out of sharing their Identifier for Advertisers (IDFA) if they didn't want to be tracked. Very few users did that.
Now, more than two-thirds of iOS users are expected to block the sharing of their IDFA with third parties, including networks or data brokers. Similarly, Google is also planning to eliminate the individual collection of private information and instead plans to support its ad tracking by tagging micro-groups of similar visitors.
These changes represent a tectonic shift in how ads have used third-party data such as IDFA tokens on mobile apps and third-party cookies on web browsers. Industry experts expect Apple's changes to impact ad performance adversely, with click-through rates falling more than 50%. Because the other major web browsers (Firefox and Safari) already block third-party cookies by default, when Google Chrome turns off third-party cookies in 2022 it will mean lights out for activities like behavioral targeting and retargeting ads.
While privacy advocates are happy, the threat to online retailers is an erosion of revenue and customer loyalty if they miss the mark in replacing ad tracking. Retailers have to earnestly find new ways to engage visitors using the data they have and reduce their reliance on third-party data.
Marketing campaigns that send emails, push notifications or SMS messages are the primary fallback to reactivate and bring back site visitors. However, these cannot be used for prospects who have not shared their email or phone numbers. Even for known customers, email and other remarketing campaigns produce low yields, especially since consumers are quick to move on to other alternatives.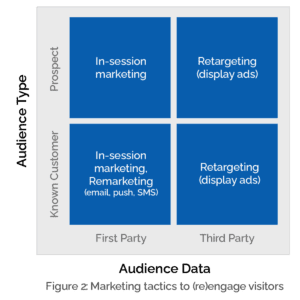 Given the high and growing costs of customer acquisition, retailers have to look beyond outbound marketing. Inbound marketing originated with the emergence of blogs, white papers and social media posts, but retailers have limited use of that content.
More common in ecommerce for inbound acquisition tactics are Product Listing Ads (PLA) and search engine optimization (SEO) techniques that make products more easily discoverable through search, whether paid or organic. Once on the site, visitors expect personalized actions contextual to their browsing behavior. What retailers are missing in today's inbound tactics are new 1:1 personalization capabilities that go beyond product recommendations. In-session marketing solves these problems, allowing retailers to engage and influence both new prospects and known customers.
In-session marketing is a form of inbound marketing that analyzes micro-behaviors of a visitor currently on an ecommerce site or app to influence them in real time — before they leave the site — in order to drive business results. As seen in figure 3, there is often more emphasis to fill the top of the funnel, with few tools supporting marketers to leverage data in the middle of the tunnel. However, by optimizing the data found in the middle of the funnel you can ensure customers complete their journey with the desired outcomes for both the brand and consumer.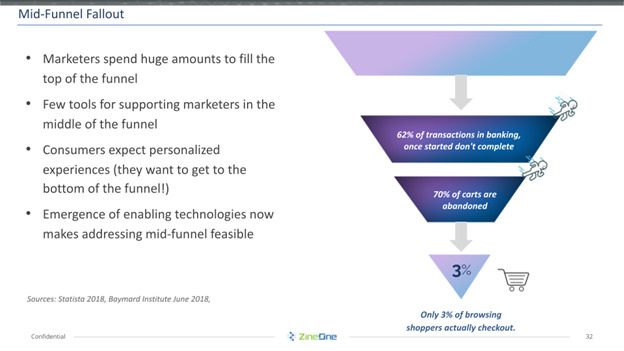 Successfully engaging a visitor and converting them to a customer requires doing two things seemingly simultaneously: 1) Qualify the prospect and assess their intent by analyzing each individual visitor's micro-behavior in detail, and 2) Know exactly when to take an action tailored to that specific customer. Often that action is an offer that is personalized and designed to trigger an action — and you have to know when to let a prospect go. Why throw good money after bad, chasing a non-buyer around the internet? The longer this goes on, the longer it takes to gain ROI.
In order to do this, retailers have to employ "continuous cognition." That is the act of learning the in-session activities of each visitor as site traffic is inbounding, and taking actions based on that intelligence in the same session. This is quite different than using predetermined segments and actions, and hoping visitors will convert to engender positive outcomes. Rather, it's a dynamic and fluid understanding of the behaviors found in traffic streams and data in real time.
By understanding what a visitor is doing in real time, a marketer can maximize the likelihood of influencing them to the desired outcome. These moments or triggers must be discovered and not predetermined. Customer micro-behaviors can be used to build a Customer DNA™ profile and train machine learning models that become even more facile at accurately predicting and engaging visitors early in their visit — within five clicks of a keyboard or taps on a screen.
Would you really rather wait until a digital ad follows a prospective customer around the internet to bring them back, or create a highly contextual in-session engagement while the consumer is interacting with your site to quickly convert them? With In-Session marketing, you can expect to engage them without the 'creepy' aspect of tracking users and generate results such as:
30% or higher lifts in conversion rate
50+% redemption rate for personalized offers
25X revenue return (ROI) on the cost of the campaign
As Google, Apple and other digital advertising platforms continue to protect and honor user privacy, the use of in-session marketing to create hyper-personalized online experiences is the better approach. Personalization powered by in-session engagement does all the things remarketing does, including meeting consumers across channels and platforms — it's just that it does it faster, more accurately, and without violating user's privacy. In fact, you can better manage margins, identify purchasers early and easily connect to all platforms. After all, if your customer has a safe, delightful online shopping experience, they will tell someone else who will become a customer. And isn't that the best kind of remarketing?
---
Manish Malhotra is a product leader focused on creating the next generation of customer interaction management solutions to help enterprises engage with their customers at scale across retail and other industries. He is the Co-founder of ZineOne and currently its Chief Product Officer and Head of Data Science. Malhotra has 20+ years of enterprise software experience in high-profile companies such as Sun Microsystems and AT&T Bell Labs. He has an MS and Ph.D. (High-Performance Computing and Massively Parallel Algorithms) from Stanford and a BTech from IIT New Delhi, India.