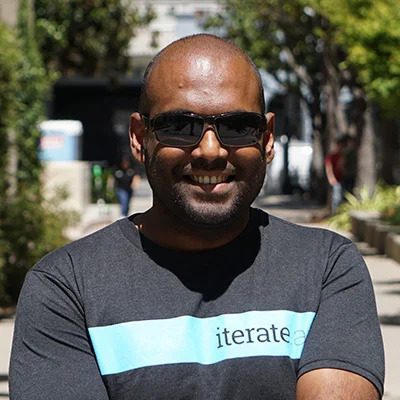 The low-code application development wave is absorbing more retailers — and rightfully so. Retailers face an ever-escalating need for customized and differentiated applications that can push innovation and keep customers engaged. Actually developing them, as retailers are well aware, usually requires significant time and a technical team that's hard (read: expensive and slow) to come by.
Enter low-code, which abstracts away many of the hurdles from the consumer-facing app development process. The low-code approach is built around a visual interface that allows users to assemble drag-and-drop code components, API-based services, machine learning, IoT capabilities and model-driven logic, and do it with Lego-like simplicity.
The Low-Code Shortcut for Retailers
Analysis from Gartner foresees that by 2024, 65% of all applications will be created using low-code platforms. Forrester predicts the low-code platform market will swell to over $21 billion by 2022. Another study finds 85% of 500 engineering leads believe low-code will be commonplace within their organizations as soon as 2021. Low-code is here, but it's still only getting started.
Retail brands have been particularly motivated to leverage low-code in order to gain competitive advantages by acting quickly to new market opportunities. For example, Pampered Chef, the Berkshire Hathaway-owned kitchenware company, turned to low-code as a way to rapidly develop new digital application prototypes and move them into live experiment scenarios with real customers. "We were able to rapidly build, pilot and iterate on a digital solution that is enabling virtual parties that match our unique business model," explained Shiv Dutt, the VP of Digital Experience and Innovation at Pampered Chef.
Major retailers like ULTA Beauty and Jockey are other early adopters of low-code as a way to develop mobile apps and rapidly introduce new features that align with demands they are seeing from their respective markets. With the popularity of low-code development increasing month by month, the prevalence of low-code platforms has grown apace to fulfill this need. On the chart below, we've tracked the continuing patent growth of new low-code platforms.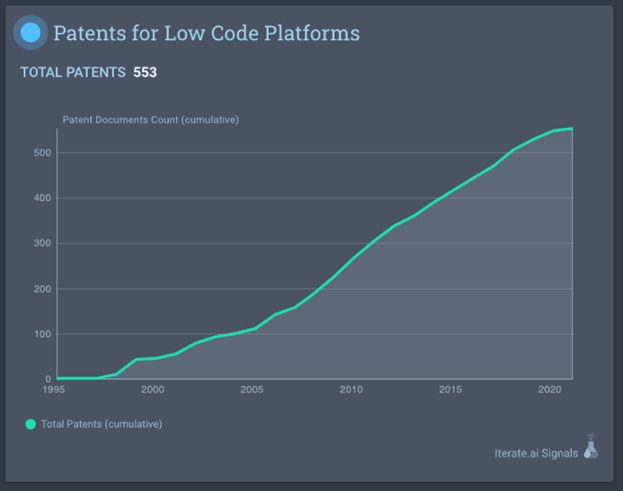 Low-Code Development Advantages
The primary advantage of low-code platforms is significantly accelerated application development. In low-code environments, the development process is more akin to an assembly line than working with raw code. Most low-code platforms utilize a microservices architecture, which enables Lego-like pre-wrapped code modules built around business services to be assembled into complete applications. Low-code apps can similarly utilize tried and true API-based solutions (payment processing, image recognition, social integration, etc.) offered by other companies, further simplifying development.
Uber's Android app exemplifies the value of low-code development. The app leverages Google geolocation APIs to pinpoint the device's location, Google Maps for directions and vehicle routing, Twilio for text communication, Braintree to handle payments, and more. Really, it's hard to even compare the time and costs required to develop those assembled capabilities out of raw code with the starkly superior efficiency that low-code provides.
In this way, the benefits of low-code are particularly powerful for retailers motivated to incorporate capabilities in fields that would otherwise require highly-specialized knowledge, such as AI to power natural language chatbots, IoT solutions for supply chain visibility, product recommendation engines leveraging both technologies, and myriad other use cases.
Retail app developers implementing such solutions can tap into existing modules and APIs along with their own custom code to produce the kind of unique experiences that customers increasingly expect. By vastly reducing the steep learning curve and cost restrictions traditionally associated with entry into emerging technology fields, retailers' existing teams are able to serve effectively as citizen developers.
Low-code also offers tremendous reusability of components or templates from other projects, so there are big efficiency gains with no need to continually reinvent the wheel. An existing capability can be introduced to new customers or via a new approach very quickly and with significant savings, enabling market agility that most retailers are likely unaccustomed to. At the same time, low-code users can drive crucial experimentation and iteration to arrive at mature and proven customer experiences that much more rapidly.
The Transformation for the Taking
In our own experience and testing, low-code speeds up mobile app development by 10X, and the more complex the project, the faster the acceleration. For example, a $60 billion retailer we work with was advised by a major consulting firm that its mobile app project would take an entire year to prototype using traditional application development methods. The project involved a full ecommerce platform and very time-sensitive curbside pickup solution as COVID-19 restrictions took hold. However, with a low-code strategy, the retailer was able to build the complete solution in just 11 days.
This example just goes to show the transformative power that low-code app development offers retailers. Apps, and the customer experiences they deliver, can now be as dynamic and adaptive as customers' changing marketplace needs. In many cases, it is no longer application software itself that delivers competitive advantages: it's how quickly the apps are able to continually change and respond.
---
Brian Sathianathan is the Chief Digital Officer at Iterate.ai, whose Execution Cloud facilitates rapid prototyping of AI-based and digital solutions for retailers and operates as innovation middleware in production. Previously, Sathianathan worked at Apple on various emerging technology projects that included the Mac operating system and the first iPhone.