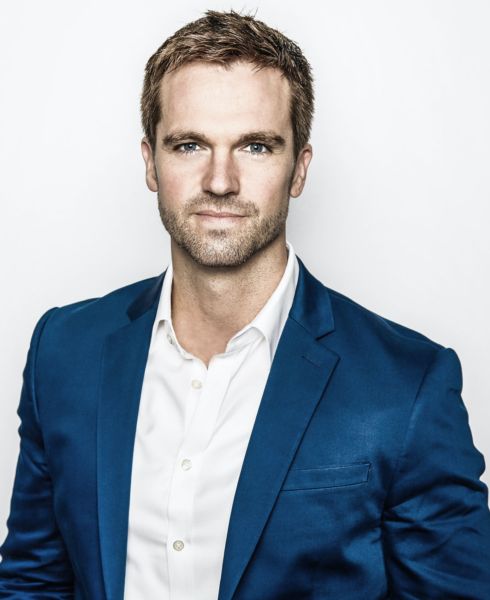 Brands of all kinds are adopting voice assistants and voice-related technology to try to provide a superior customer experience, but there's still a disconnect between traditional marketing models and how voice fits in.
The root of the problem is systemic: marketers think in funnels, and attempting to use an existing funnel for a voice strategy simply won't work. Why? Because voice is such an expansive, dynamic and utilitarian medium that it warrants its own bespoke funnel.
The 'voice funnel' that forward-thinking brands use to succeed is the following…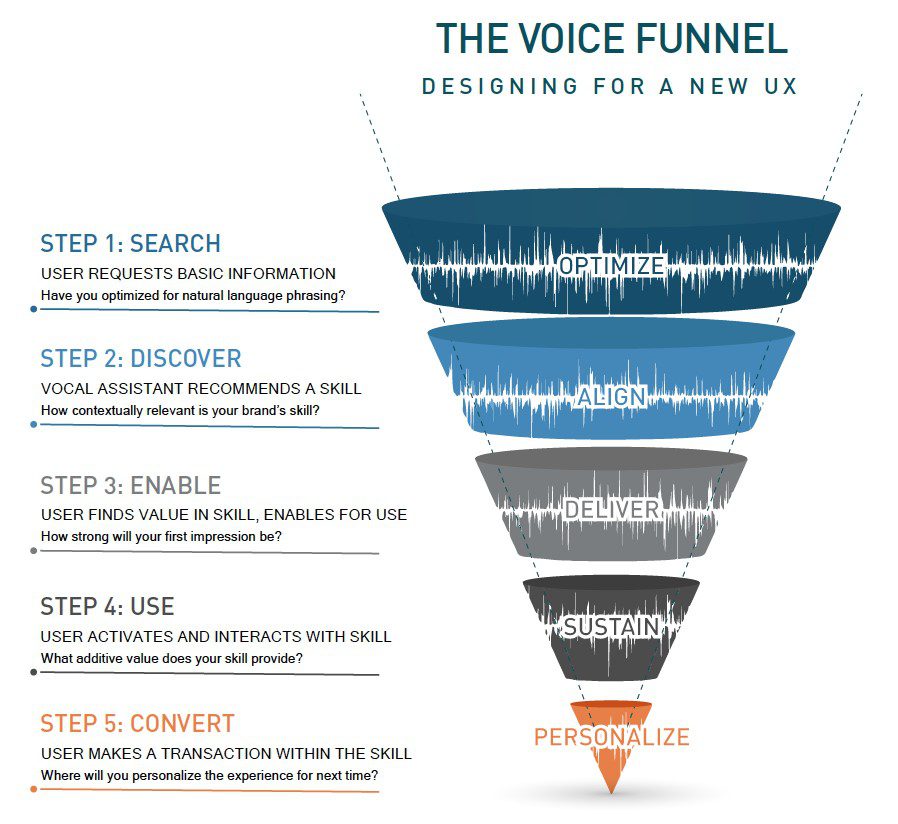 So now let's take a closer look at each of the five steps…
1. Search: Optimizing For Natural Language Phrasing
Current SEO strategies won't work for VSEO (or what some call VEO) because people don't need to visit a web site and scroll through several results — they'll get an audio response with the most relevant answer, and it pretty much ends there.
VSEO requires a completely different approach because you're shifting away from quantitative to qualitative, with context being paramount. In other words, the way we speak in a conversation is vastly different from the way we type, and even more divergent from how we search. This requires reducing the importance of going all-in on single keywords and instead developing a long-tail strategy for lengthy phrases and even whole sentences.
As a start, marketers need to develop a strong set of FAQs — questions in a conversational form that are commonly requested by users. Don't leave anything off the table and just know that there will be several iterations, additions, subtractions, and so on.
2. Discover: Ensuring 'Time And Place' Are Perfectly Aligned
At its core, a skill enhances the capabilities of a voice assistant. If you unbox your new Echo and immediately ask Alexa to order you a pizza, she won't be able to do it. But she will recommend relevant skills that she can enable for you — like Dominos or Papa John's — to get you that pizza pronto.
That said, all skills are not created equal. First and foremost, skills should serve a particular purpose, and serve it well. While some brands are crushing it, many try to do too much. Focusing on multiple options dilutes the value of the skill — focus on one or two main components so you'll be the best at the functions that matter most to your bottom line. You can always iterate and scale later.
3. Enable: Delivering The Best First Impression Is Everything
Different skills will have different strategies, but success boils down to two things:
Form and Function: Did the skill do what the user expected it to do?
A voice assistant like Alexa is the surrogate host of your skill, so if what you've created is poorly made, misleading, or leads to a bad experience, that won't bode well with your customers. Your skill has to be easy, intuitive, and provide the expected results.
Surprise and Delight: Did the skill do something pleasantly unexpected?
This is what separates a good skill from a great one. Adding your brand's personality — whether it's funny, entertaining, witty or the like — is what will make it shine and stand out.
Consumers love when brands deliver what is promised but also with some personality. The more emotionally engaging you make the experience, the more people will spend time interacting with your skill and using it on a regular basis.
4. Use: Ensuring Your Skill Provides Real Value
Sadly, many skills offer minimal value and limited variation in their experience (especially when used multiple times), because they might have been created with a narrow scope that doesn't allow for growth.
For instance, if your skill gives timely information (e.g. current sales or promotions) on each of your store locations and does it well, you might not think there's any way to expand the skill and get creative. But there's always room for creativity, so why not keep it fresh and interesting with something as simple as creating an Alexa Skill Blueprint.
This is what I call the maturity map of your skill: It handles task X now but is there an opportunity to accomplish task Y or Z in the future? As an example, what if a user upgrades to a voice assistant with a screen? What would that user experience look like? Thinking about other potential related tasks that can add even more value — now or down the road — will ensure you have room to grow and keep users interested and coming back.
5. Convert: Personalizing The Path-To-(Voice)-Purchase
The beauty of creating your own skill is the ability to adapt the user experience to align with your business goals, so conversion shouldn't be transactional. If building brand awareness via the skill is paramount to you, enable linking to social channels and gently guide users to share their results or content — make them excited to tell the world about their new shoes or that amazing meal they just made.
Overall, keep in mind that if you want your customers to adopt a new behavior and continue engaging, it absolutely needs to be worth their while (assuming you've already nailed down the basics). Don't ask too much of them without first building trust and providing consistent value. Give it some time, and once multiple interactions have occurred, build on the learnings and continue to customize the experience for each user every time they visit. Variety is the spice of life.
Final Advice: If You're Going To Do It, Do It Now And Perfect It As You Go
Your voice strategy doesn't have to be baked in an underground bunker for 18 months before you're ready to hit the market. We live in a world of updates and iterations, not yearly product releases wrapped in cellophane.
Start with building a skateboard. It has four wheels and will require some pushing, but you'll start moving. Then try building a bicycle; it will give you more speed and better agility. Then construct a go-kart. Then a car. Then a jet.
If you decide you don't want to build a skateboard and instead want to think about how to build the jet, that's time spent on the shelf without any lessons learned, best practices, refined contextual understanding or in-market experience. Meanwhile, your competitors will have used that time to test and launch, fail, learn, try again, fail even better, try again and succeed. You really don't have any time to waste so get going.
Bonus: Where Can I Learn More And Who Are The Leaders?
Voice technology is evolving at a rapid pace, so staying on top of the latest and greatest updates and implications is a must. In my opinion, the best and brightest thought leadership on voice comes from the RAIN Agency and their newsletter RAINdrops: Words on Voice ,so check it out. In the meantime, stay safe and be well.
---
Matt Maher is Founder of M7 Innovations, where he guides brands and executive teams through the ever-changing media and technological landscapes — from AI and Voice technology to AR and VR. He formerly served as VP of Innovation at Assembly — AdAge's 2018 Agency of the Year – and has given keynote presentations at CES, SXSW, industry panels and private client events. Follow him on Twitter and connect with him on LinkedIn.