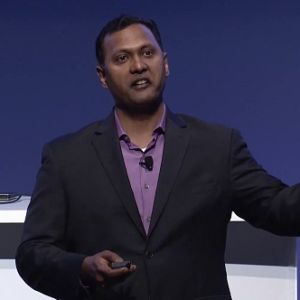 Surviving in today's digital age requires every retailer to innovate and transform their business. Data science is helping retailers accurately identify opportunities for personalization, increasing efficiency and generating more revenue. It takes a cultural shift and collaborative approach between the business and IT teams in order to gain a better understanding of your customers, employees, operations and suppliers. These data-driven insights will enable retailers to set the business strategy and make the technology decisions to support it. Ultimately, these decisions help retailers thrive well into the future.
Today's consumer demands the flexibility to interact between channels in their customer journey from online, phone, mobile device and in-store — from the register, return counter, self-service and kiosks — for discovery, selection, purchase and fulfillment of products and services. As such, retailers need to create a seamless omnichannel experience to meet the demand. This affords the retailer to create a single view of the customer and offer personalization to its consumers aligned with their shopping habits.
To take the guesswork out of the equation, more retailers are turning to data science, including artificial intelligence and machine learning, to predictably learn the preferences of its customers. This approach leads to a better customer experience. There's also the opportunity to improve the business operation efficiency including staffing, inventory, supply chain and fulfillment. The efficiency gains not only enable retailers to cut costs and get more value out of existing investments but they also enable employees to do their job more easily and faster to better serve customers leading to higher levels of internal and external satisfaction.
In turn, employees with higher job satisfaction stay longer and customers more satisfied with their experience engage longer with retailers leading to more revenue. Just as critical, this enables retailers to eliminate two big costly expenses — employee turnover that leads to having to train new employees as well as net new customer acquisition costs versus benefiting from selling deeper into the existing customer base and the benefit of word-of-mouth.
Another big aspect of brand loyalty is driven by trust. Everyday consumers hear about data breaches that put their personal identifiable information, financial data and data created during searches, purchases and other interactions with retailers. Consumers want to know that retailers are protecting them so they can shop confidently.
Retailers need to ensure data and applications are only accessed by employees to get their job done using authentication with different role-based levels of access privileges. Retailers must also use encryption to protect data that is being generated, stored or shared. Lastly, retailers also need the ability to define policies that can be centrally managed and enforced in each location, with visibility from end-to-end throughout the entire business.
One of the most efficient ways to create a comprehensive cybersecurity strategy is to use cloud-based cybersecurity tools that also enabled retailers to easily update in real-time with the latest protections and take a holistic end-to-end view. In the end, taking measures to properly safeguard data, applying the latest protections and having the visibility to quickly identify and take action on threats that may emerge will help ensure a safe experience for your customers. But don't forget your employees. They also will appreciate knowing their personally identifiable information and human resource related data is also protected.
Thriving in today's retail environment requires mastering a complex mix of people, culture and processes but technology is the backbone that makes everything work seamlessly together. As more retailers are increasingly reliant on bots, AI, machine learning, order and inventory management systems, supply chain systems and automation to optimize operations and improve the customer experience for speed and accuracy, an agile network is the critical IT backbone that ties everything together and makes everything go.
The network will enable retailers to have end-to-end visibility over the entire infrastructure to ensure performance and security while enabling retailers to maintain the flexibility to seamlessly connect new applications, data sources and edge locations.
The retail industry continues to increase in competition and complexity. Many retailers are reinventing themselves and new competitors are emerging every day. While it's clear that retailers acknowledge a personalized and omnichannel experience is the new normal, many are struggling with how to get there. It requires a fundamental shift in culture, processes and technology to enable this transformation. With the abundance of data available, data-driven analytics and strategies make possible the opportunity to pinpoint where and when to be better across the entire business that translates to better serving customers.
Retailers have the opportunity to increase efficiency, cut costs, better engage customers, create differentiation, drive new revenue streams but also improve brand loyalty, not just with customers but your employees on the front lines, in back offices and across your entire organization.
---
Kumar Ramachandran is the Founder/CEO at CloudGenix. Prior to founding CloudGenix, Ramachandran was Director of Product Management at Cisco, leading products for the multi-billion-dollar branch routing and WAN optimization businesses. Prior to Cisco, he held software and network engineering roles, developing solutions for companies such as Citibank and Providian Financial. Ramachandran holds an MBA from the Haas School of Business, UC Berkeley, and a Masters in Computer Science from the University of Bombay.