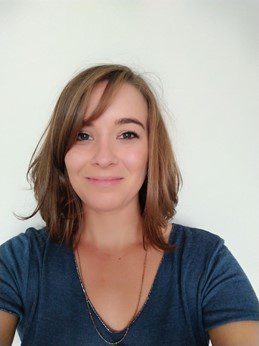 Thoughts of poor customer service probably ring a bell in your own mind, and these opinions are hard to change — but there is hope. Customer service is changing rapidly to meet consumer behavior, providing smoother, more integrated experiences than ever before.
3 Data-Backed Reasons why Customer Service is Essential
Many brands miss their business goals, not because they have a poor product or their marketing strategy is weak. They miss their goals because they don't prioritize customer service. And the main reason they don't allocate enough finances to the customer service department is that it's difficult to tie it to revenue generated.
But customer service must be prioritized by every organization. Here are three data-backed reasons why:
Good customer service leads to increased customer retention rates
● Customer service plays a crucial role in brand image
Proactive customer service is a powerful form of marketing
Essentially, customer retention is vital for your business because it's cheaper to retain an existing customer than acquire one. This means customer service (which increases your retention rates) helps you grow your business at a lower cost.
Content — Your Brand's First Line of Support
A company's first line of support for customers is the help section on their website.
This is why your content marketing team must work with your customer service department when designing a content strategy. For one, you'll get relevant content ideas that your customers will find valuable. Secondly, it will help your content team create in-depth, keyword-focused resources to help your customers find answers to their issues on their own.
Whether creating text-based content, webinars or online learning courses, your content needs to first answer your customer's questions so that they don't have to speak to a live agent on your team.
By providing comprehensive resources for customers to help themselves, you can minimize the number of support tickets the customer support team handles. This ensures your customer support team has enough bandwidth to deal with issues that need human involvement.
Publishing detailed 'how-to' guides, like this guide by Buzzsprout for its customers, ensures that customers have the answers they need without contacting support. These "how-to" guides need to be even more detailed and specific when selling to a niche market. For example, if you want to market and sell a product to architects, your guide needs to be filled with thorough details because they are not simple buyers.
If a topic is not adequately covered in your support content, that's where the help desk and ticketing systems come into play.
Ticketing Systems Synchronize User Experiences
Traditional customer service has been clunky for decades, providing sub-par user experiences. Don't believe me? The data doesn't lie: 77% of customers are "fed up" with bad customer service.
There is nothing worse than calling a service phone number or entering a virtual customer service system and having to explain your problem over and over again. Especially when it leads to "I'll transfer you to __ department," forcing you to repeat the same issues to a new representative.
On the business side, ticketing systems are changing the customer service game by giving representatives critical user information at the right time, combined with the ability to assign, redistribute and collaborate to solve problems fast with a help-first mentality.
For example, on ticketing systems, you can see past user behavior to see what they are having problems with, giving reps the knowledge they need to address a complaint or problem adequately: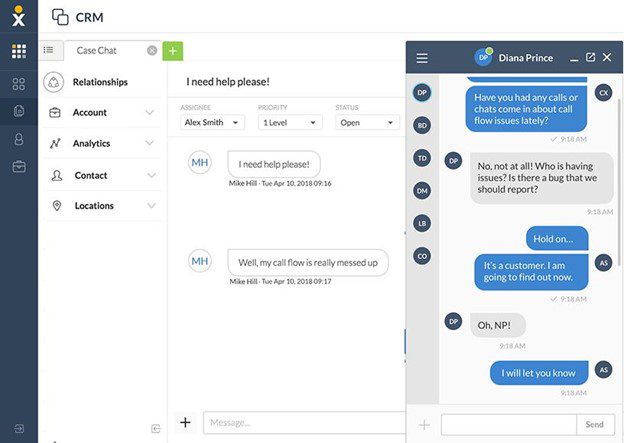 If you're just starting a new business and the area of support isn't your expertise, simply assign the ticket to the correct rep in your SaaS help desk tool.
Ticketing systems are game-changing for customer service on the back end, giving reps more awareness of a user's problem, the ability to save time every week, and ways to solve problems faster. This streamlining also has impacts downstream on the customer side, providing more personalized experiences. When a customer rep contacts a customer, they have all the information, from past conversations to legal forms and purchase history. All this without making the customer repeat their claims.
Having an automated customer onboarding process in place ensures that your customer's entire journey with your company is recorded and accessible for your support team. Customer experiences are now targeted with helpful reps who are backed by data.
Ticketing systems can combine perfectly with live chat software and chatbots too. For example, depending on which ticketing software you use, you can tap into your knowledge base and automate customer service actions: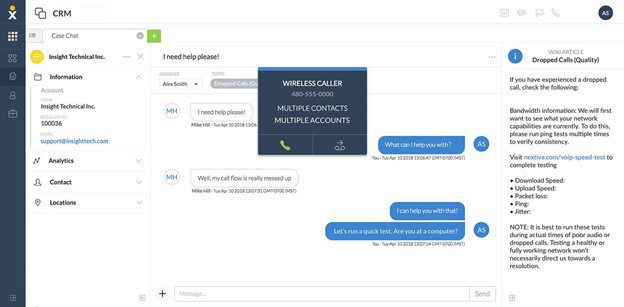 Not only that, but chatbots and help desks together make executing your NPS strategy a breeze.
With tools like Advocate.ly or SatisMeter you can customize which customer segments get surveyed, when, and their frequency.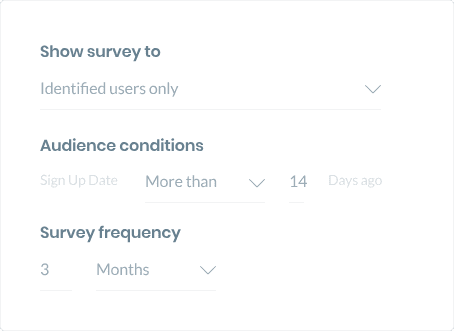 This gives you the opportunity to boost customer reviews and provide more value, all within your help desk and live chat interface.
For instance, you could send out SMS marketing messages or personalized emails to your list that include an automated QR code offering a coupon incentive to complete a survey or leave a review based on their recent interaction. There are also many helpful WordPress survey plugins designed with blogs in mind. These are usually easy to install and use.
Why is this important? Because conversational customer service is winning in 2021 and a great future way to make more money online.
Conversational Customer Service Wins in 2021
Conversational marketing is taking over in 2021, and it presents some powerful customer service benefits. With the rise of people working remotely, they (along with live chat and AI-infused CRM software) are making waves in customer service. And now that building a chatbot takes just two minutes, companies have no excuse to ignore this trend. Chatbots and live chat tools give your business the chance to speak directly with customers in seconds, providing both automated help and allowing support reps to jump into conversations as well.
Plus, with the latest feedback tools and social listening software, you can understand your customers and use a Facebook Messenger Bot to interact with them on social media.
Both ticketing systems and chatbots present an easy way to deliver useful content to your audience. And with 90% of customers expecting a seamless omnichannel experience from brands, using a ticketing system and chatbots in tandem makes sense. You can send content from your website to a user in need, answer customer queries by linking to relevant content, and reduce your overhead.
Serving content ties directly back to business metrics, too. By being proactive in your conversational content and customer service, you limit lag times on the back end for your reps by solving issues fast.
A great example of a performing chatbot that helps customers find their way through is from JoyOrganics. When scrolling down on its conversational AI, you can find guides about its products, answers to the most common questions, see the news in their market and other information. What is also remarkable is that you have the feeling that you are not talking to a robot but to real people, thanks to the pictures added.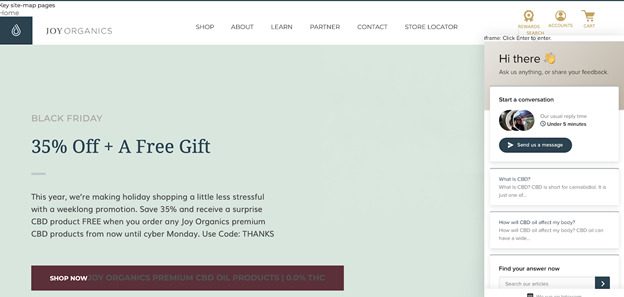 Instead of bogging down service reps with lower-level inquiries, you solve it with content. You can also continually update this content by integrating user feedback into it. Plus, your content can also build authority on your site, boost brand awareness and improve your search engine optimization.
Take Preply for example. They have an entire page dedicated to providing customers with information about how to contact support: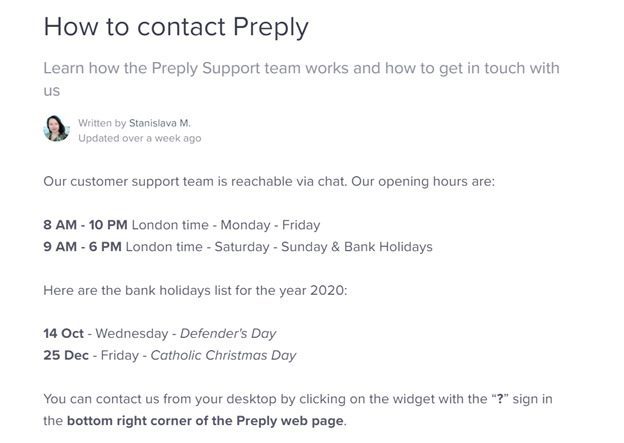 But you can also access their entire content library in the help center to solve issues on topics like money and payments, registering accounts, and more. And when you engage in live chat with them, they let you know how long it will take to receive a response! That's a winning customer service strategy.
Consumers want answers fast, and they want them to be accurate to their needs. If you can manage to make them happy in this regard, the positive customer experience will help you win loyal customers. That's even if the issue that made them reach out was a big one.
Along with helpful content on your site, chatbots and live chat allow you to do just that, providing a customer service experience that is sure to keep them coming back for more.
Conclusion
Chatbots and ticketing systems are solving some of the biggest pain points in the customer service space: lack of personalization, time to response and accuracy of solutions.
Have you started to implement ticketing systems, chatbots, and live chat? If so, how has it changed your service abilities? Let us know!
---
Axelle Dervaux is a marketing enthusiast with over five years of experience in B2B digital marketing. She's worked in various marketing fields such as SEO and SEA, social media, lead nurturing, customer retention and product marketing. She is the Marketing Manager at clicdata.com, a cloud-based business intelligence and data management platform. You can connect with her on LinkedIn.