Traditionally viewed as a black box limited to processing sales transactions, many progressive retailers are now view their point of sale (POS) system as an additional opportunistic touchpoint. A new report from Aberdeen Research shared key strategies on how Best in Class (BIC) retailers are employing to tap the POS as an additional marketing channel.
Aberdeen surveyed 132 retailers between May and June 2009 to reveal that 73% of retailers rate themselves below, or at best sub-par, on their current point of service or point of sale (POS) capabilities.
The report, titled "POS to Profits: Reviving Best in Class Sales & Service in Retail Stores," found that the top strategy of 50% of BIC retailers is to use POS as a backbone for continued customer-facing enhancement and localized in-store marketing. BIC retailers are over three times more likely than Average performers to seamlessly integrate real-time unit-level promotion data updates at the POS within the last 12 months aiding in-store customer focus and sales programs.
To achieve BIC performance, companies must strive to convert the POS into a powerful marketing tool for renewed customer focus and differentiation, according to the report. Companies must also align POS performance with enterprise performance to augment customer satisfaction and transactional volume, and consider rapid implementation cycles to improve speed to deployment and reduced TCO.
Aberdeen's February 2009 report "Migrating to Customer-Centric Point of Service," found that 77% of BIC retailers encountered operational pressures impacting POS performance such as complex checkout procedures and long wait times. This year, the data reflects that POS pressures have shifted toward a reversal in in-store spending at POS and costs of operations.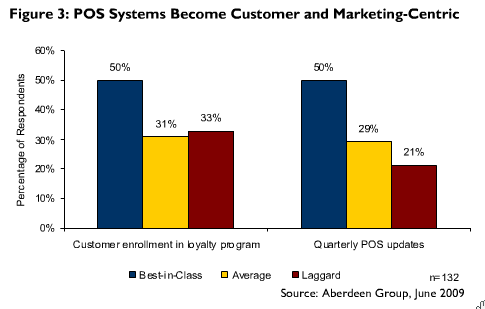 Top Six BIC Approaches to Convert POS into a Marketing Tool:
Perpetual inventory availability and multi-location visibility tools at POS for inventory look-up by store associates and managers to address customer inquired for regular orders, multi-channel orders and special orders: 77%
Coalition loyalty programs and membership discount card programs executed at POS comprising of common point or dollar perks involving few other retail brands to increase basket size and wallet share: 70%
Signature pin-pad enhancements that stream dynamic and personalized promotional content and digital images prompting improved customer conversions, up-selling, cross-selling and impulse purchases: 67%
Mobile POS and thin/lean POS systems for quick checkout, self-service, clienteling and assisted selling by reusing POS logic (associates or managers that assists customers in the pre- and post-sales process). These measures help deliver the brand promise and cultivate a customer responsive, agile in-store shopping experience: 56%
Web enhancements including Web-enabled POS functions, cross channel inventory visibility (i.e. virtualization) and integrated order management for Web and special orders. These improvements enable improved product access and order efficiency: 53%
Pre-paid acceptance to expand transactional volume and customer loyalty (i.e. open-loop an close-loop gift cards): 50%
BIC are also 1.5 times more likely than Average retailers to ensure real or near real time synchronization between POS data and headquarter applications that support decision-making relative to marketing and merchandising. This focus on utilizing POS as a marketing tool shows that retailers are viewing POS technology as part of a broader core marketing strategy, the report states.
BIC are also 1.7 times more likely than average respondents to update their POS systems on a quarterly basis.