This holiday season, U.S. retail sales from Nov. 1 to Dec. 24 (excluding automotive) are forecast to increase 3.7% from last year, according to Mastercard SpendingPulse, the marketing intelligence firm of Mastercard, which measures in-store and online retail sales across all forms of payment.
"It's going to be a solid holiday season," said Steve Sadove, a senior advisor for Mastercard and former CEO and Chairman of Saks Inc. in a briefing. "The consumer's going to be very selective, they've got a lot of choices; [the season is] going to be promotional, but consumers are [financially] healthy right now and they're spending. [An increase of 3.7%] is a healthy number. It's not a blowout number, but it's in line with lower inflation, and the consumer will be spending."
Spending this year is expected to happen across multiple channels, with no one channel dominating the season. Ecommerce sales are expected to increase by as much as 6.7%, with in-store sales increasing approximately 2.9% year over year. "We're back to a period where ecommerce is growing somewhat faster than the stores, and that's the way it had been prior to the pandemic," said Sadove. "We're now back to a trend where it's not ecommerce taking over the stores, but it's omnichannel — people want to shop wherever they can, and both ecommerce and stores are growing."
Mastercard SpendingPulse data also gives hints about the kinds of spending to come in Q4, including:
Consumers feel empowered this year in a way they haven't for a while, which will drive them to seek discounts and value when they spend their money;
Like last year, the holiday season will last longer, but will be marked by fits and starts of activity; and
Experiences and electronics will reign this season.
A Consumer in Control
The SpendingPulse team noted the somewhat surprising resilience of the U.S. economy this year, with jobs continuing to be added, unemployment at record lows and solid wage growth. Inflation also has dropped by almost half from the highs seen during holiday 2022, to below 4% this year, setting an expectation among shoppers that it will continue to drop. All of this translates into an empowered consumer, ready to spend…in the right circumstances.
"When you think about how the economy has been progressing, it has been much stronger than I think a lot of people had expected, and much of that relies on the consumer being supported by the labor market," said Michelle Meyer, U.S. Chief Economist, Mastercard Economics Institute at the briefing. "There's a powerful story heading into next year and this holiday season for consumers being supported by the strength of the labor market."
"We think the experience today will be one where the consumer holds the power," added Meyer. "Supply chains have largely been fixed, inventory is back up to normal levels, and over the last few years there's been a lot of new innovation and choices for the consumer in terms of what they're buying, how they're buying and where they're buying. On top of that, consumer expectations have really shifted as they've come into a more disinflationary environment, so consumers are looking for promotions and looking for discounts."
"'Value' becomes an important word for the season," said Sadove. "Value not just [in the form of] low prices, but [it could also look like] a higher-end luxury product that creates that value perception."
This year's banner Prime Day in July, which was Amazon's biggest yet and also the single biggest day of ecommerce sales up to that point in 2023, was a good indicator of the value-seeking behavior we'll continue to see through the holiday season. Consumers "have the resources and ability to spend, but still want discounts and deals," the report noted.
A Longer Sales Period Marked by Bursts of Activity
This year's Prime Day also heralds a holiday season that will likely look very familiar from last year, with the shopping season lasting longer but moving through waves of highs and lows.
"Last holiday season we saw these fits and starts where Prime Day took off pretty strong, early November was quite sluggish, [then there was a] big acceleration during the Black Friday period with softening again in early December, and finally, a rush of activity right before Christmas into the end of the year," said Meyer. "When you think about overall holiday sales last year, it was actually quite robust, but it wasn't robust evenly throughout the season. To me that's a really good indication of what's to come this holiday season, and in fact I think even more so this holiday season because inventory is much more well managed [this year] and consumer expectations have continued to shift toward a lower inflationary environment."
With Prime Day setting the tone of the season last year, and potentially this year as well, it's worth noting that for the second year in a row, Amazon is also planning a fall sales event, set to take place Oct. 10-11, 2023.
Experiences and Electronics will Win this Holiday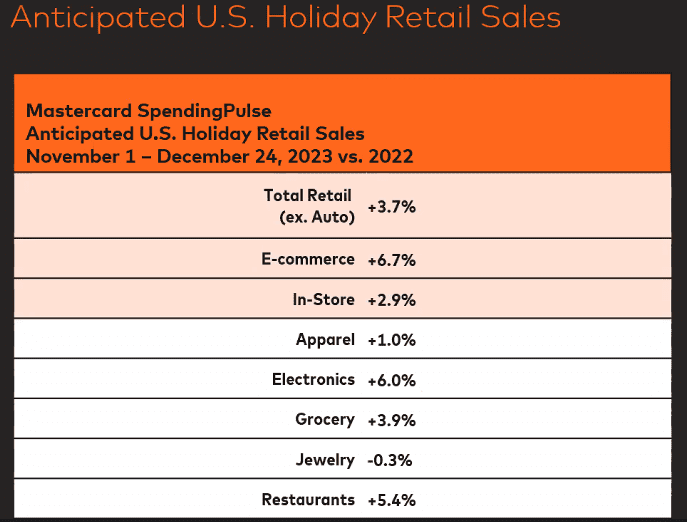 Electronics, gadgets and gaming products are expected to be at the top of many wish lists this year, with anticipated growth of approximately 6% YoY for the category as AI, immersive experiences and digital workspaces continue to drive spending.
"Early in the pandemic, everybody went out and bought a television," said Sadove. "[But once] everyone got their television, electronics [spending] really dipped down in the last couple of years. Now you're now starting to see the signs of an early resurgence [of sales] with a new wave of technology."
Experiences also will continue to be a focus of consumer spending, following a trajectory that had already been underway earlier in the year. "Last year, we certainly saw a shift toward more experience-based spending; restaurants did quite well while there was a bit of a pullback in some of the big-ticket items like home Improvement and furniture," said Meyer. "That theme still seems like it's going to resonate this year."
All in all, the outlook is positive for this year's holiday season, which will be welcome news to both retailers and consumers after several years of upheaval and uncertainty.
"There were a lot of lessons learned over the last three years," said Meyer. "It was a really hard time to navigate right after the pandemic because of the inability to understand product [flows] and to get the product to the consumer in the right amount of time. Then last year, there was this awakening around these periods of time that the consumer wants to spend and the fact that the promotional period is longer than it was prior to the pandemic. This time around, I think there's a lot of preparation for that and a lot of desire to maintain market share around these periods of promotions."