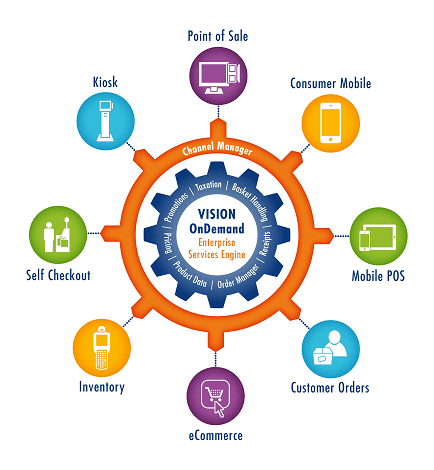 Although retailers of all sizes and categories recognize the importance of creating a seamless experience across all channels, not all organizations are equipped to address this new business imperative.
To help guide retailers towards omnichannel excellence, PCMS has released VISION OnDemand, a platform designed to unify all channels and devices throughout the customer journey. As a result, consumers can receive a unified experience, whether they're shopping in stores, online or using a mobile app. VISION OnDemand also gives associates access to omnichannel shopper data and inventory information, so they can acquire a 360-degree picture of the business as well as their customers.
The core platform allows data services to be orchestrated and normalized between infrastructure systems, such as EPOS, Loss Prevention, e-Commerce, Order Management, ERP, Loyalty and Clienteling.
VISION OnDemand can be implemented on in-store devices and run offline in order to ensure resilience. Even while offline, business logic can run centrally through the system and can be accessed by other applications, which not only reduces duplication but also makes deployment much easier.