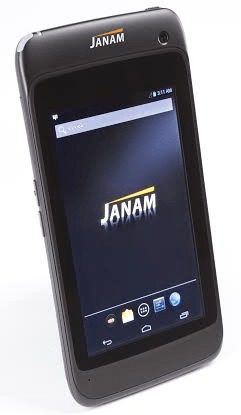 Retail workers are increasingly relying on mobile technology to communicate with each other, whether on the store floor, in the backroom, in a warehouse or at the company headquarters. However, the consumer-grade smartphones and tablets they use are not germane to the retail environment.
Janam Technologies has launched the XT1 rugged mini-tablet to retail employees to harness the power of mobility across the organization. The device includes an Android 4.2 operating system and a 5.9-inch WVGA display that is equipped with 802.11a/b/g/n WLAN radio as well as enterprise-grade security and advanced 3G WWAN cellular technology. The solution also has 2D scanning technology and a 5.0 megapixel camera, allowing employees to accurately capture data and eliminate the challenges often associated with camera scanners or bulky sled attachments.
"Many enterprise customers require more screen viewability than traditional PDAs or handheld computers offer, yet full display rugged tablets are large, thick, heavy and unwieldy," said Harry B. Lerner, CEO of Janam. "Janam resolves this dilemma. The XT1 blends technologies most often found in consumer phones with mission-critical key features that enterprises need such as ruggedness, sealing, barcode scanning and rapid battery recharging, among others."
The mini-tablet is designed to withstand multiple three-foot drops to concrete, delivering the reliability needed to excel in demanding environments.