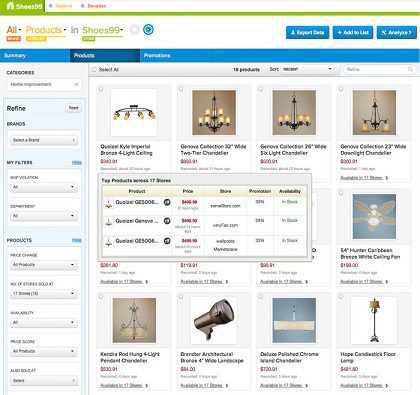 Brands and retailers are encouraged to keep a constant pulse on competitor products, promotions and prices, and make appropriate changes to keep pace.
The product intelligence app from Indix is designed to help brands and retailers analyze real-time product information, including assortments, catalogs, prices, promotions and social feeds. Users can sift through an entire product database using keywords, UPC, SKU, ASIN and MPN, or search for specific brands, categories and stores.
Using the app, team members can drag and drop individual metrics onto a dashboard and receive updates in real time. The app sends users automated reports via email, outlining pricing opportunities, inventory statuses and Minimum Advertised Price (MAP) violations. Retailers also can use Indix to add more detail to their online product descriptions, which can help improve product discovery and overall conversions.
Software developers can use the Indix API to build product-aware applications and services for brands and retailers, helping them present the right products to the right customers.