There's no shortage of advice for parents, particularly first-timers. In fact, it's all too common for new moms and dads to suffer from a bad case of information overload. Retailers in this space want (and need) to be perceived by shoppers as trusted advisors, so it makes sense that the corporate mission of Canadian baby retailer Snuggle Bugz is to give confidence to customers navigating parenthood. Fulfilling that mission means providing plenty of solid content, both about the products it offers and other parenting issues.
Unfortunately, the retailer's old e-Commerce platform was causing a confidence gap between its in-store and online customer experiences. "Our stores are beautiful, and people can get all the information they need there," said Sharron Vanderbeek, Director of E-Commerce at Snuggle Bugz, noting that the average employee spends more than 100 hours in product knowledge training each year.
"We wanted to move to a content experience online that would replicate the confidence you got in the stores," said Vanderbeek in an interview with Retail TouchPoints. "We want to offer videos, comparison guides, compatibility information and reviews without 'splitting' the content into two different silos. We don't want to force people to go to a store to get the answers they need, when they can ideally go to the site and get the answer whenever they want."
Snuggle Bugz, which operates 11 stores in Ontario and British Columbia, has adopted an e-Commerce platform from Workarea to replace its existing solution. The retailer's six-month deployment is scheduled to go live in February 2019, and the new platform will provide benefits that include:
• Omnichannel inventory management that works across multiple locations;
• Improved site search, navigation and product recommendation capabilities;
• Real-time, store-specific inventory for users of the Snuggle Bugz baby registry; and
• Greater internal control of the site, allowing employees across marketing, e-Commerce and customer care to handle content publishing, manage a large SKU catalog and make site changes without development resources.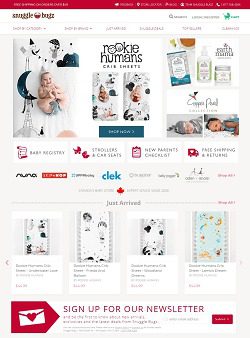 Vanderbeek expects that the new platform will help provide an improved site experience that encourages longer online sessions, and that the enhancements will boost KPIs including top-line revenue, share of wallet and customer lifetime value. Somewhat surprisingly, however, she predicts that conversion rates could actually decrease, because the site will attract more people seeking parenting advice rather than those visiting with a strong purchase intention. But that's not bad news for the business: "The next time their best friend is having a child, they can say 'Hey go to this site, it has great information,'" said Vanderbeek. "If the conversion rate drops, that means we're serving more people in the way we want to be serving them."
Enhancing Navigation For Both Products And Content
The retailer began searching for a new platform in fall 2017, and quickly narrowed down its choice to three suppliers, including Workarea. "Because of our catalog size and the requirements of the baby registry, it was easy to get to these top three," said Vanderbeek. "We're talking about a large product catalog with complex variants, and in addition we are totally omnichannel, so our inventory data has to operate over multiple locations as well as online."
Powerful search capabilities included in the Workarea solution were a key selling point for Snuggle Bugz. "We're talking about search that's not just for products but for content: 'Here's why this stroller is perfect for your family,'" said Vanderbeek. "By wrapping product and content searches together, customers can walk away with this ultimate feeling of confidence."
Another customer-facing benefit involves the baby registry. "People will typically have 20 to 25 friends and family using a baby registry with their first child," said Vanderbeek. "Now when these people go into a store they can pull up the registry on their phone and find out which registry items are in that store, right now. If it's not in-stock, we can wrap it up and deliver it."
Making Marketing More Agile
On the internal side, Vanderbeek is enthusiastic about the new platform's impact on marketing. "We will be able to schedule anything — content, promotions, product launches — and break it down to the minute," she noted. "We can even overlay multiple rollouts, working weeks or months ahead instead of day to day. Even with a very small team, we anticipate that we will get results that are equal or better than we would get with a marketing agency."
Greater internal control also will provide Snuggle Bugz with the ability to react quickly to changing conditions. "If it's something like a flash sale, where we promote a certain item for 45 minutes, we could go immediately if one of our vendors said to go live now," said Vanderbeek. "That level of agility is what we really needed."
The retailer expects the new e-Commerce platform to enhance a number of performance metrics, including top-line sales, customer service, share of wallet and customer lifetime value. "It all comes down to the experience we're trying to replicate — that your best friend is sitting there with you, helping you shop," said Vanderbeek. "We're also looking for longer online sessions and lower bounce rates. We call it the confidence effect."