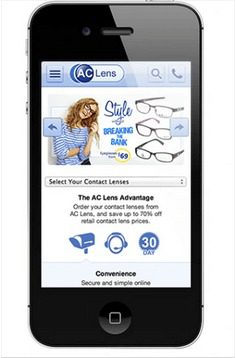 With nearly one third of online traffic coming from mobile devices, mobile web site optimization is now a necessity for retailers, especially if they sell exclusively online.
AC Lens, a contact lens eTailer, has significantly benefitted from consumers' move to mobile since launching its new mobile-optimized site. Since implementing the responsive web design platform Moovweb, the eTailer has seen mobile revenue rise by 25%.
AC Lens first considered investing in a mobile-optimized site in 2011, when mobile traffic represented just 20% of all site visits.
Initially relying on a site built in-house from open source components, AC Lens was limited in technical performance and design flexibility. After researching mobile technology and inquiring with multiple platform providers, the AC Lens team determined that Moovweb would be the best fit to power its mobile site.
The self-service option from Moovweb aligned with team members' desire to build programs in-house, and provided them with more flexibility to make adjustments on the fly. Additionally, AC Lens felt the pricing structure of Moovweb fit the company's requirements for low overhead costs and sufficient ROI potential.
"[Moovweb] had some good documentation online that helped us get started," said Brian Frank, VP of Business Development at AC Lens. "We had direct access to some really knowledgeable people at Moovweb who were able to help us overcome any problems. Early on we did live chat, email and had a discussion group on stack overflow to ask questions. As far as the relationship overall, I would say they were the best partner that I had the opportunity to work with in terms of just getting quick answers and finding solutions to issues that we've had."
Implementation of the Responsive Delivery Platform took approximately less than three months, with the majority of progress being made in less than 30 days, according to Frank. He added that only two people worked on the implementation in the final month before launch.
The mobile-optimized experience from AC Lens was designed to help customers order products using their mobile devices. As a result, key features on the e-Commerce site, such as product images, prices and a prescription selection prompt, had to be included.
Across the board, AC Lens reached its ROI goal for the Moovweb implementation. Average visit duration on the mobile site also increased by 150% and overall page views increased by 78%.
Although these results present a positive outlook for AC Lens, Frank reported that the eTailer has plans to make further enhancements to the site.
"I think we can do better," Frank said. "We haven't completely optimized the entire site, and that's just due to resource constraint on our side. In a perfect world, I think our conversions could be the same as it is on desktop, but that may not be realistic. It would be great if we could get to a point where mobile attains half of our desktop conversions. I think that's realistic, and we're about halfway there."
In addition to the flagship AC Lens site, the company operates approximately 25 brand sites, which the eTailer plans to optimize as well.
"We have a pretty aggressive goal to optimize about eight more sites this year," Frank said. "A lot of the code can be shared, but not all of it, so it's just a matter of trying to customize the Moovweb code that we're writing slightly for all the different brands."