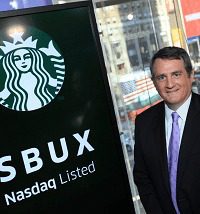 Scott Maw, EVP and CFO at Starbucks, will retire on Nov. 30, 2018, and the coffee retailer has already begun an external search for his replacement. To help with the transition, Maw will remain in a senior consultant role through March 2019.
Maw joined Starbucks in 2011 as global controller, and was named CFO in February 2014. Prior to Starbucks, he held CFO positions at SeaBright Insurance Co. and JPMorgan Chase, according to his LinkedIn profile.
"I am grateful for the contributions Scott has made over the past seven years that led to the unprecedented growth of Starbucks," said Kevin Johnson, Starbucks President and CEO in a statement. "As we enter our next phase of continued growth, I am confident in the finance team Scott has developed and am appreciative of his willingness to support through the transition into new leadership."
The announcement of Maw's retirement follows an even bigger transition at Starbucks, the June 26, 2018 departure of Chairman Howard Schultz.