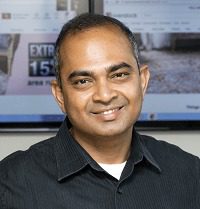 Vidya Jwala, most recently VP of Merchandising and Operations at Walmart, has been named Senior Vice President of Demand Fulfillment for Overstock.com. He will be responsible for overseeing sourcing, merchandising, supply chain and customer care businesses for the e-Commerce retailer.
Prior to his stint at Walmart, Jwala held leadership positions at the Tractor Supply Company, Lowe's Companies and Jo-Ann Stores.
"Vidya brings the knowledge and data-driven approach needed to scale our sourcing and supply chain efforts," said Overstock President Saum Noursalehi in a statement, adding that Jwala combines experience with nationally known retailers and expertise in business intelligence, analytics and data science.