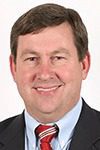 IHL Group, a global research and advisory firm, has hired former Gartner analyst Jeff Roster as VP of Retail Strategy. In this position, Roster will oversee IHL's retailer engagement, vendor briefings and strategic IT services practice.
Most recently, Roster served as the VP of Industries, Retail for Gartner, where he was responsible for communicating global IT trends in the retail, wholesale and consumer product industries. Additionally, he analyzed end user requirements and consulted with IT vendor clients on strategies. In his time with Gartner, he also received the Gartner Thought Leadership award for IT research.
Roster also serves on the Board of Advisors for the Retail Orphan Initiative and has more than 30 years of experience as a retail industry analyst.
"Roster comes to IHL with significant experience as a retail analyst and has held a variety of positions spanning several industries over the course of his career," said Greg Buzek, President of IHL Group. "His extensive knowledge of retail, background in company briefings and his broad personal relationships with many of our clients will be extremely valuable to IHL as we continue to serve our retail and vendor clients."