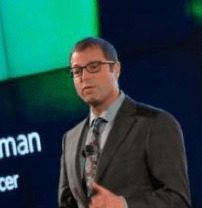 Struggling apparel retailer J.Crew has made a significant hire, bringing Starbucks' former Chief Digital Officer Adam Brotman on board to fill the newly created post of Chief Experience Officer. Brotman will report to CEO Jim Brett.
In nine years at Starbucks, most recently as EVP for Global Retail Operations and Partner Digital Engagement, Brotman was credited with overseeing the retailer's popular mobile ordering, payment service and loyalty card initiatives. He also was responsible for the retailer's in-store digital experiences, including the Starbucks Digital Network.
"Adam's experience with global field operations and cutting edge consumer-facing digital platforms makes him an invaluable partner in shaping and driving J.Crew Group's strategic initiatives to the next level," said Brett in a statement, according to GeekWire. "Adam will help us establish customer relationships that leverage all our channels, helping us to serve them in ways that are more meaningful and relevant to how they shop and live."
J.Crew has been facing many of the same headwinds as other mall-based apparel retailers. For Q3 2017, total revenues decreased 5% to $566.7 million, while comparable company sales dropped 9%, compared to an 8% dip in Q3 of the previous year. The company had a net loss of $17.6 million, more than double the $7.9 million loss for Q3 2016.
Brett was brought in to attempt to turn J.Crew's fortunes around following the departure of long-time CEO Millard "Mickey" Drexler in June 2017.