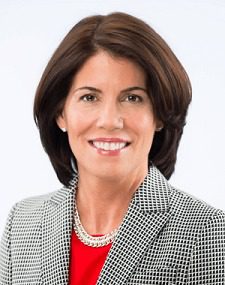 HBC, parent company of iconic retail brands including Hudson's Bay, Lord & Taylor and Saks Fifth Avenue, has appointed CVS executive Helena Foulkes as its new CEO, effective Feb. 19, 2018. Richard Baker, who has been acting as interim CEO, will continue as Governor and Executive Chairman of HBC.
Foulkes joined CVS in 1992 and rose to become EVP of CVS Health and President of CVS Pharmacy in January 2014. During her time at the company, she helped lead the retailer's decision to discontinue sales of tobacco products, and the creation of the pharmacy's digital prescription program, which is now used by 48 million consumers to fill prescriptions.
Most recently, Foulkes led an initiative to provide more realistic and diverse images of beauty for consumers, or at least to flag those that have been altered. The program includes the introduction of a watermark that CVS will use to highlight imagery that has not been materially altered. Additionally, CVS will work with brand partners and industry experts to develop guidelines that ensure consumers can distinguish between genuine and altered images on beauty packaging and displays.
At HBC, Foulkes will be responsible for global strategy and operations for all banners, which include the Galeria Kaufhof chain of department stores in Germany and Belgium's Galeria INNO chain. She will oversee more than 66,000 associates worldwide across a portfolio of 480 stores, related e-Commerce platforms, supply chain, logistics and technology.
Baker has served as HBC's interim CEO since the November 2017 departure of Gerald Storch, who left to rejoin his advisory firm, Storch Advisors.
HBC has struggled with many of the same headwinds impacting the department store sector. In Q3, retail sales decreased 4.2% to $3.2 billion (Canadian), with comp sales dropping 3.2%. The retailer has made a few unsuccessful attempts to grow by acquisition. Talks that began early in 2017 about HBC buying Neiman Marcus did not result in a deal. Preliminary discussions about acquiring Macy's were reported in February 2017, but again no deal was reached.