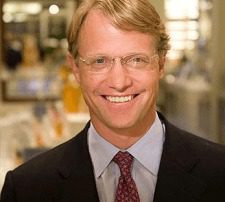 Gap has named Neil Fiske, a 20-year retail veteran credited with turnarounds at three major companies, as President and CEO of its Gap brand. Fiske will begin on June 20, joining the retailer's leadership team and reporting to Gap Inc. President and CEO Art Peck.
Fiske's most recent post was CEO of Billabong International, where he restored the flagship Billabong brand to a market-leading position. Prior to that, Fiske spent five years as President and CEO of Eddie Bauer, repositioning the company to focus on its outdoor outfitter heritage. Fiske also served as CEO of Bath & Body Works, where he led a brand transformation that helped reverse a multi-year trend of negative comp store sales.
The CEO position has been open since the February 2018 departure of Jeff Kirwan. The Gap brand has struggled with both external and internal competitors, including the Gap Inc. Old Navy brand. In April, Gap announced that it would open 60 Old Navy stores and remodel 150 existing locations, pushing the discounted apparel brand's store count above 1,000 units. Gap operates more than 3,600 stores worldwide under the Gap, Banana Republic and Athleta banners.
For Q1 2018, Gap Inc. achieved net sales of $3.8 billion, a 6% improvement over the same period the previous year. On a global basis, Old Navy achieved 3% comparable sales growth versus an 8% increase the previous year. Banana Republic was up 3% compared to negative 4% in Q1 2017. Gap Global, however, remained at negative 4% for this quarter, the same result as the previous year.
"We are pleased to have delivered our sixth consecutive quarter of positive comp growth, despite expected challenges at the Gap brand," said Peck in a statement.