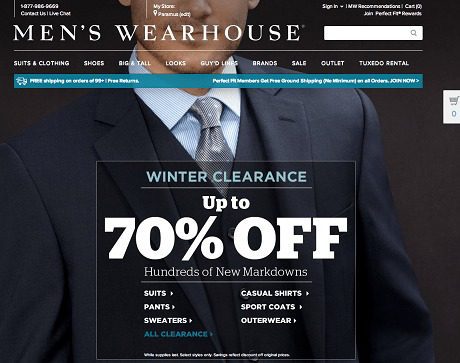 The Federal Trade Commission (FTC) has confirmed the merger between Men's Wearhouse and Jos. A Bank, answering questions about whether or not the merger would have violated antitrust laws. As previously announced, Men's Wearhouse and Jos. A. Bank entered into a merger agreement in which Men's Wearhouse is set to acquire Jos. A. Bank for $65 per common stock share at a total of approximately $1.8 billion in cash.
The rival companies had been trying to acquire each other since October 2013, when Jos. A. Bank initially made an unsolicited proposal to purchase Men's Wearhouse for approximately $2.4 billion at $48 per share. After rejecting the offer,
Men's Wearhouse proposed a counter offer to purchase Jos. A. Bank for $1.2 billion at $55 per share
. Men's Wearhouse upped the offer to $1.6 billion ($57.50 per share) in January 2014, but raised its bid again twice more after Jos. A. Bank rejected the proposals. Both sides finally agreed on the $1.8 billion offer in March 2014.
The FTC Bureau of Competition had previously conducted a nonpublic investigation to determine whether the acquisition violated Section 7 of the Clayton Act or Section 5 of the Federal Trade Commission Act.
"Together, Men's Wearhouse and Jos. A. Bank will have increased scale and breadth, and Jos. A. Bank's strong brand and complementary business model will broaden our customer reach," said Doug Ewert, President and CEO of Men's Wearhouse. "Men's Wearhouse shareholders will benefit from approximately $100 to $150 million of run-rate annual synergies realized over three years, through improving purchasing efficiencies, optimizing customer service and marketing practices, and streamlining duplicative corporate functions. Additionally, Men's Wearhouse's vertical direct sourcing model will be leveraged to improve combined merchandising and sourcing across the combined company and rationalize inventory over time."
The transaction is expected to close within 30 days, according to Ewert. He also expects Jos. A. Bank to add value to the combined company's earnings by the end of the first full year.
As a result of the transaction, Jos. A. Bank cancelled a previous deal in which the company was set to acquire fellow menswear retailer Eddie Bauer for $825 million, paying parent company Golden Gate Capital $48 million in termination fees.
Together, Men's Wearhouse and Jos. A. Bank will operate more than 1,700 stores, with approximately 26,000 employees and expected sales of $3.5 billion. The two brands will continue to operate separately.
Read the FTC's Closing Letters to each company here.