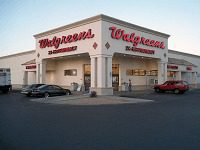 Walgreens Boots Alliance, already a global presence with more than 13,000 stores in 25 countries, will grow even larger with its purchase of rival drug store chain Rite Aid for $17.2 billion. The all-cash deal will make Rite-Aid, with nearly 4,600 stores in 31 states and the District of Columbia, a wholly owned subsidiary of Walgreens Boots Alliance, though initially its stores will continue to operate under their existing brand name.
Over time, leadership teams will make decisions regarding integration of the two companies, with the goal of ultimately creating "a fully harmonized portfolio of stores and infrastructure," according to a company statement.
"Today's announcement is another step in Walgreens Boots Alliance's global development and continues our profitable growth strategy," said Walgreens Executive Vice Chairman and CEO Stefano Pessina in a statement. "This combination will further strengthen our commitment to making quality healthcare accessible to more customers and patients. Our complementary retail pharmacy footprints in the U.S. will create an even better network, with more health and wellness solutions available in stores and online. Walgreens Boots Alliance will provide to Rite Aid its global expertise and resources to accelerate the delivery of integrated frontline care, and to offer innovative solutions for providers, payers and other entities in the U.S. healthcare system."
Rite Aid shareholders will receive $9 per share, a 48% premium over the closing per-share price on Oct. 26, 2015. Both companies' boards of directors have approved the deal, but it still requires review from the U.S. Federal Trade Commission. Walgreens Boots Alliance projects to close the deal during the second half of 2016.