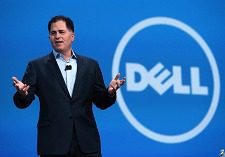 At a time when other technology companies such as HP and eBay are making themselves smaller by spinning off divisions, Dell and EMC are combining to create a technology giant that will have estimated annual revenues of more than $80 billion. The company will sell a wide variety of both consumer and IT products including PCs, mobile technology, servers and data storage technology and virtualization software.
The $67 billion transaction, being called the largest technology deal of all time, will result in a combined company that is privately held, as Dell currently is. However, the virtualization software manufacturer VMware, in which EMC has an 81% stake, will remain as an independent publicly traded company. EMC shareholders will receive $24.05 per share in cash in addition to tracking stock linked to a portion of EMC's interest in the VMware business.
Dell Chairman and CEO Michael Dell will hold the same titles at the combined company. EMC Chairman and CEO Joe Tucci will step down once the transaction completes, which is expected to be between May and October 2016.
"The combination of Dell and EMC creates an enterprise solutions powerhouse bringing our customers industry-leading innovation across their entire technology environment," said Dell in a statement. "Our new company will be exceptionally well positioned for growth in the most strategic areas of next generation IT including digital transformation, software-defined data center, converged infrastructure, hybrid cloud, mobile and security."
EMC, known for its data storage technologies, has struggled as the cost of such services has plummeted in recent years. In a statement, CEO Tucci alluded to the rapid shifts that have affected his business: "The waves of change we now see in our industry are unprecedented and, to navigate this change, we must create a new company for a new era. I truly believe that the combination of EMC and Dell will prove to be a winning combination for our customers, employees, partners and shareholders."
Dell expects to finance the transaction through a combination of new common equity from Michael Dell, MSD Partners, Silver Lake and Temasek, along with the issuance of tracking stock, new debt financing and cash on hand. The company projects that the combined entity will spend its first 18 to 24 months de-leveraging as it pays down much of the debt incurred from the purchase.