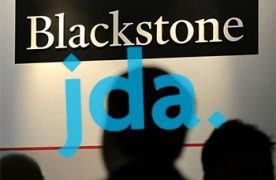 JDA Software has completed an agreement with Blackstone and its majority owner New Mountain Capital for the private equity firms to invest $570 million to finance a recapitalization of the company, which presently has approximately $2 billion in outstanding debt. The deal would entitle Blackstone to a 40% stake in the company, according to a report from the Wall Street Journal. Honeywell was reportedly in talks to purchase JDA outright, but this move seems to have averted that deal.
The new funding will be used to fuel JDA's product innovation and growth plans to deliver its next generation cloud-based supply chain and omnichannel retail solutions, including the JDA Retail.me platform. The new equity investment is expected to be completed by early Q4 2016, pending customary closing conditions.
"This investment will accelerate the development of our SaaS-based solutions and allow us to develop innovative new solutions on Google Cloud Platform while enhancing our current large R&D investment in our existing products," said Bal Dail, Chairman and CEO at JDA in a statement.
In March 2016, credit ratings agency Moody's Investors Service warned that JDA Software's debt levels might be "unsustainable" and that the risk of damage to its capital structure would be high "without a sizeable equity infusion or reduction in debt."
Majority Shareholder Spurns Honeywell
New Mountain elected to take the option to recapitalize JDA instead of selling the company outright to technology and manufacturing conglomerate Honeywell International for $3 billion. Honeywell had a heavy interest in JDA due to its large retail clientele, which includes 78 of the STORES Top 100 retailers. The multinational technology brand sought to further its push into automation and purchase its second supply chain provider in as many months, after acquiring Intelligrated for $1.5 billion in July.
The investment firm reached out to Blackstone during the Honeywell negotiations, proposing the structured financing deal in exchange for preferred stock and equity warrants in JDA that guaranteed returns of 7.5%.
The new equity investment will have no cash interest costs for JDA and will be used to retire existing debt and reduce JDA's interest expense by $70 million per year.
New Mountain took JDA Software private in 2012 for $1.9 billion before merging it with fellow supply chain software provider RedPrairie. While JDA has incurred significant debt as it attempts to make further investments in its platforms, it closed the first half of 2016 with its highest year-over-year growth in software revenue since the merger.