Seeing one store after another, young Rebecca Bloomwood contemplated, "When I look into shop windows, I saw another world, a dreamy world full of perfect things." By the time she reached adulthood, Bloomwood found herself buried in debt from buying one too many luxury goods.

Screenshot from Confessions of a Shopaholic (2009)
From Brand-Induced To Customer-Led Inspiration
Confessions of a Shopaholic is an extreme and comedic yet relatable portrayal of how inspiration used to work in retail from recent memory. Besides window shops, brands used to publish fashion plates which date back to the 16th century and became widespread during the 19th and early 20th centuries. According to J.L. Nevilson's book, royal portraits served as the visual cue for the popular styles and embellishments during that period.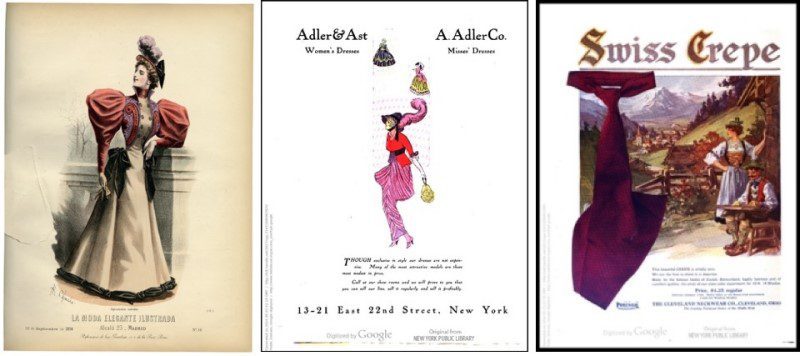 Images credit: Yale University Press, New York Public Library
Eventually, fashion plates and fashion advertising which made use of illustrations were replaced by photography in the mid-90s. Since then, other than the regular fashion weeks held in big fashion capitals around the world, brands relied on season collection campaigns especially made for fashion magazines and advertisements. From royals, fashion muses were expanded to models and celebrities, which Vogue was specifically instrumental in.
Browsing On New Channels For Inspiration
Even from before, fashion inspiration is about showcasing clothes and how they make the consumers feel. However, the way consumers get inspired today has changed. From being limited to word-of-mouth, strategic locations and magazine spreads, fashion inspiration today is everywhere.
"In the old world, they would often get ideas for purchases directly from brands (intermediated by magazines) or from in-store assistants. Now consumers turn to a much wider range of inspirations, from social media, celebrities, and influencers to spotting an attractive look on the street," according to McKinsey & Company.
Google revealed that consumers have twice more interactions with brands on mobile than anywhere else — that includes TV, in-store and others. When it comes to inspiration for purchases, a PricewaterhouseCoopers survey found that social networks are most influential. In particular, 20% selected visual social networks. Olapic shared that 45% of survey respondents look at user-generated images for inspiration once a day or more.
McKinsey & Company further found that 41% of consumers rely on influencers and bloggers, while only 20% go to in-store employees. In learning about the latest high-end fashion trends, Deloitte revealed that 20.5% of shoppers go to social media, only 15.1% browse a brand's web site and 14.4% look at fashion magazines.
Inspiration inception: Here is an example of a YouTube personality, Tess Christine, who was inspired by Olivia Culpo's fashion and style from Instagram. In return, she made a YouTube video to help, and in the process, inspire her subscribers who also love Culpo's style.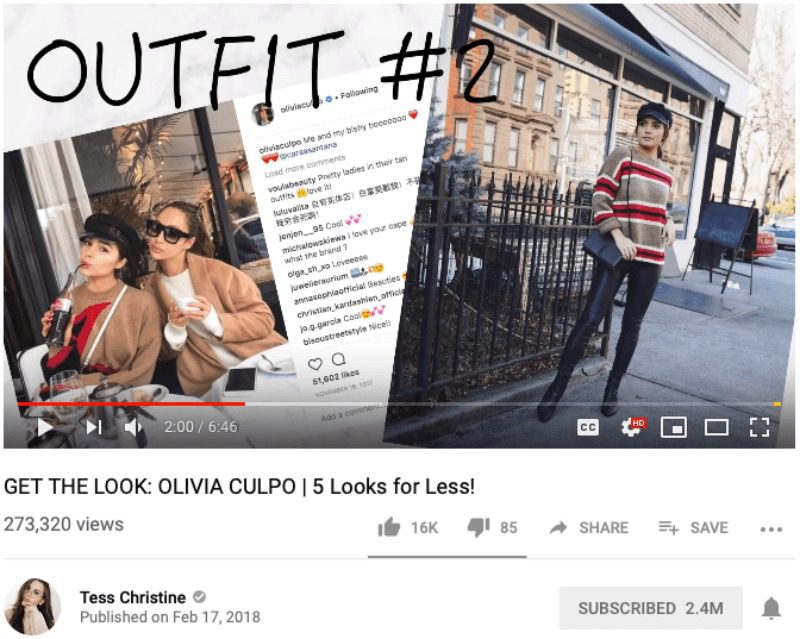 Screengrab from Tess Christine YouTube Channel
Shopping With A Clean Slate And Strong Impulse
Even Google search trends reflected the new consumer behavior. The search engine found that 66% of apparel mobile shoppers turn to Google for ideas about what to buy. From brand marketing-induced inspiration, customers are now finding and discovering inspiration on their own. In fact, 90% of mobile users are not absolutely sure of the brand they want to buy when they begin shopping.
Deloitte revealed the same thing. Only 30% of consumers get inspiration from a retailer or brand's advertisement, while 70% are becoming aware of products through means outside of retailer or brand communications. In other words, buying journeys, from start to finish, are now customer-centric.
In addition to searching without a brand in mind, more consumers are shopping with a sense of urgency to find and buy products they are interested in. However, this part of the shopping journey — turning inspiration to product discovery, and eventually to purchase — lies a major pain point.
"Drilling down into the causes, this pain point is at least partly caused by an inability to identify and find the product. Word-based searches do not lead to the right place, and, often, consumers don't know the right terminology for the products they search," according to McKinsey & Company.
What Stays The Same: Everything Is Still Visual
Let's do a recap. Before: Store windows and magazines showing the latest clothes, or a piece of furniture positioned within a beautifully styled room get the imagination of consumers running. Today: Consumers go to visual social networks like Instagram, Snapchat, and YouTube to see trends as worn by influencers and celebrities, or simply try to find online what they see in the real world.
From decades ago up to the present, what remains consistent throughout the customer inspiration phase is it being visual-based. The only change is the way consumers get inspired and act on the inspiration.
Since consumers are increasingly leading their own shopping journeys and going brandless on their product search, image commerce or visual search addresses the difficulty of searching for the rights words to describe the inspiration and finding the product itself.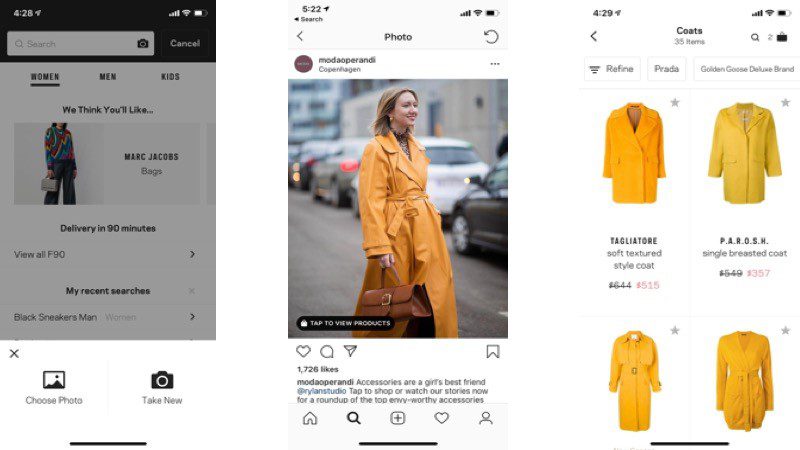 Providing the ability to look for visually similar products with just an image, 84% of retailers "see image commerce as important or very important to their future success," according to Accenture. More than half of consumers are interested in image commerce, and 63% would consider shifting at least half their purchases to retailers offering image commerce.
The New Instagram In-App Purchasing
In fact, Instagram knows that it has become the new store windows and magazines. As many as 72% of consumers make fashion and beauty purchases after seeing something on Instagram, according to a study from Dana Rebecca Designs.
Effectively tapping into its massive influence, Instagram recently introduced a new "Checkout" feature that enables consumers to buy products without leaving the app. Before, consumers have to visit the retailer web site to buy products as shown on the Pottery Barn example.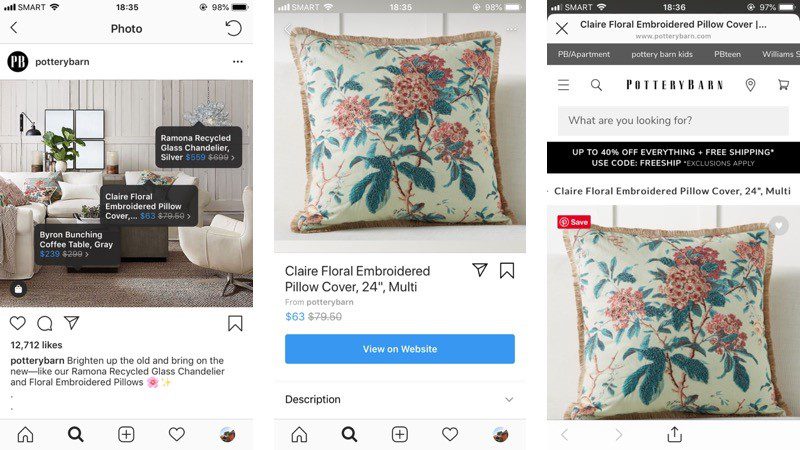 Image credit: Pottery Barn on Instagram
The new feature, Business of Fashion shared, allows brands to "make products shoppable through posts on their feed, in Instagram stories, or in the 'Explore' tab." Overall, the new feature delivers a more seamless shopping experience as it cuts the product search process and goes directly to purchase.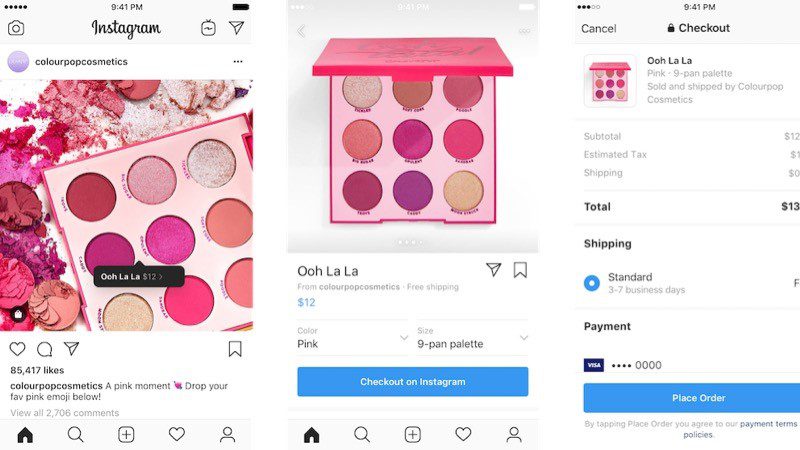 Image credit: instragram-press.com
But not all consumers are on Instagram. Plus, consumers like to have options. Some don't necessarily want to copy the exact fashion items while others like to find a more affordable alternative. This is where the majority of retailers and brands come in.
The Need To Be Relevant And Present At The Exact Moment Of Inspiration
Consumers have multiple channels to both get inspiration and turn said inspiration into reality. From Google and social media to retailers' web sites and native camera or gallery app, when consumers type in a keyword or image search, the key to staying competitive is to show up at the exact moment of inspiration to be considered.
Remember, consumers usually have no brand in mind in the first place. Online product search and discovery are a level playing field for retailers most of the time. Using visual search solutions, retailers have the power to leverage the inspiration shoppers are exposed to every day and be relevant and present when consumers start their product search. Here are some action points to consider:
Be Present On Online Marketplaces
Since close to 100% of mobile users are not sure of the brand they want to buy when they start shopping, it is crucial for retailers to appear among the visually similar results when shoppers look for products.
Samsung now enables users to shop visually similar products directly from their camera and browser through a gallery of similar products. To be competitive, brands and retailers have to show up as one of the results.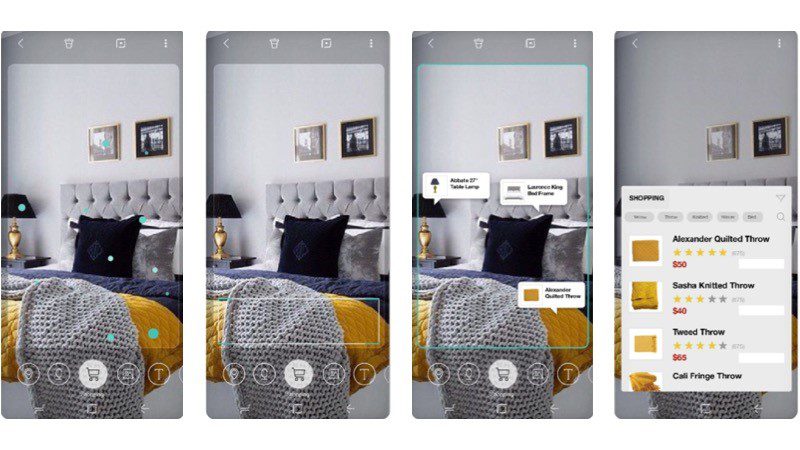 Provide Style Recommendations
Tap into shoppers' social nature by showing them style inspirations from their favorite influencers or celebrities. With user-generated content from social media that recommends how products are styled, consumers become more inclined to make the purchase and share their positive experience within their online social circle.
Revolve is particularly famous for tapping into influencers' clout. The retailer is not only a master in selling a lifestyle that inspires shoppers to buy their products, but also in syncing its social media content with its web site.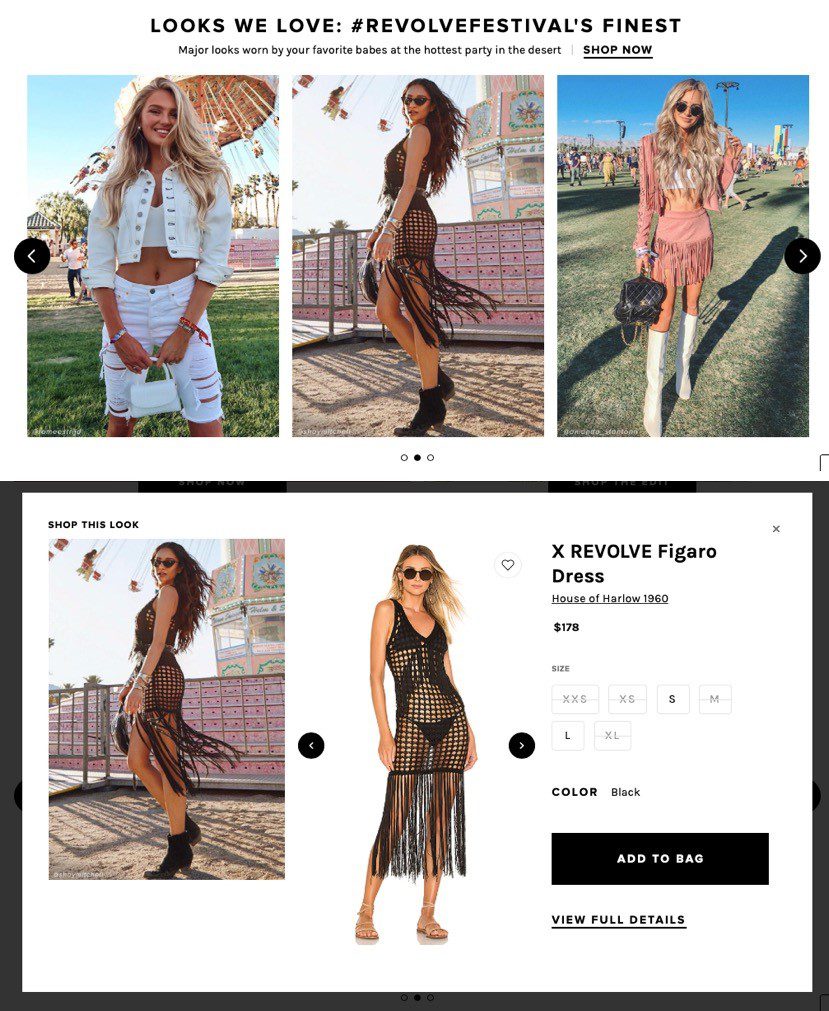 Enable Convenient Visual Navigation
Can't find the right words? No problem. Shoppers easily filter and find the right products with icons that represent categories, patterns and styles through visual navigation. Combine this with an enhanced textual site search solution, and retailers get to deliver a seamless product search on their web site or app.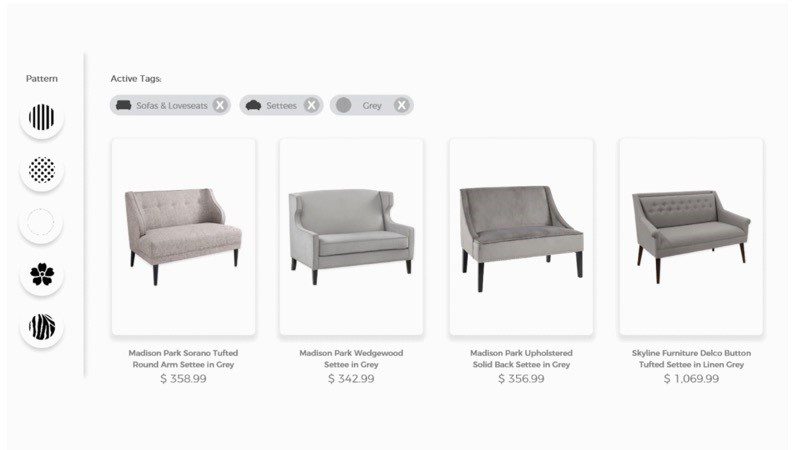 Inspiration jumpstarts the shopping journey for consumers. It is a powerful asset that used to be brand-led. But now, with consumers getting inspiration on their own from everywhere, retailers need to do two things: Be the source of inspiration and if not, be at the moment of inspiration when consumers start to explore options and discover brands.
As shown by the examples mentioned, visual search is a comprehensive technology that enables retailers to do both. From its ability to recommend style inspirations, to its power to surface visually similar products from a keyword or image search, visual search taps into consumers' inherent desire for a convenient, intuitive and seamless inspiration-fueled shopping experience.
---
Lihi Pinto Fryman is a seasoned entrepreneur with a strong background in finance and banking. As the Co-Founder & CMO of Syte, she spearheaded the go-to-market strategy and execution of Syte's Visual AI for Retail platform, including branding, creative ideation, analyst relations and more. Before Syte, Fryman was VP of Private Banking at Bank Leumi (UK) in London, where she provided wealth-management services to some of the UK's high net worth individuals. Fryman has some of the highest accreditations in the Finance Industry, including Chartered Wealth Manager and CISI Level 6 Certificate. She is a graduate of The College of Management with a Bachelor of Arts in Business Management and Economics.