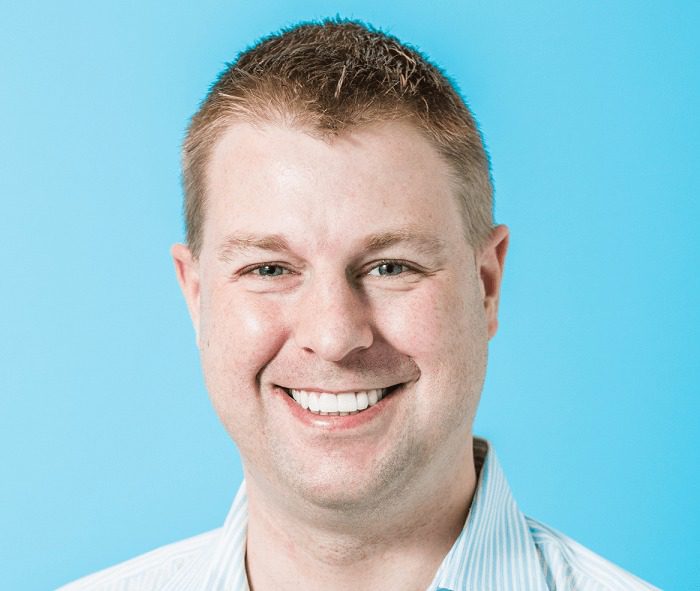 There's no other way to put it — Walmart's ambition is to match Amazon step for step. Just look at the company's October 2017 earnings report. Walmart, already the No. 2 e-Commerce player in the U.S., has set incredibly aggressive goals for 2018. The commerce giant aims to grow e-Commerce sales by 40%, add another 1,000 online grocery pickup locations and improve product returns through its mobile app.
Walmart will lean on its suppliers in order to execute on these goals. They have asked their sellers to prioritize updating stellar product content and enabling store pickup in 2018. Take them at their word, or your brand seriously risks not benefitting from Walmart's overall e-Commerce efforts.
Walmart is putting so much emphasis on suppliers being on board with its e-Commerce strategy because they must comprehensively and continuously address the changing buyer journey — or risk losing shoppers. So far, that commitment to e-Commerce seems to be paying off. Walmart's present position is enviable. The NPD Group estimates that 95% of U.S. consumers shopped at Walmart or Walmart.com in 2016, and the company grew e-Commerce sales by 36% in Q4 alone.
Whether you are selling on Walmart or not, e-Commerce is already impacting your business. Digital transformation needs to be an ongoing company priority for every brand. Walmart's requirements may seem like a strain, but are in fact an opportunity to move e-Commerce from a siloed or ancillary objective and establishing a companywide initiative for which every department is held accountable.
In order to bring your brand to life on the digital shelf and deliver a satisfying product experience, marketing, sales, supply chain and fulfillment, and IT all need to be aligned and play their part for both the retailer and the end consumer. Often, technological integrations receive the most attention as a panacea to solve this issue. As the CEO of one such technology — Salsify, a product experience management platform — I can tell you that for the hundreds of brands we work with, technology doesn't work in a silo. Fueling that meaningful, desired change requires a discussion and a dependence on the people and processes needed to use the software.
Despite what any vendor may tell you, e-Commerce execution is hard — no company is ever "just one implementation away" from success. At a high level, the real-world success stories I've witnessed, from small to large, legacy brands, are predicated on a top-down buy-in that reflects three key truths.
Digital is your next (and perhaps only) growth opportunity. Regardless of the percentage of sales today, e-Commerce is already impacting how your end buyer shops and influences sales on every other channel. It will continue to grow in importance;
Transformation needs top-down support and cross-functional implementation. Effective e-Commerce execution requires C-suite involvement, not blind delegation to a department; and
The brands you are up against differ by channel. Your top competitors offline are likely completely different than your top competitors online. You need to build a digital shelf that can combat both.
Particularly with older, historical brands with dominant in-store marketing positions, we hear initial objections to those three truths. I'll tackle them individually:
"E-Commerce is a small part of my business."
This is a myopic view of the modern buyer journey. Before prospective customers hit the store, a significant percentage of them are on their phones doing price comparisons, looking up product information or checking online reviews before they decide to buy. These are touch points your brand needs to seriously and comprehensively address. Deloitte estimated in 2016 that $0.56 of every dollar spent in-store was influenced by a digital interaction. That number is even larger now.
"My marketing department takes care of this."
E-Commerce needs to be a companywide priority — not siloed within one or two departments. This is even more true as Walmart continues to pressure suppliers to achieve its e-Commerce growth targets. Marketing can't do their jobs getting great content to places like Walmart.com if they aren't in sync with the product development team. Supply chain and operations teams needs to be intimately involved to avoid out-of-stocks, address the complex fulfillment requirements and work to limit chargebacks. Multiply that complexity across other valuable sales channels, like Amazon, and every department must own their part of the e-Commerce go-to-market process and be enabled to move quickly.
This is not easy, and requires support from C-suite leadership. However, there are blueprints to making this organizational change, particularly by right-sizing e-Commerce projects and then undertaking wider rollouts.
"I'm fine compared to my competitors."
There are two big issues with this excuse — your competitors online are likely not the same ones as offline, and your competition is not remaining static. Let's use the coffee market as an example.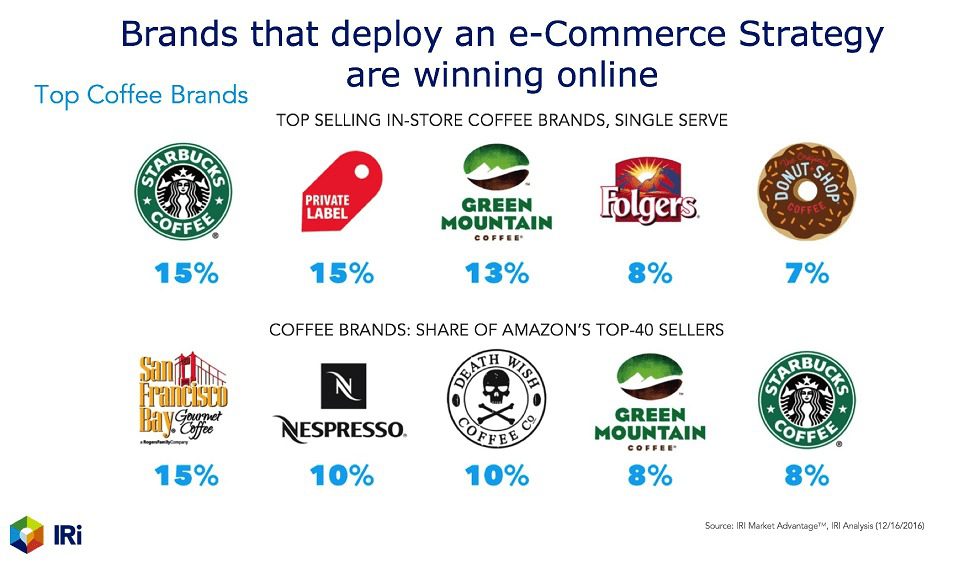 Back in late 2016, Starbucks' online market share was roughly half of its in-store market share, and several top online competitors weren't even in the top five for brick-and-mortar. Those latter companies on the bottom took aggressive approaches on Amazon to outflank larger companies, and in the process took large portions of the growing online marketplace. IRI saw similar trends across a number of CPG categories.
With Walmart's latest push, the competition will change even more. An NPD Group survey found 29% of Amazon merchants plan to expand to Walmart.com in 2018. These will include both newer, nimble entrants and established players already on Amazon that are looking to get ahead of the curve with Walmart.
Make objections to e-Commerce strategy a thing of the past at your brand. A lot of this starts by upper management making sure the organization understands that e-Commerce execution matters to them, and making it a strategic priority. Walmart's e-Commerce targets and associated resources to driving this success represent a terrific opportunity for any brand, regardless of their prior e-Commerce expertise, to begin making this all-important transition.
---
Jason Purcell co-founded Salsify in 2012 and serves as its CEO. Before co-founding Salsify in 2012, Purcell ran Endeca's e-Commerce business. Purcell spearheaded Endeca's global marketing and product management organizations, responsible for core product marketing, strategy and messaging. He was with Endeca almost from the beginning as employee #24 and helped grow the business to its $1B+ exit. Purcell also has held positions at Parametric Technologies in the US and Japan. He holds B.Sc. in Biological and Engineering Sciences from Washington University.