Retail fatalities are on the rise, leaving store owners and patrons more vulnerable than ever before. In fact, according to the D&D Daily's 2020 Retail Violent Fatalities Report, retail fatalities were up 40% between 2015 and 2020, with 2020 racking up the most fatalities and incidents ever reported in a single year. 
And as we near the half-mark of 2022, that trend is only continuing as evidenced by recent events such as the Buffalo supermarket shooting. Clearly the retail industry needs more preventative strategies to curb this alarming trend, and one of the most promising solutions is visual gun detection with artificial intelligence (AI).
Many retail stores already have some form of security monitoring and panic buttons or similar systems that allow their people to trigger an alarm. Unfortunately, people may be unable to do this because of the immediate threat, such as a gunman holding up a convenience store where the employee is not close enough physically to hit the button.
In contrast, an AI-equipped visual system leverages multiple cameras in a store (and oftentimes outside the store) and can detect the presence of a gun threat and raise an alarm independently of where store personnel are located. The system can also automatically send out alerts to onsite or offsite security and/or first responders.
For retail stores, the key to a successful outcome from an active shooter incident lies in the speed of response and the store's preparedness for such an event. With technologies such as visual gun detection, emergency response teams get an advance warning before shots are fired. This is in sharp contrast to technologies such as gunshot audio detection that only informs you after the incident has already escalated (when the gunshot is heard.)
It's also remarkably better than human monitoring approaches that rely on people watching video 24/7. According to a study by Security Oz, 45% of activity is missed after 12 minutes of continuous video monitoring by one person. These results only get worse the longer a human is watching the video, because the same report states that 95% of activity can be overlooked by monitors after just 22 minutes.
How AI Visual Gun Detection Works
Someone walks up to a store and pulls out a gun as they approach. If a networked security camera was installed outside, the system could identify the shooter before they entered the building. Otherwise, it would fall to the inside camera to identify the gun once it became visible in the store.
In under one second, an AI-powered visual gun detection system can identify a visible gun, and when it does, it sends an alert to a designated person that the store decided on earlier. This could be a security officer at the store, the owner, an employee or a third-party service on hand to monitor alerts 24/7.
Depending on the visual gun detection system purchased, the alert sent could either be a video or a still image, with video offering the most clarity. Once the designated person confirms the active shooter, they can then initiate a series of actions depending on a previously agreed upon plan and the capabilities the store has built into its security system. These actions could include:

Locking the doors or blocking an entry
Calling the police
Sending emergency notifications to people in the area
Sending real-time data information to first responders that could include information on the number of shooters, what they are wearing, what they look like and most importantly, where the shooter is at any given moment through video monitoring
Broadcasting an alarm to people in the area, including activating signage and sirens
Below is an example of how an organization can use predefined communications to initiate an immediate response to an active shooter: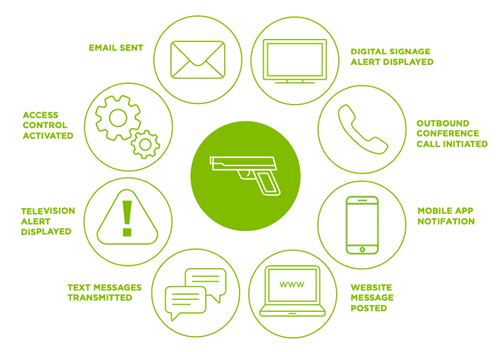 Having all the elements in place before an emergency transpires enables a response in mere seconds — which is critical considering that most active shooter incidents are over within 5 minutes. Putting together a logical set of actions in advance allows you to set actions into motion at the touch of a button.
Leveraging Existing Investment in Video Surveillance
One of the advantages of technologies such as visual gun detection is that they can be integrated seamlessly with most existing IP-based security cameras and video management systems. This is an important point because many retail stores have already invested heavily in their security system, and they want to leverage that, not replace it. Their cameras don't change, but they are harnessed with AI-powered software that can proactively spot and potentially prevent harm if acted upon.
While in the past video surveillance systems were used primary as an 'after the fact' system, where they viewed a situation after it happened, a system with AI-powered monitoring is always on and looking for a gun in real time. And depending on the security platform in place, it can send trigger alerts, contact the police, lock doors, and more.
Are You Prepared?
Stores certainly can't predict violence, but they can minimize the impact through technology and planning. By rapidly recognizing firearms, preconfiguring actions, issuing active shooter notifications and providing instructions on how to respond, they will be better positioned for the best possible outcome.   
---
As CEO, Dave Fraser leads strategy and execution at Omnilert. He has been building innovative software products and companies for more than 30 years, with a passion for developing and bringing to market new products and services that have a direct, positive impact on everyday life. At Omnilert, this manifests through our mission to protect people who are at their most vulnerable during times of crisis, through fast, reliable communications and intelligence. Prior to joining Omnilert, Fraser was CEO of wireless pioneer Devicescape (acquired by Pareteum). He previously held a variety of roles at companies including embedded leader Wind River (acquired by Intel), systems startup Convergent Technologies (acquired by Unisys) and Hewlett-Packard. Fraser graduated from Glasgow University, Scotland, with a Bachelor's of Science (Honors) in Computer Science and from the Executive Institute at Stanford University. His interests include motorcycling, wine making, woodworking, and travel.