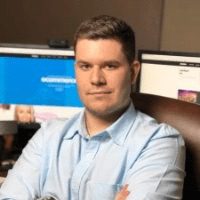 The future of physical retail spaces has never been more uncertain. As many as 3,000 stores are expected to close this year, including locations of major brands such as Macy's and Sears. But even though physical retail spaces are in decline, retail spending is expected to increase in 2017 over 2016 numbers.
What has changed is when and where the average consumer goes to shop. E-Commerce environments allow customers to purchase everything from luxury clothing to toilet tissue. Retailers who hope to survive the latest industry upheaval must begin building a long-term strategy focused on evolving from physical to digital showrooms.
Understanding 'Digital Transformations'
The notion that physical retailers need to improve their e-Commerce efforts is nothing new. In fact, it's so ubiquitous that the term "digital transformation" has been coined to describe the process — though the term is often thrown around without a precise definition.
A digital transformation is not just about replicating a physical retail experience in a digital environment. It is also about using digital technologies to enhance every aspect of the experience, both in person and online, and adopting a sales model that caters to the needs and wants of digital-first consumers.
According to a Walker study, by 2020 the customer experience will be a more important brand differentiator than product or price, and as many as 86% of customers will pay more for an experience they prefer. That means the move to digital is less important overall than the improvement of the end-to-end shopping experience across all channels.
For an example of an industry managing the physical-to-digital transition well, look no further than the grocery industry. Tech-driven options such as mobile shopping, curbside pickup and home delivery are all far more convenient than standing in a checkout line. On the other hand, physical grocery stores can serve as de facto community centers, and 70% of shoppers worldwide still prefer to buy groceries in-store.
By balancing physical and digital spaces while retaining a sense of authenticity, grocery stores have cracked the riddle of the digital transformation and are reaping the rewards. Online grocery shopping is expected to grow fivefold by 2025, reaching $100 billion in annual sales.
The grocery store model is encouraging, but every retailer must devise its own digital transformation strategy. A one-size-fits-all approach won't help digital showrooms succeed. Instead, retailers must understand how digital environments affect their customers, missions, values and brands.
The Right Way to Grow An E-Commerce Channel
To achieve the goal of a successful online showroom, it's important to understand what makes your customers tick and to service them appropriately. From creative, strategic and financial angles, it is important for businesses to consider who their customers are, what they believe and why they shop at their stores.
They must then intelligently assess their industry, their value proposition, their competitive landscape and how they can build that value into their brands and replicate that experience online. To more easily and effectively make the transition to digital showrooms, retailers should follow these key strategies:
1. Pick the right channels
Brands have so many choices when it comes to digital platforms — but not all platforms are appropriate for every brand. Mobile apps are great for grocery stores focused on enhancing convenience, but for a restaurant such as Wendy's that must distinguish itself from other burger joints, a distinctive social media presence is a more effective way to stand out.
By creating a digital showroom, you're likely engaging a whole new type of customer. But to retain your existing customer base, you must also stay true to your brand and service those who already enjoy your products and services. That means engaging them on the platforms they're using or that will benefit them most.
2. Reflect your customers' values
Digital showrooms don't just make shopping more convenient; they are also ideal places to highlight brands' values and social missions alongside products and sales. Data from Forrester suggests customers now make it a priority to shop with brands they personally support. Whether your customers like your brand because of its cleanliness, use of cutting-edge technology or philanthropy, it's important to include those values in your online presence.
If your customers patronize your stores because they are reliably clean and organized, ensure that your site design is clean and bright as well. If your customers love your newest tech, spotlight those products or use that tech to build your site. And if you're known for charitable work or donations, add details and news about your efforts throughout your site.
3. Implement tech in a smart way
Technology is, of course, central to the concept of a digital showroom. I believe it's unavoidable that most companies will soon need to operate with expertise in technology or risk becoming laggards in their industries. Companies that use technology best operate with a keen understanding that consumer demands are changing so quickly that technology must be a tool for adaptation.
For brands to be successful, they must have IT staffs large and talented enough to ensure their technology works as perfectly as possible for every digital user. They also need to invest in cloud-based SaaS technologies that make it easier to calibrate features and functions according to consumers' evolving needs. Plan for your team to become experts in new tech, or bring on a contractor to help.
No corner of the retail industry is immune to digital transformation. But if retail executives can establish seamless digital showrooms that reflect their brands and customers alike, they'll be setting up shop exactly where consumers of today and tomorrow want to buy.
---
Ryan Gellis is the founder and CEO of Robofirm, focusing on user experience to drive e-Commerce. Through strong development, digital marketing, and strategy, Robofirm helps brands build successful user-centered e-Commerce experiences. Gellis has almost a decade of experience in enterprise-level systems architecture, digital marketing and e-Commerce strategy for clients including Sally Beauty Holdings, Hearst Corp. and Charming Charlie.