The proliferation of private label, white label, and store brands has caused a fundamental shift in how retailers think and operate from a supply management perspective. Retailers that are focused on private label can realize higher margins and improved customer loyalty through well-oiled supply chains, but they need to think and act like a manufacturer of consumer goods, food and beverage, high tech, pharmaceuticals or whichever industrial segment they participate in to do it.
By applying best practices and know-how from top-performing supply chains within the appropriate industry, retailers can stave off value leakage. How? By looking to the past and what has worked across industry segments, while at the same time turning to the future and working with contract manufacturers and other outsourced elements of their supply chain, leveraging digital technologies to drive advanced sourcing capabilities that deliver innovation, cost savings and efficiencies and business growth.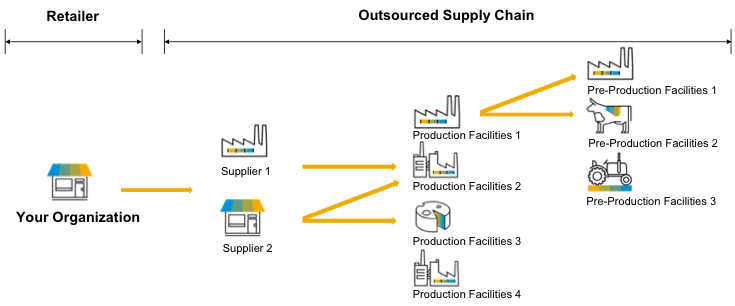 Focusing On What Works
In a variety of industries, outsourcing manufacturing is a viable option — it works. However, a key challenge is loss of control of materials as they progress through the outsourced supply chain on the journey to the retailer's shelf. Without advanced capabilities such as multi-tier visibility, forecast sharing and collaboration, financial metrics such as cost of goods sold (COGS) and working capital (influenced by inventory such as raw material, work-in-process or finished-goods) will not be where they need to be, resulting in a drain on profitability and customer service.
With new, diverse and geographically dispersed suppliers, the discovery and selection of trading partners (strategic sourcing) has taken on new levels of importance. Finding the right partner who can deliver the right goods and services to the right places at the right times and right prices isn't easy. Digital networks are a great way for companies to simplify the process and discover suppliers who not only meet their cost objectives, but their sustainability and social responsibility goals.
Once suppliers have been identified, these same networks can be used to connect and collaborate with them in totally new ways that are mutually beneficial. Beyond strategic sourcing, networks can transform the operational phase of the supply chain, allowing buyers to share forecasts with suppliers and contract manufacturers and gain the visibility needed to ensure that goods and services are delivered on time, according to agreed-upon terms. Sellers can track payments to maintain their cash flow and ability to execute in line with customer expectations.
Leveraging Digital Twins, Blockchain And The Internet Of Things
Current methods of improving supply chain and supply strategies, such as the ubiquitous spreadsheet, are not robust or scalable enough to perform the advanced capabilities required to squeeze out waste and profitability and improve margins and service levels.
With digital sourcing technologies, buyers can move beyond basic sharing of purchase orders and effectively collaborate with contract manufacturers on items like product requirements and alternates, in a clear and transparent manner that drives innovation and contributes to the profitability equation by lowering costs and increasing margins. And sellers can open new revenue streams with new products.
They can, for example, share a collection of product-specific attributes and a sourcing model, or digital twin of the process, which suppliers can respond to during a bidding process. In doing so, a category manager can efficiently perform trade-offs or what-if scenarios during the analysis process. And machine learning systems can automatically assess what attributes have worked well in achieving sourcing objectives and suggest new suppliers or methods to procure other items, driving better supply allocation and optimal award decisions.
Looking Beyond Price
It's important to note that the most optimal sourcing decision may not always be based on price. Many factors come into play when attempting to determine who, how and why to do business with: geographic location, assurance of supply, supplier risk, quality and sustainability factors, to name a few. Organizations may, for instance, wish to cultivate a new supplier for a product and allocate a small amount of business to them to test things out. This might cause the overall spend of this category to increase slightly, but the organization may benefit in the long run from new, more cost-effective ways of manufacturing the product, thereby offsetting these costs.
Seeing Things Clearly
Equally important in decisions around partners is trust. With a large part of manufacturing processes today being outsourced, trust is more important than ever. And the Internet of Things (IoT) and blockchain frameworks can be used to drive it as they help to bolster transparency and visibility. Blockchain can be a "killer app" for a private label business. The distributed ledger principle of blockchain, for instance, assures that an entire set of enterprises are connected and "on the same page." This can be used to track and trace the movement of goods across the entire supply chain, ensuring safety and authenticity. This is critical when it comes to food and drug products.
Such capabilities aren't possible within a conventional spreadsheet. And the best part is, the best practice strategies, what-if scenarios and optimization that digital technologies make possible can be scaled internally across entire organizations as well as those of key partners. With some retailers predicting that 25% of their business will be private label, this is important, as best practices need to be propagated to more than a select few and embraced by everyone involved in the business processes to have impact.
Forging Ahead
There are always lessons to be learned from history. Those who have gone before us can serve as a guide for what we should — and should not do — to drive supply chain excellence. But in a world where consumer tastes can be influenced and changed in a matter of seconds, retailers must also look to the future — and the technologies available today that can help them see and shape it to their advantage. As the saying goes, what's here today may be gone tomorrow. With the right digital solutions and strategies in place, organizations can make sure their business isn't included.
---
Sudy Bharadwaj has responsibility for SAP Ariba's supply chain solutions, including innovation growth strategy and helping clients realize value from product development, sourcing and supply chain business processes. Throughout his 25-year supply chain career, Bharadwaj has worked with 100+ organizations in various transformation initiatives in numerous industries and business process. Prior to SAP Ariba, Bharadwaj led value engineering at E2open (supply chain planning and collaboration) and Castlight Health (health care analytics), started his own company in the field of artificial intelligence and semantic search, and also held leadership roles in various startups in the fields of strategic sourcing, manufacturing operations/analytics/IoT and supply chain planning. He also led the supply management practice at Aberdeen Group.