We've all had a bad experience at a restaurant. One that goes from bad to worse, resulting in a negative vote with our wallets and maybe even an online post. We've also all had a bad dining experience that is handled so well that we go from upset to loyal fans. The same scenarios play out every day in other consumer experiences — and online shopping is no stranger to issues and disappointments. Brands can build trust to win loyal e-Commerce shoppers by upholding delivery promises and resolving any issues to positive effect through proactive delivery experience management.
What do I mean by a bad online shopping experience? It could be an ill-fitting item that I want to return, or worse, I might receive a damaged shipment or have an order delayed so much that it misses a birthday celebration. Many retailers are unaware that 11% of online orders experience some sort of delivery distress (known as "exceptions").
Convey data from over 2 billion shipping events shows that the bulk of exceptions result from shipping delays — both reported delays and more insidious revised shipment date delays that carriers never mention. More surprising is that 7% of the issues arise from bad addresses — which should be an easy fix given all the mapping technology and address verification tools available today.
Regardless of the reason for an issue, waiting until customers complain is a surefire way to lose them: 84% of consumers say they won't return to a brand after just one poor delivery experience.
GRAPHIC: 11% of All Shipments Experience One of These Exceptions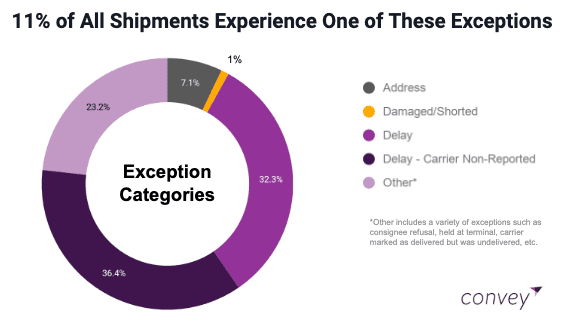 Take Control Of Exceptions And WISMO To Drive Loyalty And Profit
Retailers focused on delighting and retaining customers can take heart — there are lots of ways to head off these types of exceptions before they damage your customer relationships. One particular way to do this is to embrace proactive Delivery Experience Management (DEM) -— which involves monitoring shipments, communicating with customers and using data-driven insights to take action on deliveries in distress. Just as the manager at the restaurant we still love acknowledged our dinner issues and took action to resolve them, retail brands can leverage tools, data and talent to recover shopper confidence before it's too late.
As a fast-growing CPG brand, Grove Collaborative focuses on making customer service its differentiator, but as the company scaled, exceptions became more of a challenge. Because Grove prides itself on doing whatever it takes to make their customers happy, it established a Customer Happiness Team to uncover new opportunities to connect with customers, even offering them a 100% Happiness Guarantee to help them get the most out of Grove products. This companywide customer focus — measured by Net Promoter Scores (NPS) — is what eventually compelled Grove to get proactive with delivery experiences.
Grove knew if it could get out in front of exceptions and WISMO (Where Is My Order) calls, this would differentiate the brand and inspire loyalty while saving time and money. They did not want customers to have to clean up messes from damaged shipments or to track down incorrectly addressed or delayed orders on their own. It was imperative for Grove to let customers know, ASAP, what was going on with their shipments, and what Grove was going to do about it.
Because the team received hundreds of emailed exceptions from different carrier partners there was little consistency or clarity. This created challenges for internal workflows, speed and accuracy of response. Communicating with carriers to solve these issues was time consuming and costly — in some cases Grove could be on hold for more than an hour trying to update an incorrect customer address.
This meant the team needed a few things: a uniform, real-time view into shipping issues across carriers, processes and tools to prioritize issues; workflow and collaboration tools to resolve those issues; and perhaps most importantly — the tools to communicate with customers and keep them in the know as issues emerge and are resolved. Grove decided to invest in DEM by creating a dedicated exception resolution team with the goal of proactively preventing customer complaints by addressing the most common causes of delivery issues.
Within six months of implementing their DEM solution, Grove's investment began to pay off.
NPS score rose by 9.4%
Saved $65 per damaged shipment
Saved $23 per incorrectly addressed shipment
Reduced WISMO call response time by 77%
Additionally, as bandwidth improved, the team was able to devote time to new initiatives, like their "Grove Guides" program, which aims to educate customers on which products and solutions are right for their families. After just three months, the initiative increased average order value by 50%.
How Retailers Can Make Delivery Experience A Competitive Advantage
These types of outcomes don't happen by chance. Grove made some very specific investments — but all of these investments were grounded in their customer-centric culture. Customers vote with their wallets, and retailers that want to grow must engage them in ways that create positive outcomes. This customer-centric culture can't be limited to the call center where customer care sits; it must extend all the way through to supply chain and operations teams, which play an increasingly critical role in customer experience outcomes.
Grove also invested in a combination of processes, tools and ecosystem partners to make DEM a reality. No retailer can vertically integrate the way Amazon has, so they must seek partners to empower them — from carriers to dropship vendors to technology partners. Similarly, no retailer has the budget to invest in AI and algorithmic insights to rival Amazon's, which is why you see so many supply chain teams investing in software and tools to automate and enable exception recovery at scale.
No brand is perfect. Every online sale is a chance to keep or lose a customer. If you want an unfair advantage when it comes to retaining loyal customers — and turning them into raving fans — now is the time to evaluate your culture and make the right investments in creating proactive delivery experiences.
Kirsten Newbold-Knipp is CMO at Convey. She has more than 15 years of senior marketing leadership experience at Fortune 100 companies and high-growth startups, including HubSpot, SolarWinds and BigCommerce. Most recently she was Research Vice President at Gartner, where she advised CMOs on refining strategy, organization and martech priorities. Newbold-Knipp oversees Convey's corporate brand and messaging initiatives while scaling marketing support for repeatable pipeline and revenue growth.