In the past few years, technological advancements took some very interesting turns across industries, including some undeniable improvements with its implementation in the retail sector. Used correctly, AI can reduce human error within different levels of retail sales processes. On the consumer end, the technology helps improve customer service and experience in general.
Additionally, AI technologies have helped personalize the shopping experience for consumers, reduced shipping cost for sellers, helped workers adopt new skills and improved supply chain efficiency.
But one thing to be taken very seriously is the transparency of the levels of AI used among these retailers in order to retain customer loyalty, since the implementation of anything new to the buying/selling experience automatically gets a little suspicious at the consumer end.
How Does Artificial Intelligence Help Improve Online Retail?
According to a Global Market Insight study, the retail sector will increase its investment in AI to $8 billion by 2024. Since adoption of machine learning, deep learning and predictive analytics is required to succeed within the technological hemisphere in retail – which is growing at a rapid pace – it is absolutely necessary for retailers to adjust within the digital disruption.
But the question is how and in which areas does AI help improve?
As per AI experts on a global scale, this technology has so much to offer to any retail segment. GM Insights concluded that by 2020, a greater infusion of AI-based applications will be seen across the retail industry in everyday operations.
One major impact is on the customer service cycle, where both consumers and retailers will further benefit from the Artificial Intelligence-Retail syndicate.
Chatbots
Speaking of customer service, AI chatbots are helping retail sales and marketing to a great extent. The goal of implementing chatbots within e-Commerce businesses is to amp customer experience and provide personalization.
For example, here are two popular retail business chatbots on Facebook Messenger; Sephora and Pizza Hut.
The Sephora bot helps customers find the right products as well as teach them how to use each item they are getting. Their AI-enabled feature allows Messenger users to try different looks created with the selected makeup products using filters on the camera.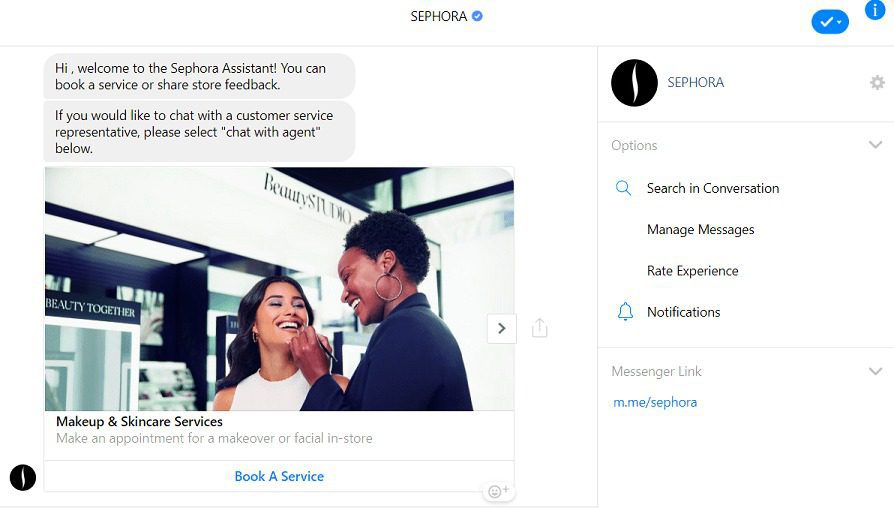 Users can book a service at any nearby Sephora store through the bot, file complaints, ask questions and submit their feedback, all within this chatbot.
As for the world's most popular pizza chain, customers can place an order using the Pizza Hut chatbot, track their orders and get updates on the latest deals, discounts and promotions. It is integrated with payment options which makes it easier for users to pay right there.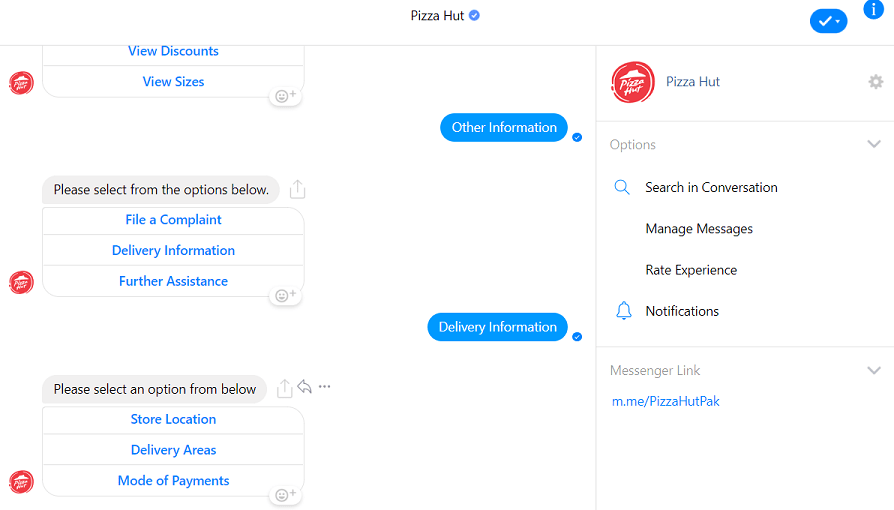 The common motive is to make it easier for customers to get what they want without having to call, email or visit their web site for answers. Since consumers today prefer texting, it gives the retail industry a huge opportunity to increase online sales without spending too much.
AI-enabled technologies tend to save money for larger-scale businesses as well as smaller ones. Especially for impulse-buy retail businesses, bots are much more valuable when it comes to AI-enabled sales or customer assistants.
Machine Learning
AI and machine learning can help boost efficiency, speed up processes, improve accuracy and increase customer engagement for the retail industry.
There has been an increasing shift towards automation for collecting data across multiple channels within the buying-selling experience. Retailers generate these insights using algorithms and models, and process through the giant datasets.
This helps retailers make actionable predictions as well as recommendations as explained in this study below: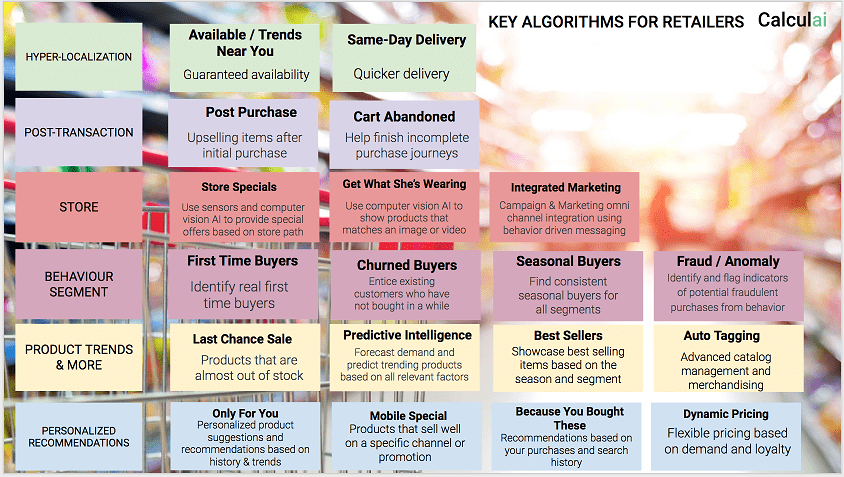 Source: CalculAI – the flow chart explains digital retailers' key algorithms (retailers with a physical existence) and the effective use of AI and Machine Learning.
If we look at the different ways the retail industry aims at using AI on the basis of this year's IBM study findings, retailers have claimed to use AI, Machine Learning and Chatbots in these six ways:
79% of retailers said they use AI in customer intelligence
85% in supply chain planning
75% in marketing and advertising – Including digital campaign management
85% in demand forecasting
73% in promotions and pricing
73% in store operations
Does AI Affect Competition, Selling And Revenues For The Retailer?
AI can help save a great deal of expense for retailers, leading to potential savings of approximately $340 billion every year by 2022, according to Capgemini's survey of 400 retail representatives.
However, the study also found out that nearly three quarters of AI use cases are customer-oriented, while other areas still need to fully utilize AI and its benefits.
A number of different AI-based solutions can enhance the customer experience and at the same time provide more selling opportunities for retail businesses. Although not all retail markets around the globe are completely saturated with AI, a lot of advanced technological implementations can be seen both online and in-store.
Such AI-based technologies and their platforms include:
AI will increasingly improve business processes and customer experience in retail. From demand forecasting, to supply chain operation, to personalization, AI will revolutionize the retail industry as a whole.
---
Usama Noman is Founder of Botsify. Noman is a serial entrepreneur, tech enthusiast and loves making and breaking things. A Machine Learning and NLP expert, Noman loves to use tools that can both resolve business frustrations and support humanity.